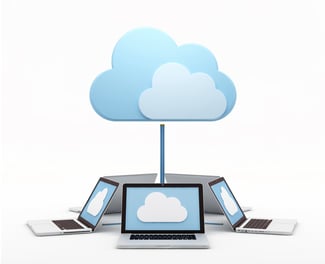 Cloud-only contact center services will have a tough time meeting the needs of today's Enterprise businesses.
Why?
Because a cloud-only service cannot meet the security and compliance requirements of enterprise customers.
While the cloud is real, the role of on-premise is not disappearing. Sensitive customer data, call recordings, and financial material must remain behind a company's firewall. A cloud-only call center play can only go so far.
When looking at a call center platform, receiving and making phone calls is just a part of it. There are other business problems that an enterprise needs to solve which a hybrid approach can address very well.
Today there are several companies offering cloud-only call center services that are available in a public cloud model. There is no hybrid model that selectively allows certain sensitive data and application functions to reside on-premise. The movement or replication of strategic corporate content is not a viable option for many IT organizations.
3CLogic has adopted a "hybrid" approach, offering both cloud and on-premise services simultaneously. In plain English, 3CLogic gives customers the option of storing their confidential data on the web ("cloud") or in their own data center ("on-premise"), giving customers flexibility and security.
Hybrid cloud services are more secure and faster, and help companies adopt the migration to cloud more efficiently. This allows 3CLogic to target the higher-end enterprise market in more tightly regulated industries like finance and health care — which traditionally have been slow to embrace cloud-only services. On top of that, 3CLogic also offers cloud-only call center services to small and medium sized businesses whose security requirements could be met by public cloud offerings like Amazon Web Services (AWS).
Are there other parallels in the industry to draw from? Take the case of Egnyte in the storage space. Competing with other larger cloud-only platforms such as Box and Dropbox, Egnyte has been very successful in selling a hybrid approach to enterprise customers.
Similarly, a hybrid approach instead of a cloud-only contact center approach is a more practical and secure approach for enterprise customers.