Despite all the advancements in technology over the past few decades, most of today's customers are going to pick up the phone to get in touch with businesses for support. In fact, 76% of customers say that phone is their preferred channel of communication when they have a customer service need. For many, it remains the easiest way to find a resolution.
With so many customers opting to call for support, it's vital for companies to have a solid system in place to handle high call volumes and provide a top-notch customer experience — this is where IVR comes in.
Interactive Voice Response (IVR) is an essential tool for CX leaders and service departments. A properly implemented IVR system can save upwards of 250 staffing hours per month and 6,000 minutes of talk time. And with so many customers still picking up the phone, it is crucial that contact centers rely on efficient routing to keep up with demand.
Voice support isn't going anywhere, which means IVR is here to stay. The global IVR market is set to reach $6.7 billion by 2026, and with emerging technologies like Natural Language Understanding (NLU) and text-to-speech, the possibilities of creating truly custom and personalized experience are endless.
Read on to discover what IVR is, the underlying challenge most organizations face when using IVR, and how to get the most out of your IVR system.
What is IVR?
So what exactly is Interactive Voice Response? IVR is an automated telephone technology that collects information from incoming callers to drive the desired outcome such as routing a call or resolving an issue.
Simply put, IVR is used to design conversations between customers and agents. At its core, an IVR system interacts with and gathers information from callers using a pre-recorded menu of options to choose from. These menus can vary greatly in length depending on the organization's voice technology capabilities.
A simple example of IVR is when a patient calls their healthcare provider and interacts with a list of pre-recorded options before actually speaking to someone, such as, "Press '1' to schedule an appointment, Press '2' to refill a prescription," and so on.
But as we have all experienced, such antiquated IVR interactions are often frustrating, tedious, and time-consuming. Today, more advanced IVR systems are leveraging new technologies such as conversational AI and Natural Language Processing (NLP) to gain a deeper understanding of what customers are saying and to deliver what they need faster. These new technologies promise some amazing leaps forward for service delivery, such as voice-enabled self-service.
However, even if an organization is using the best voice and IVR technology on the market, unless they address one fundamental problem underlying their entire service infrastructure, that promise of more personalized service will never be reached.

The Underlying Problem Most IVR Systems Face
A successful IVR implementation can certainly help lower costs for your organization. Compared with the cost of handling those calls by human agents alone, IVR can save organizations up to $100 million annually.
However, all too often, companies only think about cost reduction when implementing and designing their IVR systems, which can have a detrimental impact on CX and, ultimately, ROI. In fact, 54% of consumers believe that IVR makes for a poor overall experience. Why is that?
According to McKinsey & Company, IVR designed without CX in mind can lead to:
Higher customer churn rates

Customers getting routed to the wrong agent or department

Repetitive, time-consuming frustrating customer experiences

Duplicative, manual work for agents

Lack of insight into customer satisfaction
The primary issue that leads to this is that most organizations' IVR systems are not integrated into their system of record.
An IVR system is typically part of a larger telephony solution that a company purchases for its entire organization, not just for its service department. Unfortunately, all too often, this telephony solution is siloed from the organization's system of record that houses customer data. Or, just as problematic, the telephony solution is administered by a department that is separate from the service desk team. When this happens, the organization's IVR system does not have the proper context when a customer calls in, which results in subpar CX.
Having an IVR that is siloed from your organization's primary system of record, like ServiceNow or SAP, limits flexibility and puts control of the customer journey into the hands of someone who may not be responsible for managing the customer experience or who may not have CX as their top priority. For example, if your IVR system is administered by an outside vendor or an internal team that does not regularly field customer requests, your service desk team may have no access, control, or authority to integrate it with their tools or create a truly intelligent IVR experience that leverages customer data to provide personalized service.
Successful IVR experiences, on the other hand, are able to leverage contextual customer data such as purchase history, ticket history, or even medical data, to personalize the IVR experience and make it easier for the caller to get what they need faster. Without having this data available during the IVR experience, a customer may get routed to a general queue rather than the most capable agent. And even if routed to the right agent, they will likely have to repeat their information all over again.
This issue not only affects customers but agents as well. Without relevant customer information at their fingertips, an agent who fields a call from a customer will have little to no context, such as what type of product or service the customer has, what past issues they have had or tickets they've submitted. A poor experience for agents leads to a poor experience for the customer. As Max Ball, Principal Analyst from Forrester states on "The CX Cast," you can't build empathy in a non-empathetic environment.
One example (of many) as to how an IVR that is well integrated with your CRM can enable better, more personalized service is the ability to offer critical self-service support during an outage. If an organization is experiencing some kind of disruption in service, such as a hospital's ERP system being down or a software platform crashing, thousands of customers may be calling in all at once about the same outage. If the IVR is integrated with the service platform, the IVR can automatically reflect the latest outage notifications and information from the service management platform, dynamically notifying incoming callers based on status changes in the CRM to help them get the information they need or be routed to the right agent for additional support. This in turn lowers overall call volumes and ultimately the cost of delivering services.
But when the service desk manager is unable to make modifications to the IVR because it is owned and administered by an outside vendor or siloed team, the above solution is no longer possible. Instead, the organization is flooded with urgent but repetitive calls with no way to prioritize them and deflect duplicative inquiries to self-service. Those lost minutes or hours can cause significant disruptions and, ultimately, damage the company's reputation.
If your IVR system does not have the critical context about customers who are calling in and trying to use the IVR, as exhibited in the example above, it can be a painful, frustrating experience for callers during any scenario — ultimately damaging the CX and customer relationship. All of this leaves many IT decision makers, CX leaders, and HR managers wishing they could:
Record and store calls on demand

Automatically log calls

Transcribed visual voicemail solutions

Request local, international, and toll-free phone numbers on demand

Use SMS for customer care

Have access to all of this data in the system they're already working in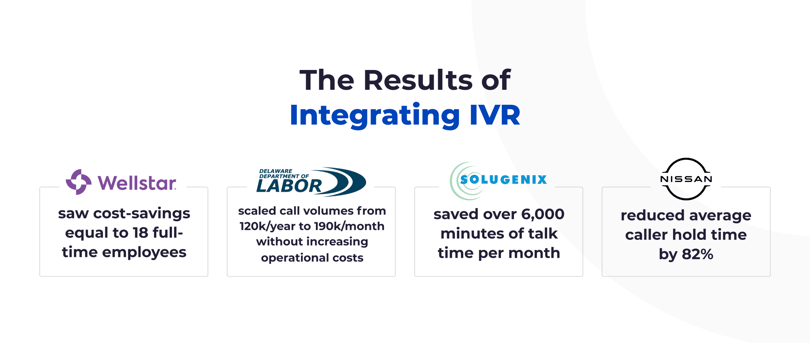 Use an IVR System that Integrates with Your System of Record
The solution to most IVR woes is clear — having an IVR that integrates with your system of record is the best way to create a truly intelligent setup that enables intuitive call routing and self-service.
Equipped with relevant data, like customer ticket history or outage information, organizations can build IVR workflows that provide personalized service experiences and empower agents with the tools to deliver a successful interaction. With ownership of the IVR, service desk teams can make real-time, low-code or no-code modifications without relying on an IT resource — saving both time and money.
An integrated IVR system can also greatly improve the use of Natural Language Understanding (NLU) or Natural Language Processing (NLP). NLU and NLP are AI features that are able to understand text, spoken words, and intent in the same way humans do.
Whether your system of record has its own NLU engine or not, the best voice integrations will help you leverage NLU no matter what. For example, 3CLogic's voice solution has its own NLU and NLP abilities that can be brought in to create conversational experiences, or it can integrate seamlessly with an organization's existing NLU engine, such as that of ServiceNow.
When your system of record is working in tandem with your IVR, you'll be able to provide granular detail with features like IVR Analytics. Real-time reporting allows for better visibility into agent performance and service center health and will allow for better insights into customer interactions and provide valuable data on things like workflow performance, bottlenecks and deflection points.
Once you have this integration in place, you can start to focus on providing an exceptional customer experience by:
Using automated

self-service options such as voice bots

for requests that don't require agent interaction

Intelligently determining and routing callers to the most appropriate channel for the inquiry

Delivering the interaction to the best-qualified live agent whenever necessary

Incorporating conversational AI that can solve more complex issues and detect customer sentiment and tone

Leveraging predictive capabilities by drawing from customer data

Using

robust analytics

that enable data-informed decision-making
A successfully integrated IVR solution allows contact centers to provide the perfect combination of self-service and agent service. Given that a study from CCW revealed consistent and convenient experiences are the number one way to attract customers, it's clear that IVR is a critical element to deliver an exceptional customer experience – every time.
Start Your IVR System Integration Today
If your organization is ready to take your IVR to the next level, now is the time to prepare for the future with an integration with your CRM. The volume of inbound service calls is not slowing down. Ensure that your organization is giving customers the best possible experience by integrating your IVR system with your system of record..
3CLogic has native voice integrations with a number of CRM platforms including ServiceNow and SAP. Gain full control over your contact center call flows to ensure that when customers do make the call, they'll embark on an excellent customer journey that is fully integrated with your service management platform and customer channels.