We live in an era of ever-increasing communication and ever-increasing communication tools. In the span of five minutes, we can now shoot off an email, reply to a Slack message, and return a text – all without batting an eye. While these tools certainly have their place in today's world, the fact remains that phone calls are a central communication method for businesses of all sizes
The human touch provided by a phone call is something we can't replace, no matter the speed of our internet connection or the slickness of our devices. When it comes to complex issues, it's easier to solve problems and communicate clearly over the phone – and this is true not only in the customer service industry but across professional spheres.
According to a recent survey of more than 300 IT decision-makers, 90% of respondents said phone is still a primary communication method at their organization, regardless of company size. Even more tellingly, almost 60% of respondents said phone was their preferred method of communication for internal meetings and external meetings. These numbers become even more powerful when you consider that only 5% of those surveyed said phone use would decrease at their organization over the next five years – and 63% said phone use would actually rise during this timeframe.
The Gap Between Systems of Record and Enterprise Phone Systems
While it's clear that voice as a communication channel is not going anywhere, the need to modernize legacy phone systems is growing. The report referenced above lays this out in stark detail. Of the respondents surveyed:
28% want to record and store calls on demand
23% need the ability to automatically log calls
23% want transcribed visual voicemail solutions
23% desire general local, international, and toll-free phone numbers on demand
26% want to use SMS for customer care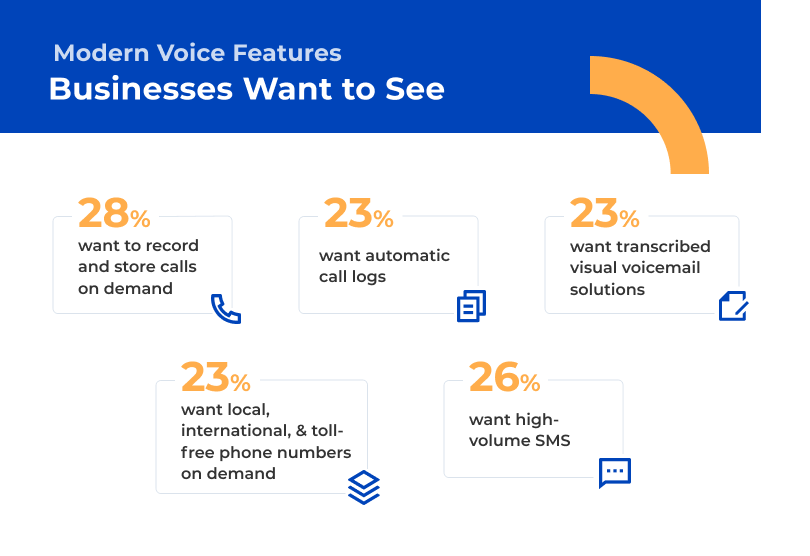 By itself, modernizing enterprise phone systems to meet these wants and needs is not an issue. Cloud contact center solutions can deliver these services, along with a host of other features, and represent the best way for organizations to bring their coveted phone communication channels into the 21st century.
Unfortunately, adding a cloud contact center solution is only one piece of the puzzle when it comes to modernizing and streamlining enterprise communication. While a cloud contact center solution can ameliorate the problems posed by legacy phone systems, they very often are not integrated with the enterprise's service center systems of record, such as ServiceNow or SAP.
When organizations upgrade their voice channel solutions without this key integration, they are faced with two disparate systems. On one side, their service management systems can store customer and employee information and digital communication data. On the other side, their new cloud contact center solution handles all live, phone-based communication systems and associated data like transcriptions, call logs, and recordings.
These siloed communication systems not only create operational headaches, they can have a major negative impact on the service experience. An organization's system of record manages service workflows and data, while a cloud contact center solution manages service interactions. When these systems remain siloed, service agents have no access to the critical context they need to optimize and personalize service interactions, such as customer data or service history. negatively impacting customer and agent experiences.
Operationally, it is difficult and time-consuming to track communications data across these platforms, especially where customer service interactions are involved. Agents and other employees are forced to spend valuable productivity hours looking for previous service interactions or customer data across multiple platforms and must manually add new service interactions, resolutions, and data to organizational systems of record.
A separation between voice channels and an enterprise's system of record also makes Interactive Voice Response (IVR) options – a crucial feature of good voice service interactions – severely limited. Without integrating these two systems there is no easy way to access the customer's ticket history and data needed to provide quality voice self-service or properly route calls to the most qualified agent or employee.
Externally, failing to integrate systems of records and voice communication means customers or outside partners are forced into inefficient, frustrating communication interactions where they may need to repeat themselves or speak with multiple agents or employees to get what they need.
Bridge the Gap with a Cloud Contact Center Integration
Luckily for everyone, a solution to the problem of siloed communication channels exists. Adding a cloud contact center integration like 3CLogic can bridge the gap between the service management system and the phone communication channels that an enterprise needs to succeed.
By integrating a cloud contact center natively into a CRM or service management platform, organizations can take a huge leap forward in improving operations: removing the headaches caused by siloed systems, reducing communication redundancies, and increasing operational efficiency. A cloud contact center integration provides employees with the information and data they need to succeed, and streamlines voice interactions, both internally and externally.
But the benefits provided by integrating a cloud contact center with an enterprise's system of record aren't just limited to service and operations. It can have a massive impact on the bottom line. As companies, especially IT leaders, look to stay agile and tighten their belts, an emerging strategy for driving better ROI is to consolidate their tech stack — reducing operational cost and complexity. Integrating a cloud contact center solution natively with an existing system of record allows organizations of any size to do more with less, increasing productivity and reducing overhead without compromising service or communication quality.
Integrating service management platforms and CRMs with a cloud contact center allows organizations to add several key tools and benefits to their communication toolkit.
Interactive Voice Response (IVR): When voice channels are natively integrated with a service management platform or CRM, companies can utilize Interactive Voice Response (IVR) technology to both streamline operations and improve CX and EX. By leveraging existing customer data from a system of record, IVR can intelligently route callers to the right agent or right solution faster — decreasing call volume and resolution times while improving the service experience. Additionally, cloud contact center integrations allow companies to easily create, control, and edit existing

IVR workflows

, saving time and operational hassle.
Powerful voice self-service: Leveraging a cloud contact center integration allows organizations to build human-like self-service experiences with voice bots such as those from

Google Dialogueflow

. These AI-powered options can easily be used in tandem with cutting-edge service tools like ServiceNow Virtual Agent, allowing a well-integrated contact center solution to extract complex entities using Natural Language Processing (NLP) and create sophisticated, highly-engaging self-service workflows.
Advanced automation: A cloud contact center integration removes the manual tasks associated with data input and logging customer interaction records. All call-related data is automatically stored in the service platform or CRM, saving headaches and operational hours.
Deep analytics and real-time reporting: Cloud contact center integrations provide granular detail with features like

Advanced Speech Transcription

,

IVR Analytics

, and sentiment scoring. Real-time reporting allows for better visibility into agent performance and service center health.
Computer-Telephony Integration (CTI): A

computer-telephony integration

provides service agents with a more unified work experience, allowing them to field customer queries without leaving the service management platform or CRM with automated screen pops while seamlessly providing them with personalized caller data for more efficient service experiences.
Convenient 2-way SMS experiences: According to the report referenced above, over 95% of businesses are using SMS in some capacity. A cloud contact center integration allows for integrated two-way messaging and SMS reporting features to be embedded directly into systems of record like ServiceNow and others.
Measuring the Benefits of Integrating a Cloud Contact Center Solution with a System of Record
Saying that a cloud contact center integration can greatly reduce manual labor and operational costs while at the same time improving communication and service isn't just a hypothetical – in this case, the proof is in the pudding.
Customers who utilized 3CLogic's voice integration to enhance their existing service management system have quickly seen amazing results. Here are just a few examples: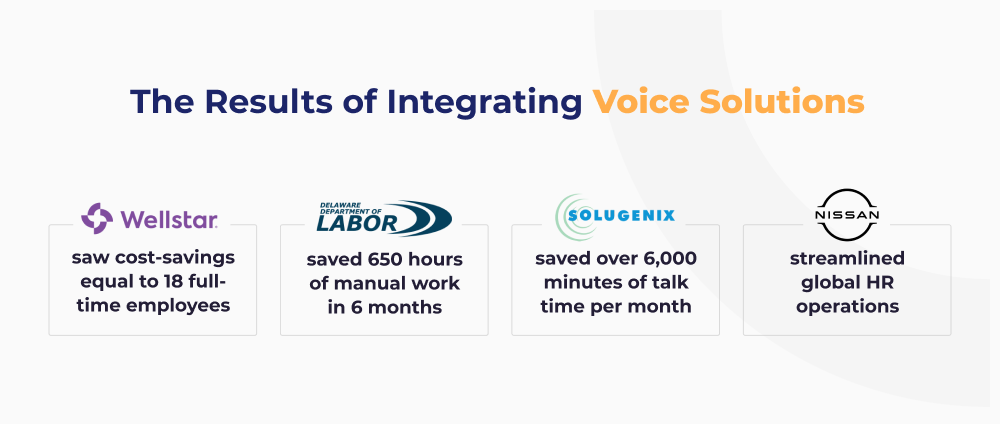 When Georgia-based healthcare provider Wellstar Health integrated voice workflows into their ServiceNow instance, they saw cost-savings of 18 full-time employees annually and saved roughly 250 staffing hours per month.
To keep up with dramatically increased demand during the pandemic, Delaware's Department of Labor invested in voice workflows for ServiceNow. Thanks to this decision, they saved more than 650 hours of manual work in just six months and saw an 83% reduction in call handle times.
Automotive giant Nissan turned to 3CLogic's voice integration for ServiceNow to improve employee experiences, streamline HR operations, and meet the unique needs of their non-traditional manufacturing workforce. With this addition, Nissan predicts significant savings of operational and productivity hours, and an improvement in employee experiences company-wide.
Solugenix, a trusted IT company, integrated voice and SMS workflows into their ServiceNow investment and saw great results. They eliminated 45,000 emails in the first year, and saved more than 6,000 minutes of talk time per month.
As you can see, natively integrating voice and SMS workflows into your service management platform is truly worth the investment. For more information on how you can save time and money with a cloud contact center integration, reach out to our team to start the discovery process and book a free demo.