Well-established processes are crucial for service desks and customer service centers. Relying on a standardized approach to tasks and operations helps to ensure that customers have positive experiences at every touchpoint.
However, it's easy to let the desire to remain consistent prevent organizations from seriously evaluating the technology they use. Why rock the boat and adopt a new platform for voice workflows if you're able to get by with a legacy system that manages customer calls?
While it's true that most organizations can make do with legacy systems, this approach typically leads to operational inefficiencies, frustrated agents, and a poor customer experience. Taking steps to avoid those pitfalls now can really pay off. To understand why, it's important to first explore the use of legacy call center systems today.
What Is a Legacy System And Why Is It Problematic In Customer Service?
Many service departments leverage legacy systems, meaning systems that are built on obsolete technology and incapable of offering the type of flexibility that newer solutions do. In some cases, these outdated tools are on-premise systems that don't integrate — at least not easily — with other tools. This situation is actually quite prevalent.
According to Contact Center Pipeline, it's common for organizations to be running applications on legacy systems that were developed decades ago. This often leads to a significant amount of tedious work for agents and ultimately contributes to retention issues.
Increasingly, service desks and customer service centers are feeling the effects of outdated phone systems. ICMI research reveals that respondents say the most significant pain point standing in the way of meeting customer needs and expectations was the complexity of legacy systems.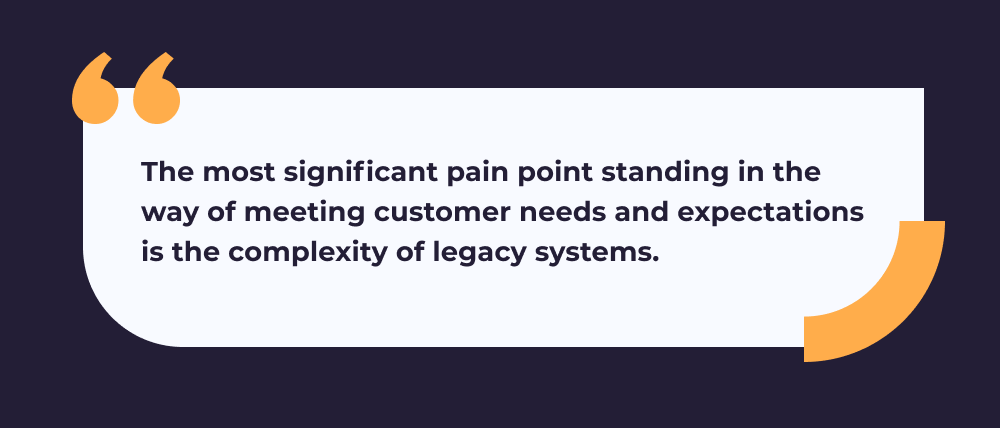 A huge part of the issue is that a legacy system is somewhat stagnant — it doesn't have the same access to upgrades as its more modern counterparts. While it may be possible to integrate a legacy system with your other technologies, you typically need to use application connectors or even custom code to make it happen. Yet, this is really just a band-aid fix for a massive issue.
It's also important to consider what types of customer inquiries today's agents are navigating. ICMI research shows that 47% of contact centers are facing more complex customer issues than they were a few years ago. Agents need easy access to customer information to help navigate complex problems, but that just isn't possible when they're using a legacy phone system that isn't able to pull relevant information from the primary system of record their organization leverages.
All in all, there are a number of legacy system issues that you should take into consideration:
Ineffective or non-actionable disaster recovery plans
Longer wait times and higher abandon rates
Ongoing maintenance and costly, customized upgrades
Inefficiencies that degrade the employee experience
Lengthy training required to ensure employee proficiency
Clearly, the status quo isn't working. Legacy call center solutions just aren't capable of providing organizations with all the functionality they need.
Should Customer Experience Leaders Upgrade From A Legacy System?
There's no arguing the fact that legacy systems often prevent service desks and customer experience centers from reaching their full potential. So, why are legacy systems still used?
For starters, it can be intimidating to replace something that's been in place for so many years. Not everyone is so quick to believe that a modern voice solution will truly improve operations and performance. But it's worth considering how others in the industry think about technology investments.
In ICMI's inaugural State of the Contact Center report, respondents cited the following as the top motivations for making technology upgrades:
Improving the customer experience (49%)
Reducing costs (39%)
Growing the customer base (38%)
Continuing to improve processes (36%)
The idea of reducing operational costs might not sound feasible, but you'd be surprised what you can achieve if you invest in the right solution. One health care system was able to save the equivalent of 18 full-time employees' salaries annually by switching from a disparate, on-premise call center platform to a cloud-based voice solution that integrates with their primary system of record. An IT leader was even able to eliminate 45,000 emails within the first year of implementing integrated voice and SMS workflows for ServiceNow.
These aren't estimates or potential outcomes — they're real results. Your organization stands to similarly benefit.
What Actions Can Customer Experience Leaders Take To Remedy Their Legacy System Issues?
If you're ready to rethink your legacy system in favor of a modern voice solution that better fits your organization's needs, it's time to think about how to proceed. The first step is to select which platform will serve as your single source of truth.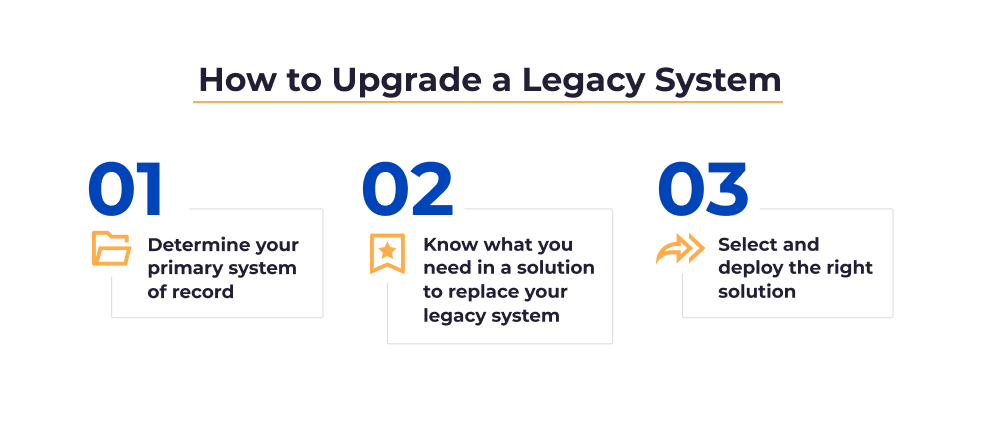 1. Determine Your Primary System Of Record
While many service desks and customer service centers leverage multiple systems that each store data separately, there's usually one system that's more complete than the others. It's often a customer relationship management (CRM) system, a service management platform, or something similar. Regardless of the specific platform, make sure you identify it as your primary system of record.
By establishing which system will serve as the single source of truth, you can better understand both its strengths and limitations. For example, your system of record might include data management, digital channels, analytics, and an agent workspace but lack voice and SMS capabilities.
2. Know What You Need In A Solution To Replace Your Legacy System
With your primary system of record identified, you can focus on solving for what's lacking. If you're leveraging a platform like ServiceNow, Salesforce, or Microsoft Dynamics 365, you could benefit from incorporating a solution with advanced voice and SMS features, such as voice self-service, intelligent call workflows, two-way SMS, and conversational analytics.
Bear in mind that more features aren't always better. If your voice solution and primary system of record have overlapping features, that leads to redundancies and siloed data.
3. Select And Deploy The Right Solution
Comparing solutions can take some time, and that's OK. Be thoughtful as you evaluate options, and be sure to pay particular attention to integrations. The best voice solution will ultimately be one that integrates seamlessly with your primary system of record to provide supervisors and agents with a unified view of the customer and minimize the amount of time agents have to spend switching between different screens.
You might even look into how different providers approach contact center deployment. Will they work to fully understand your organization's needs? Will they guide you through the process? Will they provide technical support throughout the relationship?
Implementing a new solution to replace a legacy system is a big change, so make sure you have access to exceptional customer support services that make the process as seamless as possible.
Start The Process Of Sunsetting Your Legacy System
Legacy systems for voice might be the norm, but they're not delivering the flexibility and efficiency that service departments need. Customers, agents, and even customer experience leaders like you can all benefit from a more modern solution. With the right platform, improving operations is almost inevitable.
If you're still unsure of whether now is the right time to upgrade your existing call center platform, it's important to know that you have options. Some voice solutions can be deployed in a number of ways to meet you wherever you are in your digital transformation. Explore 3CLogic's contact center deployment models guide to learn more.