Agent retention has long been a challenge for contact centers. With annual turnover rates well above those in other industries, the issue is hard to ignore. In fact, a recent ICMI survey shows the average contact center's agent turnover rate was 58% year over year. When you factor in the associated costs, such as expenses related to recruiting and onboarding new agents, the issue of high employee turnover becomes downright painful.
Not convinced? Consider the additional effect on employee morale, the ongoing loss in intellectual property, and the long-term implications for the customer experience — the costs can grow far beyond immediate operational expenses.
So why is high employee turnover so common among contact centers? There are a number of reasons. According to a report from research-driven AI company ASAPP, the primary reasons for contact center attrition are:
Inadequate training
Low-quality feedback from supervisors
Metric standards that don't make sense
Technology that isn't up to par
Rude or aggressive customers
Regardless of whether you're just getting started or representing a large enterprise, employee turnover is nothing to ignore. Follow the strategies below to improve employee retention in your contact center.

7 Employee Retention Strategies For Contact Center Managers
1. Provide Effective Training That Prepares Agents For Success
When it comes to preparing agents to confidently and swiftly address customers' issues, high-quality training is essential. Effective training programs require more than thorough documentation as well. According to the ASAPP survey, 77% of agents say hands-on training and shadowing are more effective than reviewing written materials.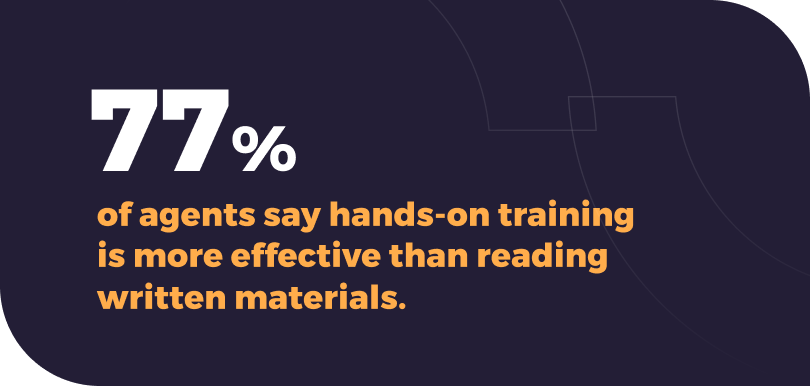 With in-depth training sessions for each of the tools your contact center uses, as well as best practices for navigating conversations, you can clearly establish company goals and expectations while providing your agents with the confidence to tackle any initiative.
2. Show Appreciation For Top Performers
Demonstrating your appreciation for agents who are excelling can go a long way toward improving contact center retention. Employees who don't feel adequately recognized are twice as likely to say they intend to quit their jobs within the next year, according to Gallup research.
Using a combination of rewards, public recognition, one-on-one praise, and promotions helps create a supportive environment that helps agents feel appreciated and valued. A little competition between peers is also a great way to drive productivity, but it should never be the sole means of measuring agent performance and contributions.
3. Go Beyond Metrics To Offer Individualized Coaching
Monitoring agent performance metrics — which includes service level, agent schedule adherence, call resolution, average handle time, and customer satisfaction — is critical for identifying opportunities to improve. However, these data points shouldn't be the sole way you determine an employee's capabilities and potential. In fact, many call center employees find adhering to such standards leads to stress and negatively impacts their productivity.
Supervisors must recognize there are other factors that affect an agent's performance. Regardless of where each employee falls on the performance spectrum, it's important to reach out to each agent to review what is and isn't working. Arming yourself with actionable data will help you approach these conversations in a more human way. Leverage intelligent speech analytics and to identify critical moments during customer-agent interactions and determine each agent's strengths and weaknesses in resolving issues and coach accordingly.
You would also be wise to put yourself in your agents' shoes. Employees who exercise empathy can improve the customer experience, of course, but that same tactic is also a good way to ensure each of your agents feels heard and understood.
4. Establish Promising Growth Opportunities
Employees across the entire workforce crave opportunities to develop their skills and grow in their careers. The Work Insitute's 2021 Retention Report reveals that lack of career development opportunities is actually the number one reason why employees decide to quit their jobs. As a supervisor, you must clearly present and offer opportunities for advancement in order to improve employee retention.
There is a range of options you could consider offering to your agents, including offering learning stipends, holding regular career planning meetings, holding skills training sessions, and creating a mentorship program. Additionally, ensure development opportunities are clearly established and regularly communicated to agents. It will encourage them to remain with the company while striving to reach for those elevated opportunities.

5. Empower Contact Center Agents To Provide Exceptional Experiences
To increase employee productivity, some contact centers have resorted to requiring agents to complete repetitive tasks and processes. The unfortunate byproduct is that this type of monotony leads to agent boredom and prevents creative thinking. But solutions such as voice-enabled self-service are capable of doing more of that heavy lifting, freeing your agents for more complex interactions that truly warrant their attention.
Understandably, complex issues are more difficult to solve. So how can you ensure you maintain or improve first call resolution rates?
Give agents immediate access to all customer records with a contact center solution that natively integrates with your system of record, whether it's

ServiceNow

,

Salesforce

, or

Microsoft Dynamics

.
Use

interactive voice response

(IVR) to match customers with the most appropriate agent for the issue at hand.
Leverage automation for agent activities, recordings, transcriptions, and more to empower employees to quickly resolve customer needs and improve their overall job satisfaction.
6. Enable Your Agents To Work From Anywhere
Contact centers are increasingly migrating from on-premise to fully distributed operations. This move to a remote contact center can benefit the customer experience, but only if you hire the right agents and equip them with the technology that allows them to perform every aspect of their jobs within a single platform. By giving remote agents the tools they need to perform their jobs effectively, they can reap the rewards of flexibility and convenience.
Remember that remote work is no longer a trend — it's now the norm.
7. Create A Strong Culture That Encourages Work-Life Balance
Perhaps the clearest signal to agents that you value their contributions is granting them the freedom to enjoy their lives outside of work. Some contact centers are beginning to rise to the occasion. A recent survey from Call Centre Helper shows there was a 5% increase in flexible shifts and a 5% increase in unpaid leave over the last year.
Interactions and activities that take palace during the workday can also play a pivotal role in helping to foster a supportive, inclusive work environment that employees want to be a part of. Consider how you can encourage collaboration and implement team-building exercises that help foster a sense of community.
Don't Put Reducing Employee Turnover On Hold
With the right strategies, high employee turnover could become a thing of the past in your contact center. You don't need to take an all-or-nothing approach, either. Consider implementing just one or two of the above strategies to start. Over time, you can weave in additional support as it makes sense.
Now that you have a better understanding of how to improve employee retention in your contact center, you can turn your attention toward other priorities, such as digital transformation. Believe it or not, advanced voice solutions are essential for modernizing and streamlining your contact center operations. Explore the ins and outs of natural language processing to prepare for what's next.