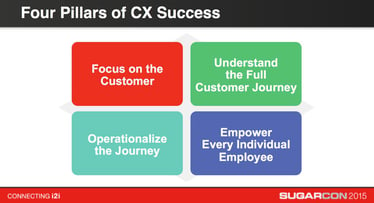 Customer experience (CX), or the sum of all experiences a customer has with an organization across various touchpoints (voice, email, text, chat, social media, brick & mortar), has become one of the most vital focuses of today's enterprises. Offering businesses a number of benefits – including improved customer retention & loyalty, enhanced cross-selling opportunities, and a more positive public image – the ability to offer an exceptional customer experience has quickly become a point of competitive differentiation worth fighting for. Case in point, those companies that prioritize the customer experience generate 60% higher profits than those who do not. The obvious question – why?
Let's break down the value of a happy customer:
9 out of 10 customers say they would be willing to pay more for an exceptional customer experience.
An existing customer is 5-10 times more likely to buy again than a new prospect.
A customer is 4 times as likely to defect to a competitor if the problem is service-related than price- or product- related.
Happy customers tell 4-6 people about their experience and unhappy customers tell 9-15.
For every known unhappy customer, there are 26 more who have remained silent.
But while many businesses think they are creating an exceptional experience, many customers would disagree. In fact, an astounding 80% of businesses believe they are delivering a "superior" customer service experience, while only 8% of customers agree. And it is not necessarily due to lack of effort- adoption of customer relationship management (CRM) software, cloud, and multichannel communication platforms has actually risen as businesses continue to adopt the latest technologies in an attempt to meet consumer expectations. So what is missing?
Discover the 4 Pillars of Customer Experience (CX) Success
Focus on the Customer: Every decision a business makes, whether it is client facing or not, should take into account the customer, and how their experience will be affected. While adoption of WFM, WFO, cloud call center software, etc. are meant to enhance processes and bottom-line, they are ultimately designed to enhance the customers' overall experience; and if they are not properly implemented and integrated with existing processes, they are not doing a business or its customers much of a favor. To measure the success of newly implemented technologies, programs, and processes, businesses should always find ways to gather their customers' feedback—while things may seem to be going well on the business side, customers may not necessarily feel the same way. A continual focus on the customer and their needs/preferences should help other aspects of the organization fall into place.


Understand the Full Customer Journey: Businesses house exponential amounts of information about their customers; from purchase history, to account information, to previous interactions—the list goes on. But this information may not necessarily be easy to digest or comprehend, especially if it is siloed in different departments across disparate communication channels. And to truly deliver on customer expectations and enhance the overall customer experience, company representatives need to have a single view of their customers, and understand the full customer journey, requiring the unification of disparate data. By integrating all client information (account details, previous purchases, etc.) across all SaaS solutions/database management platforms, employees can have a more adequate understanding of every single customer and his/her unique needs.


Operationalize the Journey: Gaining a wholistic view of the customers is important—but virtually useless without a communications platform from which to act upon. By creating an omni-channel customer care strategy, enabling users to access all communication channels (voice, email, text, chat, social media, video) in addition to all customer records from a single platform, the ability to operationalize the customer journey will be far more within reach. With immediate access to relevant client details the moment an interaction occurs, agents can more adequately respond to customer needs and inquiries with the most relevant and up-to-date information.


Empower Every Individual Employee: Information and technology are essential in delivering great customer service, but if businesses are not giving their employees (the greatest asset of any well run organization) the tools and guidance they need, delivering an exceptional customer experience will undoubtedly be a challenge—afterall, the representatives answering phone calls, inquiries, and service requests are essentially the face of an organization. By adopting easy-to-use technology, setting clear expectations, offering guidance (scripting, quality monitoring), and providing continuous feedback (intelligent reporting), ensure your reps are at their peek performance, and can deliver on the expectations of today's consumers.