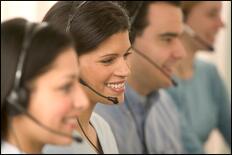 Enhancing the customer support experience: The difference between support and personalized support.
In today's market, when a customer calls support he or she does not want help from an agent who is reading from a script or waiting to be prompted by a computer. Customers want to be engaged in the support experience and know the agent on a somewhat personal level so they feel comfortable calling that agent under any circumstance, good or bad.
A business model founded on the beliefs that a great tech company requires not just amazing software but best-in-class customer support will flourish in today's market; regardless of the industry. Just as they invest in developing their product, companies need to continually invest in, enhance, and develop their customer support programs. It's quite simple, companies that develop new procedures and policies to improve the customer experience will engage the customer, incrase retention, make the customer feel important, and increase the customer's confidence in their technology.
Some of our support tools that embrace personalized support include: (1) single point contact, support forums, and personalized training videos. What's more, we are routinely thinking outside the box when it comes to customer relations and improving the customer support experience. 3Clogic's developers enhance the software, and our support team enhances the customer's support experience.
-Andrew Utterback, Project Manager, 3CLogic