Today's customers have a bevy of choices for nearly every type of product or service. Whether it's a car, pair of shoes, restaurant meal, or subscription-based software they're in need of, customers can be quite discerning in deciding which company will ultimately win their business.
As for what they consider when making a purchasing decision, key factors include price, quality, and affinity for a particular brand. But a successful customer experience (CX) is equally important.
Unfortunately, an August Market Study from CCW shows that only about 40% of customers think companies have gotten better at delivering great customer experiences via phone and digital channels in the last year. The problem with falling short like this is that a truly customer-centric CX strategy is no longer optional — it's critical for ensuring profitability both now and in the future, and there's plenty of proof.

How An Effective Customer Experience Strategy Affects The Bottom Line
There are plenty of customer experience statistics demonstrating that CX plays a pivotal role in an organization's financial success. It's now essential to be "customer-obsessed," meaning the customer is central to the entire organization and its operations rather than one or two departments. In fact, research from Accenture shows companies that are customer-obsessed grow their profitability year-on-year by at least six times over those that are merely customer-oriented. Clearly, a positive customer experience and profitability go hand-in-hand.
This is true across industries as well. No matter who your customers are, the interactions they have with your organization at every touchpoint affect their perceptions and, ultimately, their purchasing decisions. Consider these different types of "customers":
Prospective college students
Clinic or hospital patients
Airplane passengers
Consider a prospective college student who calls an institution hoping to gather information about degree programs they're interested in, financial aid, and housing options. If they have a poor experience, they'll soon become frustrated and move on to other schools. They may also tell their friends to avoid the college that didn't give them the assistance they needed. This same scenario can play out for every type of customer.
As for how the customer experience affects profitability more specifically, there are a number of ways a great CX strategy directly affects your bottom line.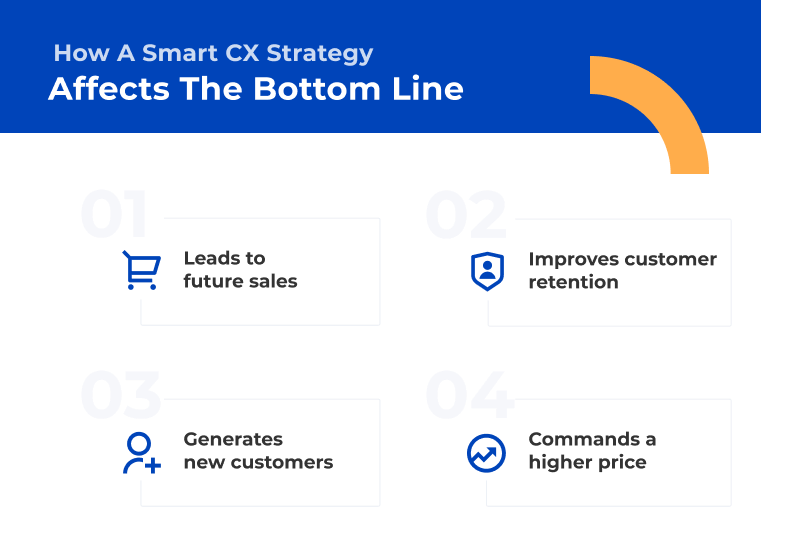 🚀
Leads To Future Sales
It seems reasonable to assume customers who are satisfied with a product or service will buy again, but that isn't always the case.
For instance, consider a customer who recently purchased a new computer that's far more advanced than anything they've had before. This customer will likely need to spend a significant amount of time seeking support from the company to get up to speed with their new device. If those customer experiences are frustrating and involve a long time waiting in the contact center's queue, the odds of them becoming loyal to that brand are slim, even if they end up loving the new device.
A great customer experience, on the other hand, all but assures that customers will return. An XM Institute report reveals that 94% of consumers who rate a company as 'very good' are likely to purchase more products or services from that company in the future.
🤗
Improves Customer Retention
Even an organization that's committed to being customer-obsessed is bound to make a misstep occasionally. However, that doesn't have to be the end of the relationship. According to the same XM Institute report, 75% of consumers who give a company a great CX rating are likely to forgive that company in the event of a bad experience.
That said, it's important to keep in mind that customers have high expectations. Research from Salesforce shows that 70% of customers say that having a seamless, connected experience is important for keeping their business. Contact centers operating with siloed platforms that don't readily share data are unlikely to meet this standard.
👋
Generates New Customers
Word-of-mouth recommendations from close friends and family can be powerful, and it turns out that most customers are quick to talk about the interactions they have with different companies. According to an American Express study, 90% of U.S. adults tell others about their service experiences. On average, millennials tell about 18 people about a good experience compared to older adults who tell roughly 7 people. Bear in mind that millennials are also likely to take their feeling to social media, so negative and positive opinions can spread rapidly.
Don't forget about the opposite scenario, either. Customers frequently tell their friends and family about negative experiences as well. Older adults polled in the American Express survey indicated they'll tell 16 people about a bad service experience they had.
💲
Commands A Higher Price
Being a low-cost leader is often seen as the best way to attract customers, but it's not the only effective strategy. The Salesforce report shows that 67% of customers are actually willing to pay more for a product or service if the company offers a superior experience.
Think back to that person who recently purchased a new, more advanced computer. If they instead receive exceptional customer service and feel all their questions are answered, they could very well return years later to make another purchase despite a new competitor that offers a lower price tag.
How To Enhance Your Contact Center's CX Strategy
Having a customer-first mindset is an important first step. But to ensure your contact center provides an excellent customer experience at scale, you need a more robust strategy that leverages the right technology and insights.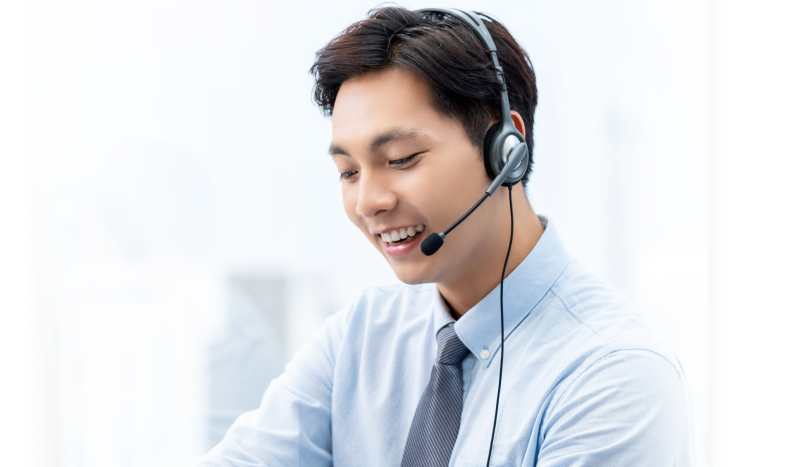 How do you get started? Just consider the pain points contact centers have already identified as barriers to achieving success. According to CCW's November Market Study, the top contact center challenges are disconnected tools and systems, disconnected channels, and high agent turnover. With those pain points in mind, start thinking about these next steps:
Enable a 360-degree view of the customer — Give agents the information they need by integrating all of your customer service platforms, which also minimizes the chances of customers getting frustrated by having to repeat themselves. When agents, even remote ones, are able to access all customer information within your primary system of record, they're up to speed on an incident before even responding to a customer.
Deliver an omnichannel experience — Customers have different preferences when it comes to how they interact with an organization: email, messaging platforms, online portals, text, phone, and video. A sound customer experience strategy will take that into account by focusing on delivering an omnichannel experience by integrating voice with digital channels to support every channel of communication.
Empower your agents — Improving employee retention really comes down to empowering agents by providing effective coaching, enabling them to work remotely, automating routine tasks, and showing appreciation for the work they do. When employees feel supported, they're more likely to provide exceptional service.
Leverage analytics to gain critical insights — Even the highest-performing contact center is capable of improving. With comprehensive reporting and analytics, you can more quickly identify opportunities for improvement and take action.
Put Your Contact Center CX Strategy Into Action
There's no denying just how much the customer experience affects an organization. Knowing this, it's easy to see how the interactions customers have with your contact center agents can directly impact your bottom line. With such high stakes, having an effective CX strategy is critical for ensuring continued growth and success in your organization.
No matter where you are en route to improving the customer experience, you're likely experiencing some challenges that are related to contact center technology — lack of platform integration, disconnected communication channels, and so on. These issues are amplified if your contact center is partially or fully remote.
Find out what it takes to provide an exceptional customer experience with a distributed workforce.