Just a few decades ago, artificial intelligence (AI) seemed relegated to the world of science fiction. But times have changed. We now know that AI isn't synonymous with the lifelike robots depicted in TV shows, movies, and books — it actually enables many applications that benefit individuals and organizations alike.
But when it comes to contact center artificial intelligence, it feels like so much potential has yet to be realized. Agents are still completing a lot of manual tasks and supervisors still have gaps in their knowledge of contact center health.
Does this mean it's time to give up on contact center AI? Certainly not. However, it's important to gain some additional information so you can start on the path to successfully leveraging contact center AI.
The Rise Of Contact Center AI
It's no secret that contact centers have become increasingly digital over the years. The days of on-premise offices filled with phones are long gone. Today, many contact centers are fully remote and agents have expanded to communicating with customers via email, SMS, live chat, and more.
Even as contact centers have embarked on their digital transformations, many have recognized that there are still improvements to be made. This is why contact centers are increasingly turning to AI, such as conversational AI that uses natural language processing (NLP) and AI-enabled chatbots that identify the true intent behind a query that a customer types into the text field. In fact, research from Deloitte shows that 79% of contact center leaders plan to invest in greater AI capabilities over the next few years.
The primary reasons enterprises cite for adopting AI include improving the customer experience, reducing costs, and driving top-line revenue. As for how leveraging AI can help fuel these achievements, it comes down to removing manual work from agents' already full plates. According to a recent CCW Digital Market Study, 91% of contact center leaders think AI will take care of many simple, routine tasks. This can include resetting passwords, communicating order updates, and much more.
Key Ways Contact Center AI Is Falling Short
While there's clearly an enormous amount of potential for AI to transform contact centers, many of the technologies organizations adopted have at least some limitations. The Deloitte report reveals that only 25% of contact center leaders think AI has met or exceeded expectations. However, it's important to note that many organizations are still testing technology to determine the best applications — they may simply need to refine the way they use AI.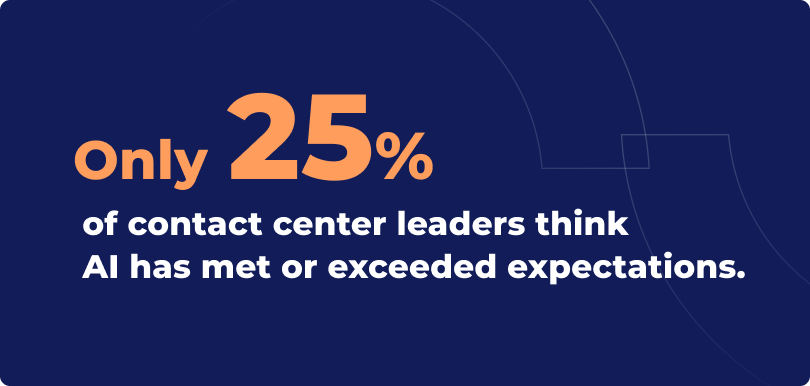 When contact centers do have a good understanding of what a tool can do and how to implement it, they must remain mindful of a few things. First, they need to recognize that customers have different communication preferences, which is clear in the recent data on channel usage from Contact Centre Helper. Some customers want to interact with a live agent who is able to empathize with them. This explains why voice remains the primary channel for communicating with customers — many people simply prefer the personalized touch that connecting with an agent over the phone provides.
Second, it's important to acknowledge that AI-powered tools can't resolve every issue. Some customer questions are so complex that they really require a conversation with an agent. The key to bridging that gap is leveraging contact center AI that's seamlessly integrated with your existing platforms to ensure that those customers are effortlessly handed over to an agent who is able to see their full interaction history.
Despite the fact that AI isn't a cure-all for every customer issue, contact centers do have an opportunity to effectively use AI. It requires a strategic approach that involves complementing agents' skillsets with the right technology.
How Agents And AI Can Work In Tandem
Forget the idea of AI replacing agents. Trying to use technology to perform all tasks agents are responsible for simply isn't realistic or advisable.
The truth is that the role of AI in customer service will be to remove tedious tasks from agents' workloads and free them to focus on more complex problems. Interactions surrounding issues that are difficult to resolve also tend to be the ones that most require the personalized, human touch that only a live agent can provide.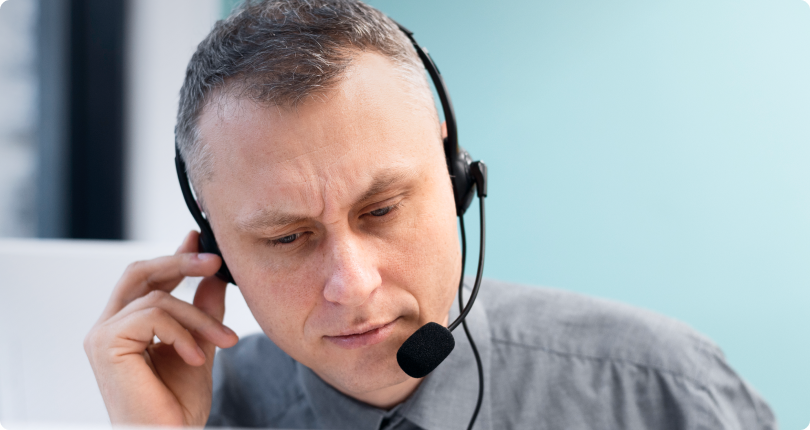 Bear in mind that integration is a key factor in successfully implementing any sort of AI. The tool must be able to access information from your system of record in order to ensure that when a case needs to be transitioned to an agent, it happens seamlessly. When agents and AI work together in a fully connected ecosystem, your contact center is able to draw on the strengths of each.
Consider, for instance, that AI can be leveraged to deliver specific answers to customer inquiries, intelligently route calls to the most appropriate resolution or qualified agent, and determine related questions customers may have through predictive capabilities.
With technology taking care of gathering, organizing, and analyzing information, agents can focus on the cases that truly warrant their attention. The good news is that more and more contact center leaders are recognizing this. CCW Digital's January Market Study shows that 52% of contact centers plan to prepare for the future of AI by focusing on training agents to handle more complex interactions.
Think of it this way — integrating AI into your contact center in a thoughtful way paves the way for developing a team of highly skilled agents who are essential to your organization's success.
Strike The Right Balance Of Personalization And Automation
Science fiction may have missed the mark on a few things when it comes to AI, but the genre was certainly right about it being capable of driving efficiency and convenience. Contact centers can reap these benefits so long as they integrate technologies that elevate the value of human interactions.
Interested in harnessing the power of AI for your contact center? Discover how to take the next step in your digital transformation with 3CLogic.