Today, 70% of enterprises either have a digital transformation strategy in place or are actively working on one. Nearly half say improving customer experience and customer satisfaction were the leading influences driving the focus and effort. In fact, 72% of enterprises expect digital transformation to create closer relationships with customers. However a new report revealed that digital transformation projects are stalling due to a "hesitancy gap", as enterprises struggle to navigate the risks and complexity associated with turning innovation from concept to reality.
While the global impact of COVID-19 has helped to accelerate the desire to digitally transform, recent data would suggest most organizations still need to learn to walk before they run. Case in point, one in three companies began using live chat and interactive voice response (IVR) channels for the first time this year (2020). At the same time, while the adoption of digital channels has grown, 40% of customers will ultimately elect to contact a call center agent for assistance, especially if the inquiry is complex in nature. In fact, per recent research, customers expect organizations to provide the following channels: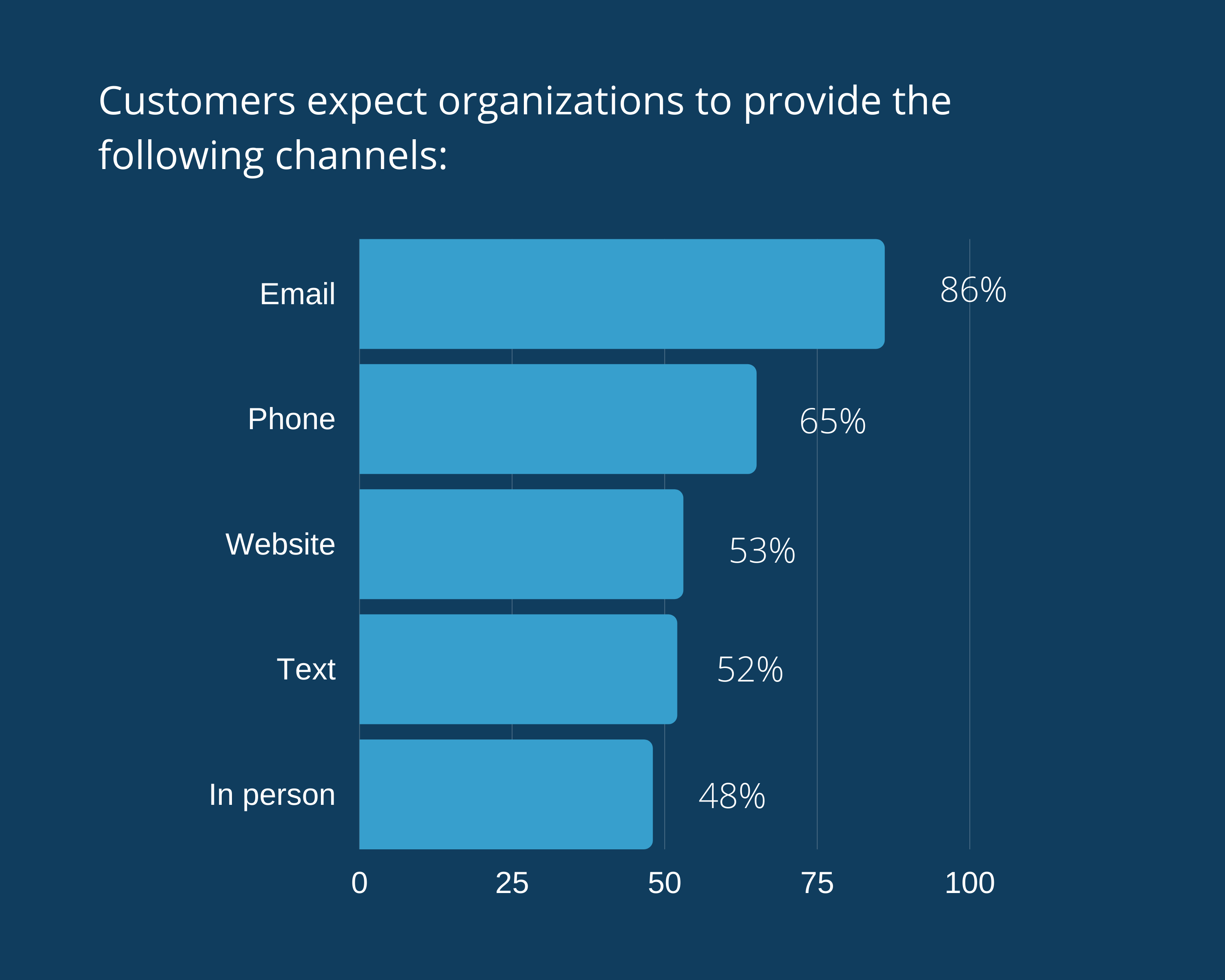 In short, while the goal of digital transformation is to integrate digital technologies into all areas of a business to change how an organization operates and delivers value to end-customers, value can also easily be attained by simply improving on what already exists without a complete operational overhaul.
Which begs the obvious question – where to start?
Luckily, here are two approaches:
Apply Voice-based Self-Service
Recent advancements in voice recognition technology have in many ways made voice the new user interface. It also remains one of the most popular and effective customer service channels across most organizations.
Today customers speak to their car, their phone, to Siri, etc. for any number of requests. Thanks to Natural Language Processing (NLP), AI, Text-to-Speech (TTS), bots, and easy-to-use APIs, voice-enabled self-service to address simple inquiries such as the ones below, are far more feasible to apply today without impacting the customer experience.

Even more helpful, cloud-based voice solutions can integrate, and leverage data stored in a CRM or system of record, such as ServiceNow, Microsoft Dynamics, Salesforce, SugarCRM, etc. to drive more intelligent outcomes without the need for live agent assistance.
Create Intelligent Workflows by Connecting What Already Exists
Of course, as organizations strive to improve automation and self-service offerings to end-customers, many overlook the importance of also streamlining access to the appropriately skilled agents when necessary. However, very often too many applications, disconnected back-end systems, and clunky user interfaces can hamper the intended outcome. In many cases, the consolidation of services and channels can provide an immediate ROI without changing the IVR call flows and customer journeys already in place.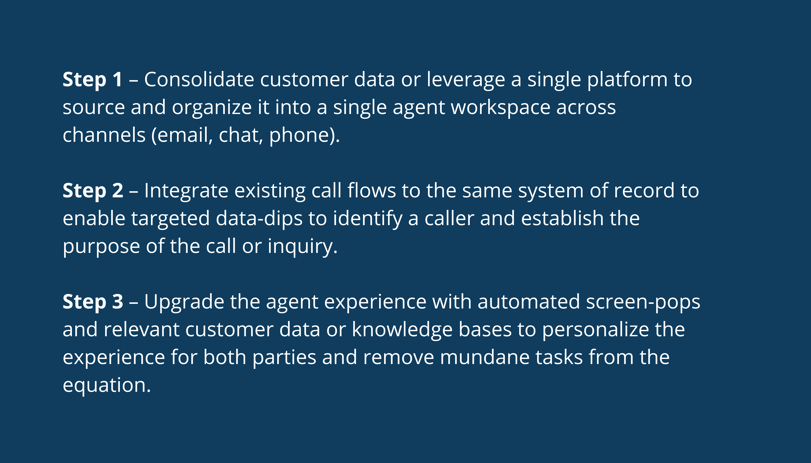 In short, success may not require a universal overhaul and sweeping changes to processes already in play. Instead, improving the tools and technologies in use can quickly have a positive impact.
Conclusion
Despite a continued focus on Digital Transformation, over half of enterprises admit their projects are always or regularly delayed as a result of too many barriers to overcome. Updating call flows is a manageable step towards digital transformation with immediate benefits to customer experience.