What started as a few whisperings in early 2022 has become a near certainty — the U.S. is on the cusp of a recession. With inflation soaring, stocks tumbling, and consumer sentiment dwindling, it's not difficult to see why a recent survey shows that experts predict there's a 44% chance of entering an economic downturn within the next 12 months.
As organizations brace themselves for a possible recession, many are wondering what's in store for contact centers. These essential departments are often plagued by inefficiencies and high turnover, but such issues are far from inevitable. In fact, effective contact center management supports the customer and employee experience, streamlines operations, and also keeps costs in check.
If you aren't actively taking steps to improve your contact center management, now is the time. Set your sights on these best practices.
6 Essential Elements for Successful Contact Center Management
When it comes to driving operational efficiency and minimizing costs, each of these tactics can make a difference. It all starts with recruiting the right team members.
1. Hire The Right People
Finding qualified agents who can deftly navigate customer issues is no small feat. According to a survey from Contact Center Pipeline, more than 40% of respondents say that hiring and recruiting is their biggest challenge. While the pressure to fill roles quickly can be high, it's better to take the necessary time to find individuals who are truly the right fit.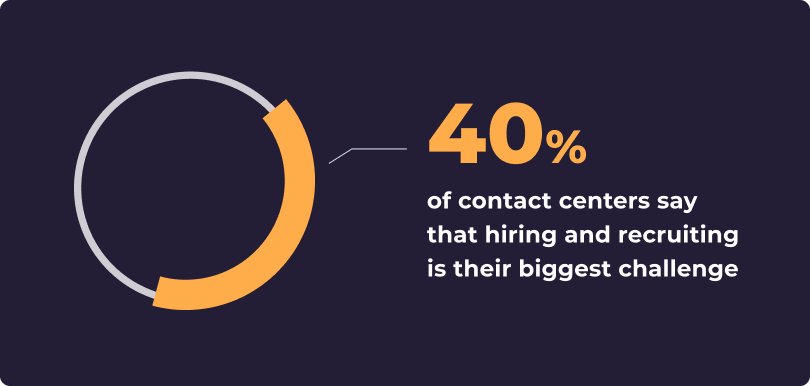 As for which qualities to look for, it depends a bit on your specific organization. That said, every contact center needs agents who:
Communicate clearly
Remain calm under pressure
Effectively navigate different technologies
Welcome constructive criticism
Because recruiting the right agents can be time-intensive, it's a good idea to keep in mind that you can always bring on some part-time help temporarily. This will allow you to continue meeting your targets while ensuring you don't rush the all-important hiring process.
2. Focus On Training And Professional Development
The hard work isn't done after a highly qualified agent accepts the job. You need a thorough onboarding program to make sure they deeply understand your products and services, get up to speed on the tools they'll be using, and more.
Hands-on training is also a critical component of ensuring agents are prepared to handle every kind of customer inquiry. Consider implementing a shadowing program if you don't have one already because it enables newer employees to learn directly from some of your top-performers. It's also a good idea to launch a professional development program to help already great agents become even better.
With effective training and professional development opportunities, agents will be more likely to develop the skills they need to turn customers into repeat buyers. It's true. Research from Lucidworks indicates that 84% of agents say they sometimes if not always up-sell and cross-sell to customers, and it works about 50% of the time.
What's more, agents that are afforded opportunities to grow in their careers will be far more likely to deliver exceptional customer experiences. This can have a measurable impact on your bottom line. According to research from Forrester, companies that prioritized customer experience grew their revenue by nearly 30% over five years while companies that aren't as customer-focused only grew revenue by 4.5% during that time.
3. Improve Your Retention Rate
You aren't alone if you find yourself dealing with a significant amount of attrition year after year. A CCW Digital report shows that 33% of contact center leaders say that high turnover is a significant pain point. The good news is there are numerous ways to keep employees satisfied and reduce their odds of leaving.
Some of the best ways to improve contact center retention include:
Showing appreciation for top-performers
Providing individualized coaching
Offering professional growth opportunities
Enabling agents to work from any location
Promoting work-life balance
How much does improving agent retention affect your bottom line? More than you might expect. Gallup reports that the cost of replacing an employee can easily cost up to two times their annual salary — and this is a conservative estimate. If you end up retaining just a few more people than in previous years, that can amount to hundreds of thousands of dollars.
4. Automate Wherever You Can
If your contact center is burdened with a significant amount of manual work — listening to call recordings, taking notes, etc. — it's wise to start considering how you can remove those tasks from your plate. For some contact centers, this is achievable by leveraging an integrated voice solution for their primary system of record.
For example, by making use of a solution that includes automatic call transcription and click-to-call technology, one government agency was able to save more than 650 hours' worth of manual tasks in just 6 months. This can add up to real cost savings as well. The Harvard Business Review reports that the cost of self-service interactions is almost nothing while live-agent interactions can cost as much as $13 each.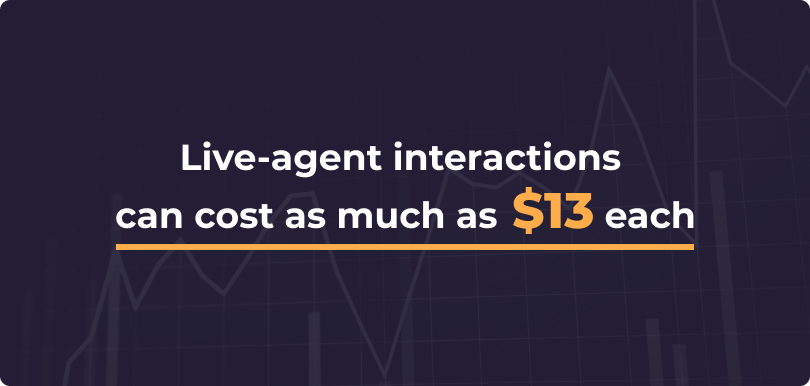 Doing what you can to automate tasks will prove pivotal for remaining successful through an economic slowdown.
5. Consolidate Tools
When it comes to contact center technology, more is not better. Some tools have overlapping features, some don't integrate with each other, and some simply don't get used.
Now is the time to take stock of your tech stack to see where you can consolidate. It won't just cut down on licensing costs, it will also improve the employee experience. Consider an organization that uses one platform as its primary system of record but also leverages a separate platform with some of the same capabilities as well as voice workflows. That leaves employees switching back and forth between screens. But a solution like 3CLogic's CTI integrates with leading platforms to ensure agents can access all relevant call information right within their usual workspace.
A survey from eGain and BenchmarkPortal shows how important this is, indicating that nearly 50% of agents say they have to look at too many different windows to resolve customer issues. Worse yet, 56% of these support professionals say there's no integration between self-service and agent-assisted experiences.
By minimizing the number of tools your contact center uses, you'll reduce costs in the near term and in the long term.
6. Analyze Performance And Adjust
This is perhaps the most important element in effective contact center management. Consider how critical it is to be able to see variations in contact arrival type. As ICMI points out, arrival type affects staffing needs, impacts performance, and determines which decision-making strategies are needed.
Unfortunately, it does no good to learn about pattern changes a day or even a few hours after the fact — by then it's too late to take corrective action. You need to be able to spot negative trends and act on them in real time to ensure small issues don't spiral out of control, affecting everything from customer satisfaction to wait times.
But this isn't a problem if your consolidated tech stack features an advanced analytics solution, such as the one from 3CLogic, that's integrated with your system of record. With this type of tool, you can easily access all necessary data, monitor agent performance, spot trends, and swiftly implement solutions. Reuven Rosenthal, Solutions Engineer at 3CLogic, notes this is particularly true when it's combined with a solution such as ServiceNow Workforce Optimization.
"You can actually schedule your team right from here and make sure that you have the right people at the right times given the recent spikes in demand," he explains.
The more proactive you can be, the better you can handle whatever lies ahead in the coming months.
Recession-Proof Your Operations
Preventing a recession might not be possible, but you can absolutely prepare for one. The decisions you and other leaders make now will have an enormous impact on your organization in the future. This means that now is the time to strengthen your contact center management practices.
While each of the above recommendations will ultimately help to future-proof your contact center, leveraging analytics to uncover opportunities for improvement will be especially critical. Discover how to uncover valuable insights with an advanced, integrated reporting solution.