Picture this — your call center experiences a huge surge in volume on Tuesday morning at 10am, a time that's typically quiet. As the queue grows, average handle time (AHT) spikes, the abandon rate grows, and the first call resolution rate plummets.
Negative trends such as these are a sure sign to supervisors that it's time to take action. However, this isn't possible if you don't have visibility into what's happening as it's happening. It's something that Paul McConnon, Senior Director of Solution Consulting at ServiceNow, has personally experienced during a prior role overseeing contact center operations.
"In contact centers, one of my biggest frustrations was that I would find out about issues the next day," he recalls. "I would get these great reports, but they'd be a day old."
Luckily, it's now possible to identify problems in real time and swiftly intervene. Organizations are already reaping these rewards by integrating their telephony data with their ServiceNow data. To join their ranks, start by identifying which obstacles are in your way and what it takes to overcome them.
Current Challenges With Contact Center Reporting
Effective reporting is vital for today's contact centers. It allows supervisors to identify trends over time, generate accurate forecasts, monitor agent performance, and gain a holistic view of contact center health. In short, solid reporting capabilities help leaders to gain insights they can act on.
Unfortunately, many organizations have yet to reach their full potential when it comes to contact center analytics. A key part of the problem is that many contact centers are leveraging multiple tools that just don't integrate with one another. In fact, a CCW Digital Market Study shows that 52% of contact centers say using disconnected tools and systems is their primary operational pain point.
When data lives in multiple, separate systems, it's incredibly difficult to connect the dots. This certainly explains why 80% of business leaders struggle to unify all their real-time and historical data. Consider some of the ramifications of this sort of impaired visibility — poor staffing decisions and even potential revenue loss.
The data silo issue becomes even more problematic as organizations find themselves collecting, storing, and analyzing growing amounts of information. Two-thirds of organizations have reported seeing significant increases in data volumes over the past year, and this trend is unlikely to stop anytime soon. Clearly, lack of information isn't the problem.
"The issue is probably that we have too much data and data in different places in silos," McConnon elaborates. "When you have all your data in these different places, what you really have is a shortage of actionable insights."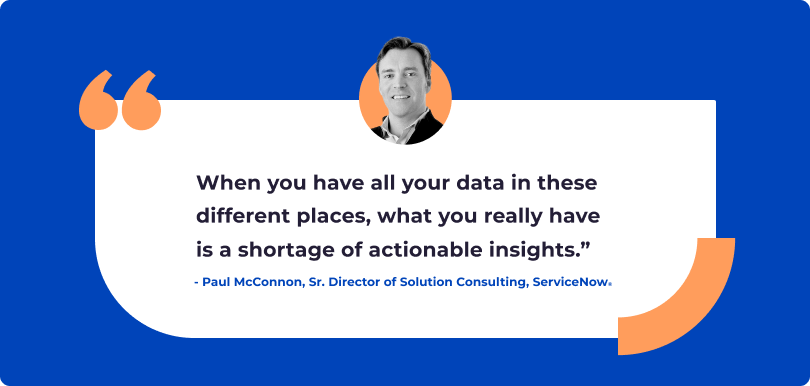 What It Takes To Effectively Use Advanced Contact Center Analytics
There's a better, brighter future for contact center analytics. The key? Leveraging a voice solution that seamlessly integrates with ServiceNow to extend your reporting capabilities, providing you with opportunities to optimize performance. Just consider what's possible with 3CLogic's natively integrated solution for ServiceNow:
100% visibility into contact center health

Centrally stored and easily accessible data

Trend analysis that empowers supervisors to take action

Agent performance monitoring — no matter where they're located

Automation that minimizes manual work
For a better understanding of how this is possible, let's outline a scenario that walks through how a supervisor can leverage a variety of reporting solutions to identify an issue and implement a solution before the problem grows out of control.
1. Use ServiceNow Standard Reporting To Identify An Issue and Create A Major Case
Consider a situation in which a supervisor notices a spike in volume on Monday that grows even higher on Tuesday. The supervisor can leverage ServiceNow's standard reporting function to look into key metrics that also seem off, which include abandon rate and queue time. They can also explore the breakdown of cases by category — all within ServiceNow.
Better yet, the supervisor can click into the corresponding tickets to find a common theme. In this scenario, it's a memory leak on an app that resulted from a new patch release.
From there, the supervisor can create a Major Case. Once this action has been taken, it's possible to group associated cases together and begin proactively asking customers whether their calls are related to the Major Case.
2. Dig Deeper Into The Trend With ServiceNow Performance Analytics
As Reuven Rosenthal, Solutions Engineer at 3CLogic points out, identifying and flagging a problem is just the beginning. "As a supervisor, you're next going to see how this is affecting your bottom line," Rosenthal notes.
Using ServiceNow Performance Analytics, it's possible to drill into specific metrics to further understand what's going on. The supervisor in this case would likely want to home in on the abandon rate to determine the precise moment it began to rise, and they can even create a forecast to show what would happen if the trend were to continue.
3. Take Corrective Action In ServiceNow Workforce Optimization
With a solid understanding of what happened, when it happened, and how it's likely to impact operations in the coming days, the supervisor can start making needed adjustments within ServiceNow Workforce Optimization (WFO).
"You can actually schedule your team right from here and make sure that you have the right people at the right times given the recent spikes in demand," Rosenthal explains. Note that goes for scheduling more support staff as well as additional engineers to resolve the app issue.
Given that the app memory leak is a widespread problem, customers aren't only going to be reaching out via phone. Inquiries will also roll in via chat, email, and so on. Because 3CLogic integrates with WFO, that's no problem. Supervisors can fully manage every channel of communication from a single workspace.

The Impact Integrated Reporting Has On Contact Center Performance
The benefits of enhanced contact center analytics aren't just theoretical. Organizations are already realizing impressive results by integrating voice with ServiceNow. For example, Ingles Market saw the following results:
3% increase in agent performance within 90 days
66% increase in monitored customer calls
Streamlined compliance and quality assurance capabilities
Think of it this way — better reporting translates to better insights, faster decision-making, and improved performance, which all support customer satisfaction.
"Reporting is ultimately what can help customer experience managers and supervisors drive that call experience," Rosenthal adds.
Upgrade Your Contact Center Analytics
Data silos might be a common problem for contact centers, but they don't have to be. By integrating voice with your ServiceNow reporting, you can stop wasting time digging for information and start making data-informed decisions that will help you continually improve.
Eager to enhance your contact center reporting capabilities? See what's possible with 3CLogic Reporting and Analytics.