As a ServiceNow Premier Partner, 3CLogic is proud to offer the leading cloud contact center solution that deeply integrates with the platform of platforms. But don't just take our word for it.

Discover how Ingles Markets, Inc. leveraged 3CLogic's voice solution for ServiceNow to modernize their contact center operations and boost agent and manager productivity by 3% within 90 days.
About Ingles Markets
Ingles Markets, Inc. is a southeastern U.S. grocery retail chain. Operating in six states, Ingles boasts 197 grocery stores plus shopping centers and gas stations. The organization's service desk supports over 20,000 employees.

To manage their robust operations, Ingles implemented ServiceNow ITSM and ServiceNow CSM in October 2019. In late 2020, the enterprise implemented 3CLogic's cloud contact center solution to extend their ServiceNow investment to their voice operations.

Talk Shop — Voice Technology And The Grocery Retail Industry
As a retail business that sells essential items, Ingles Markets is a customer-facing, front-line organization. More than half of all of Ingles' issues are urgent matters, where a customer, employee, or vendor needs immediate support and attention. As a result, voice is essential to the company's success and to the customer experience.
Contact Center Challenges Before 3CLogic
Before implementing 3CLogic, Ingles Markets had the following challenges with their service desk operations:
Inflexible on-premise contact center system – Ingles was operating on a hardwired automatic call distributor (ACD), which physically anchored agents to their desks. When the COVID-19 pandemic hit, not only did Ingles experience a high volume of urgent calls, but they were also unable to fully staff remote agents. This presented Ingles Markets with a major business continuity hurdle that could not be ignored.

Dependency on technical resources to make call flow changes – Because Ingles was using an on-premise ACD, the service desk could not independently manage their IVR system and instead had to rely on outside sources for support.

No integration with ServiceNow to optimize agent and admin tasks – Ingles' operational goal was to adopt ServiceNow as their single source of truth, but agents were managing their phone calls in a separate system. This proved to be a major headache for reporting, as managers had to track down KPIs in isolated IT systems.

Limited to no call analytics and insights – Ingles' call center system had very sparse and shallow reporting. As a result, management was often underreporting their call volume, sometimes up to 33%, making it very difficult to advocate for the importance of the call center and the need for additional resources.

Agent quality assurance process was manually intensive and limited – One of Ingles Markets' greatest frustrations was that the quality assurance process was very tedious and time-consuming, taking several minutes to simply locate one recorded call. As a result, management could only monitor a small number of calls and offer very limited agent coaching.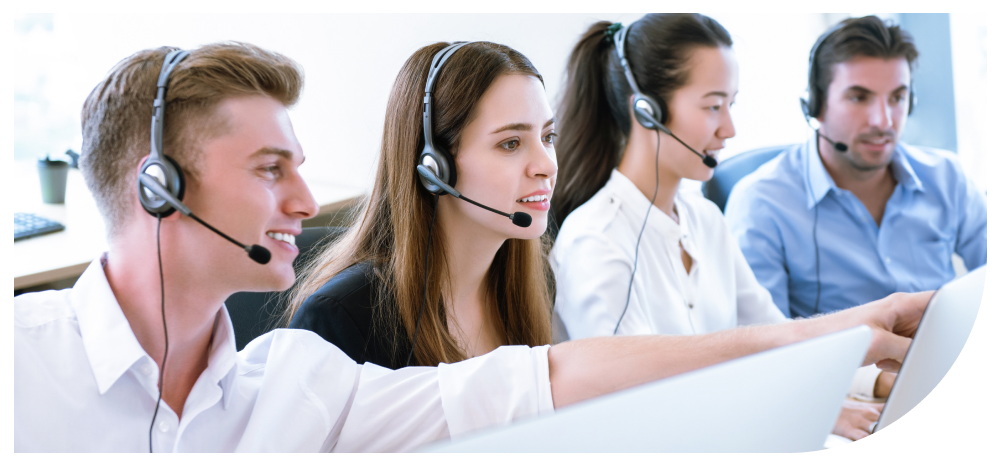 The 3CLogic Solution
After integrating 3CLogic's solution with their ServiceNow instance, Ingles Markets realized the following results within the first 90 days of implementation:
3% increase in agent performance – Average QA scores increased from 85% to 88%, a significant achievement within 90 days' time. This increase has vastly exceeded Ingles' expectations and the organization looks forward to seeing the cumulative impact of these results over time.

66% increase in monitored customer calls – Because 3CLogic deeply integrates with ServiceNow, contact center managers can now spend significantly less time tracking down calls to monitor and can instead focus their time and energy on providing true professional development to their agents.

5% improvement in call answer rate – With 3CLogic's intelligent IVR routing, now 93% of phone calls result in a connection with a live agent, rather than a dead-end. Callers are also spending less than one minute in the call cue.

1-minute reduction in average call handle time – Agents are now spending one minute less on each call as a result of the intelligent routing and ServiceNow integration. Shorter phone calls mean each agent can manage a higher call volume, and the service desk can save costs on staffing

Streamlined compliance and quality assurance capabilities – With 3CLogic's robust contact center reporting and analytics, management can identify agent non-compliance much more quickly and better support agents who need additionally coaching

Scalable agent coaching process driven by integrated speech NLP and AI – Thanks to 3CLogic's advanced speech analytics powered by natural language processing, it is now significantly easier to identify critical portions of an entire call and leverage that information for coaching opportunities.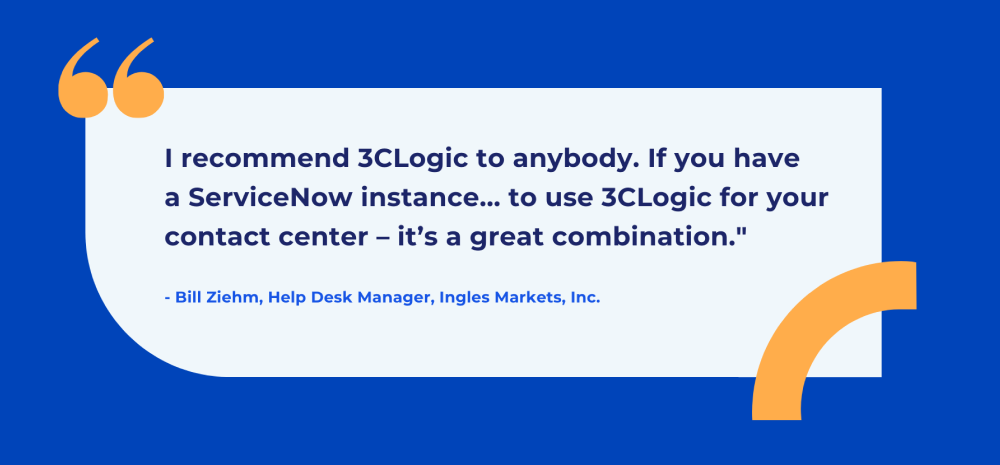 What's Next For Ingles Markets and 3CLogic
Though Ingles Markets has only recently implemented 3CLogic, the organization is extremely pleased with the results they have realized thus far. They look forward to exploring 3CLogic further and recommend the solution to any enterprise looking to extend their ServiceNow investment into their contact center operations.
Is your organization ready to realize the incredible potential of 3CLogic's contact center solution for ServiceNow?
Learn more