Digital transformation in the private sector helped 80% of companies weather the economic slowdown during the pandemic. But the team at Delaware's Department of Labor is proof that public sector leaders can also benefit from the operational efficiencies that cloud-based contact center services provide.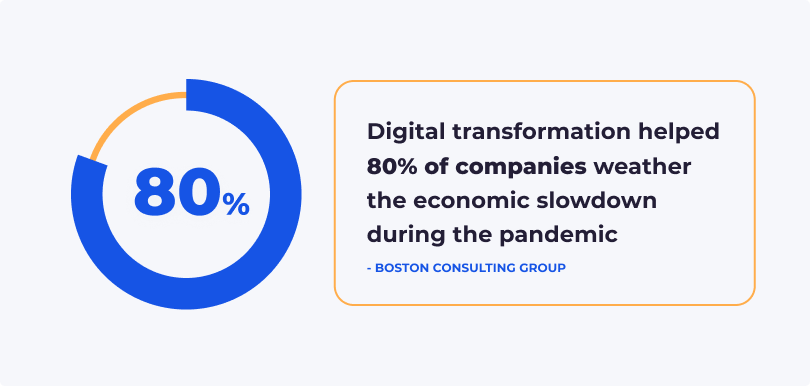 In fact, ServiceNow Premier Partner 3CLogic's voice solutions revolutionized the agency's workflows by seamlessly integrating with their existing digital channels. Find out exactly how Delaware's Department of Labor proactively prepared its citizen services for demand fluctuations with 3CLogic.
About The State Of Delaware's Department Of Labor
The Delaware Department of Labor connects people to jobs, resources, monetary benefits, workplace protections, and labor market information to promote financial independence, workplace justice, and a strong economy. They also employ a small team of service desk representatives who process claims and benefits for citizens.
During the pandemic, the Department was on a mission to provide excellent financial assistance services to the people of Delaware but became strapped due to fluctuating demand. In order to provide agile government support services quickly and efficiently, their team turned to 3CLogic's ServiceNow-centric solution to automate mundane tasks, enable agents to work from a single workspace, and increase their capacity during a historic surge in service requests and support.
Legacy Systems' Limited Capacity For Customer Demand Fluctuations
The public health crisis forced the State of Delaware's Department of Labor into heavy procedural changes, and since they relied on siloed systems of data, agents did not have access to the resources they needed to support citizens efficiently. When you compare a typical year of service demand for the State of Delaware to the last two years of adapting to the pandemic, the operational differences are staggering:
Went from 32,000 claims in a typical year to 350,000 claims over the last two years, an average of 175,000 claims per year.


Increased from paying out an average of $65 million in benefits per year to paying out $1.5 billion in benefits over the last two years.


Saw call volume grow from 110,000 - 125,000 calls in a typical year to 1.4 million calls during the past two years.


Grew their team from 88 employees to more than 250 employees at peak, an increase of more than 180%.
While Delaware's Department of Labor service demand ballooned, they became strained as they continued to rely on disparate systems that stored data separately from one another. This challenge was amplified by the fact that they were unable to automate many manual tasks. The consequence? Call resolution times drastically slowed down because agents needed to navigate between too many systems and databases.
How 3CLogic And ServiceNow Delivered Value
To be able to support expanded government services, Delaware's Department of Labor was looking for a technology partner that would be passionate about delivering a robust system capable of supporting citizens.
Their team needed a reliable Interactive Voice Response (IVR) system, call data capturing, and automated processes wherever possible. After integrating 3CLogic's solution with their ServiceNow instance, Delaware's Department of Labor realized the following results after implementation:
650+ hours saved in manual agent tasks within the first 6 months: Now, during increased demand, agents are relieved of manually capturing and transcribing each voicemail. By leveraging

speech-to-text (STT)

, an auto-transcription is automatically created in a ServiceNow Case and assigned to a case investigator. The agent then contacts the caller via click-to-call directly within ServiceNow. The result? A seamless process for agents to respond to inquiries.
83% reduction in inbound citizen total call handle time: With 3CLogic's

advanced IVR

, citizens looking for the status of their claim are automatically routed to the correct agent. With 3CLogic's central system of record, agents can immediately access call history information from an automated agent screen-pop to personalize the citizen interaction and speed up resolution time. Before, agents had to transition contacts to where the call history information was stored.
6x increase in service centers' daily call volume capacity: By creating a single agent and admin workspace, agents are now equipped to handle a call in advance of the interaction. 3CLogic consolidated the Department of Labor's

multiple systems into ServiceNow

, which streamlined agent access to important data and context on the caller. By sourcing operations solutions from within, their team drastically reduced costs from third-party providers and improved the overall service quality.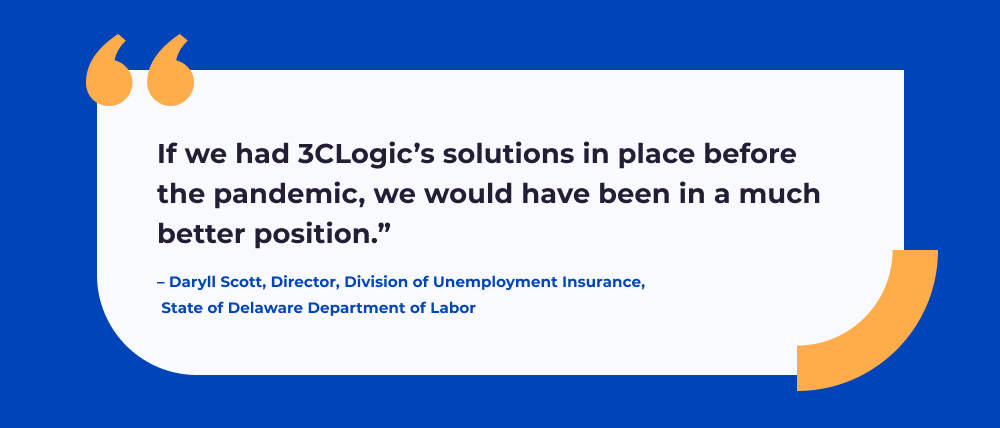 What's Next For Delaware's Department Of Labor
The State of Delaware's Department of Labor is eager to extend the use of 3CLogic to help the state manage future service fluctuations. To start, they plan to implement these voice solutions for the Benefits Payment Control department. The Department also intends to optimize agent resources with voice self-service so status updates can be resolved without having to speak to a live agent.
Overall, the team strongly recommends the solution to any enterprise looking to extend their ServiceNow investment.
Is your government agency ready to realize the incredible potential of 3CLogic's voice solutions for ServiceNow?