Doing more with less has quickly become a way of life for most organizations. In an effort to minimize costs without degrading the customer experience, service departments have increasingly turned to digital channels to provide customer support.
There's an issue with this approach, however. Customers are craving more human interaction — not less. According to a report from PwC, 75% of customers want to work with a real person during service experiences.
While it might seem as though business needs and customer preferences are at odds with one another, that doesn't have to be the case.
"If voice is something that actually brings us closer to other humans and brings that connection that we're trying to build with our customers, then it would behoove us to have really good experiences and really good ways to develop those experiences with our customers," explains Colter Hammer, Product Management Director of ISV Ecosystem, Omnichannel, & Inorganic Growth at ServiceNow.
By leveraging a low-code solution to start building voice workflows that are integrated with your primary system of record, you can achieve both objectives. Before getting into how this works, let's start by exploring the importance of voice in customer service.
The Value Of Voice Workflows
Customers make use of just about every channel when they need help resolving an issue, and the number of options has grown substantially over the years. Even so, there's a clear preference for voice. A 2022 CCW Market Study reveals that 76% of customers say that they view phone interactions as the most trustworthy for receiving support.
Understandably, voice has also remained a priority for most service teams. A survey from Call Centre Helper shows that voice is still the core channel for communicating with customers. Email comes in at a distant second.
The value of voice becomes even more apparent when you consider what types of issues agents are typically navigating during real-time phone conversations. When a customer finds themselves dealing with an urgent problem that isn't easily solved via self-service, calling is often the most direct path to a solution. This means that agents are very often addressing only the most complex issues with voice.
It's also worth remembering that voice is perhaps the most personal channel of all. It enables agents to empathize with customers — they're able to convey a tone that may get lost in written communication and build stronger relationships with customers. The result is that customers walk away knowing they've been heard. This ultimately helps to support the organization as a whole. In fact, a recent report shows that 72% of customer experience leaders say that empathy is essential for creating business value.
Barriers To Delivering An Exceptional And Personalized Customer Experience
While the advantages of connecting with customers through voice are clear, that doesn't mean it's always easy to ensure exceptional service. For starters, most customers don't reach out through a single channel. One-stop shopping isn't the reality today. Research from the Harvard Business Review shows that 73% of customers leverage multiple channels throughout their journeys.
Unfortunately, many organizations struggle to provide a streamlined experience for customers (and agents) across all channels. Only 19% of organizations provide agents with a unified workspace that allows them to understand the full context behind why a customer is reaching out. On top of that, research from ServiceNow and Qualtrics shows the inability to reach a live agent is a top frustration for customers.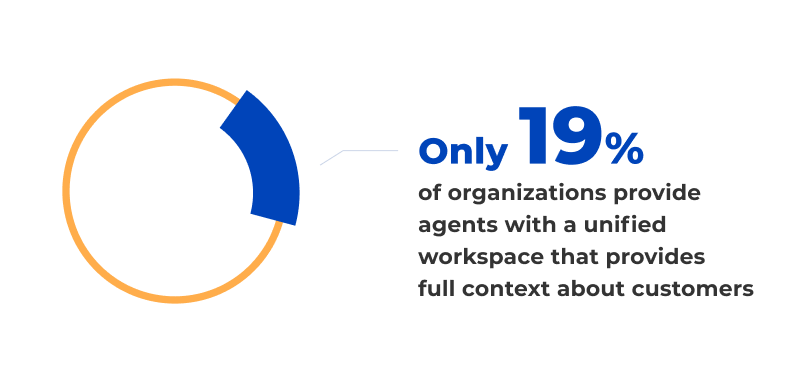 Issues such as these arise from relying on siloed systems that store data separately. Why is this happening? Often, service departments use one system, such as ServiceNow, to manage their digital channels, data, and analytics. But voice and SMS are hosted on a completely separate call center solution that has no way of communicating information back and forth with ServiceNow.
"Organizations will use connectors or go through the effort of doing custom integrations between the ServiceNow platform and their call center solution, but it doesn't inherently solve for some of these pain points," explains Guillaume Seynhaeve, VP of Marketing and Partner Alliances at 3CLogic. "If a customer calls into the call center and that experience has no access or context for what is otherwise hosted within ServiceNow, then that experience is going to be relatively plain at best."
With disparate systems, organizations can't make much progress toward minimizing costs, streamlining operations, or improving the customer experience. There's a better approach.
Why Your Organization Should Leverage Integrated Low-Code Solutions/No-Code Solutions
To ensure all customer information is easily accessible, you need a voice solution that seamlessly integrates with your primary system of record. Ideally, you should be able to implement it in a way that's easy and cost-effective.
"If you are able to leverage ServiceNow, the remaining piece of the equation is how you can allow the business user, maybe someone who's not technical, to create those workflows and those outcomes without having to rely on IT resources," Seynhaeve offers.
In the case of 3CLogic's interactive voice response (IVR) low-code solution for ServiceNow, you can make use of ServiceNow operation handlers. These are repeatable tasks you can call upon to do everything from creating an incident to authenticating a user. 3CLogic's newest low-code/no-code solution, which will be released in fall 2022, allows you to easily drag and drop templated operation handlers into your call flow that can draw upon all contextual information about customers.
Consider what this means for a customer who calls in during an outage. If that outage is already known, the system is able to identify that proactively when the customer calls. It can then automatically create a ticket and send the customer a follow-up message with additional information via SMS. All this is possible without having to adjust the IVR.
"That classic call deflection on those repetitive items, especially if you can make it consistent across channels, is huge," Hammer adds. What this really means is that agents and supervisors can spend more time solving customers' problems and less time managing a lengthy queue that includes many of the same questions.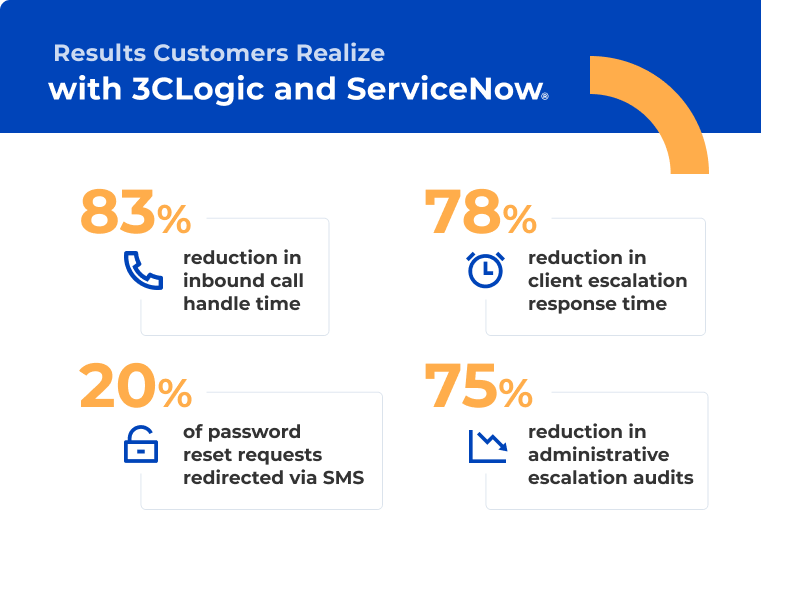 Leading companies like Nissan and Denny's are already making use of 3CLogic's low-code solution for ServiceNow. When combined with all the other features of both platforms, the results are quite impressive:
Simplify And Streamline Your Operations
The value of voice is undeniable. It's an incredibly effective channel for delivering personalized customer experiences and resolving complex issues. Best of all, you can reap these rewards with a no-code solution or low-code solution that you can implement without having to strain valuable IT resources.
Building a low-code workflow is just the beginning of what you can achieve with the right voice solution, particularly if you're already leveraging ServiceNow as your primary system of record. With integrated voice and SMS workflows, you can also empower agents by providing a consolidated workspace, facilitate two-way conversations via SMS, and gain full visibility into agent performance.
Discover what's possible with 3CLogic for ServiceNow.