As customer service continues to overtake price and product as a brand's key differentiator, businesses are increasingly seeking out ways to streamline processes and implement a more customer-centric approach across their entire organization. And to shed light on the current state of customer service, Microsoft recently released the findings of its annual survey, "2015 Global State of Multichannel Customer Service Report", highlighting the key communication trends taking place, as well as changing consumer expectations. What was revealed that is of key importance to service organizations are the 6 most frustrating aspects of a customer service experience—issues that can easily be mitigated or eliminated with the help of a few tools and procedures.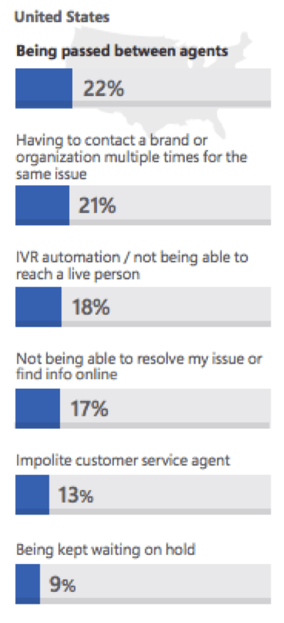 What do you feel is the most frustrating aspect of a customer service experience?
1) Being passed between agents (22%): "Being passed between agents" topped the list as the most frustrating aspect of a customer service experience, a problem that can occur when business workflows are not properly aligned with communication channels. By utilizing advanced call routing tools, such as Interactive Voice Response (IVR), Automatic Call Distribution (ACD), and skills-based routing, customers can automatically be directed to the individual most qualified to address their question or need, mitigating the risk of call transfers, while increasing productivity and optimizing resource utilization.
2) Having to contact a brand or organization multiple times for the same issue (21%): Consumers also become extremely frustrated when they are forced to contact an organization multiple times to resolve the same issue, something that is often caused by inefficient call handling processes and agents' inability to quickly access systems data. To improve "first call resolutions", business should implement the proper call routing tools (as referenced above), while ensuring agents have immediate access to customer information through database management and telephony integration.
3) IVR automation/not being able to reach a live person (18%): The inability to quickly reach a live representative due to confusing interactive voice response (IVR) menus can be a large frustration for customers. And while processing calls through an IVR menu certainly reduces a business' costs and average handle time, it should never make it difficult for customers to "opt out" of a menu and speak with a live rep. It is important for businesses to follow a few simple best practices when designing their IVR menu to mitigate the risk of frustrating customers and losing business.
4) Not being able to resolve my issue or find info online (17%): These days, customers not only expect self-service—they demand it. And when they are unable to resolve their own needs or find information online, extreme frustration can set in. Businesses should provide self-service options both online and through the phone (self-service IVR). Providing a robust knowledge base where customers can access a wide-array of information about a business' products or services is also key, and can help significantly reduce inbound call volume and costs.
5) Impolite customer service agent (13%): Dealing with an impolite service rep can be absolutely infuriating to customers, and is also a poor representation of a brand. And while businesses should look to hire charismatic, intelligent, and polite individuals to work in their contact centers, they should also seek ways to improve the day-to-day work lives of their employees—for every 1% improvement in agent satisfaction, there is also a 1% improvement in customer satisfaction. By adopting state-of-the-art cloud call center solutions with an easy-to-use agent workspace, workforce management and workforce optimization tools, and advanced CRM platforms, businesses can help create a happier work environment.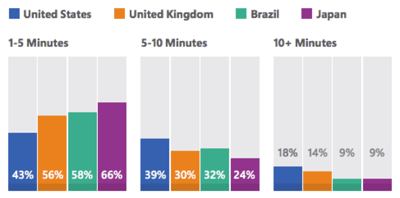 6) Being kept waiting on hold (9%): According to Microsoft's research, 43% of surveyed customers were willing to wait on hold up to 5 minutes, 39% up to 10 minutes, and only 18% for longer than 10 minutes. And while keeping hold times short is of key important to customers, it is also one of a business' biggest challenges, often caused by limited resources. Businesses should offer customers a "call-back" option when anticipating long hold times, or should provide updates on their position in queue to mitigate the risk of frustration. Utilizing flexible technology such as a cloud contact center solution can also help businesses more effectively scale to meet changing consumer demands.