As mobile device adoption continues to rapidly expand, and consumers increasingly demand fast and effortless engagement with the businesses serving them, web self-service (through online knowledge bases) has quickly become one of the most popular and sought after customer service touch points. As a matter of fact, Forrester recently conducted a study, which revealed that web self-service is now the most commonly used communication channel for customer service—the first and only channel to exceed phone in history.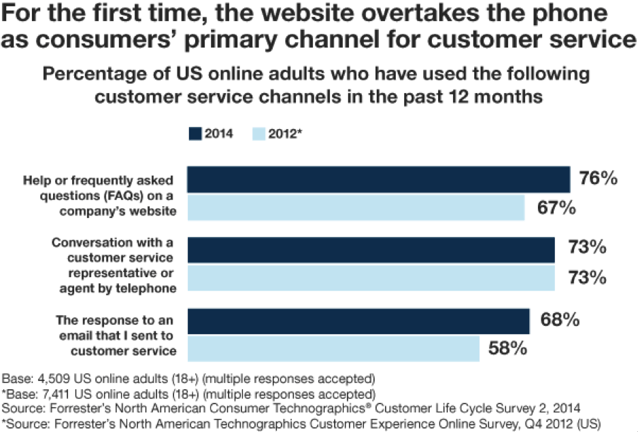 What is the benefit to consumers?
Short on time and high on expectations, today's consumers find web self service to be a particularly appealing option for a number of different reasons. According to a recent Zendesk study, 75% of respondents describe self-service as a convenient way to address customer service issues. And 67% said they preferred self-service over speaking to company representatives, often citing reps as "incapable of quickly resolving their needs". The availability of online knowledge bases has shown to significantly improve customer satisfaction and engagement, making it a must-have for any organization.

What is the benefit to businesses?
Aside from the benefits to their customers, businesses are also embracing web self-service for its superior operational advantages. Because the majority of consumers now prefer serving themselves on these low-maintenance knowledge bases, businesses have experienced significantly reduced volumes of service requests/inquiries through more expensive channels (voice, email, web chat), most notably voice, thereby significantly reducing their operational costs. Businesses with superior knowledge bases have also noticed that when customers do contact support, the handle times are much shorter, as consumers often do research or have resolved some of their needs prior to the interaction. Other added benefits businesses have experienced?—increased site traffic, improved call quality, and increased first call resolution rates, just to name a few. And to highlight the growing adoption of knowledge bases among businesses—62% of technology decision makers say that they have implemented or are expanding their implementation of knowledge bases, and 21% plan to implement theirs within the next 12 months (Forrester).
Knowledge management isn't perfect—yet
While an astounding 91% of Zendesk surveyed consumers say they would use a knowledge base if it met their needs—the reality is, many of these knowledge bases are not meeting their needs. In fact, 40% of customers contact a call center after having looked for answers to their questions via self-service, which highlights the fact that businesses do have significant room for improvement. With more effective knowledge management, businesses can improve customer satisfaction, and significantly reduce call volume, thereby significantly reducing costs—but web self-service can only be possible if done right.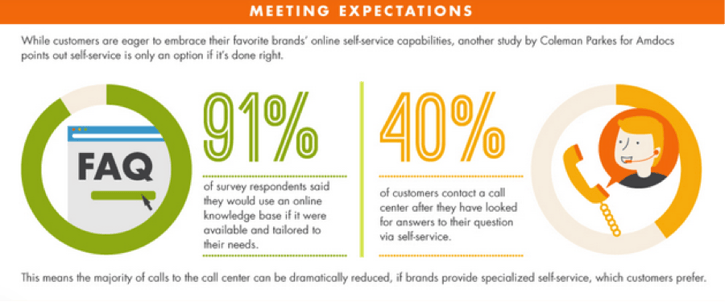 A few suggestions:
Understand what customers are searching for: It is extremely important for businesses to continuously monitor the key words customers are entering into the search box on their website or a search engine when seeking help or information, and cater their knowledge base to address those topics and questions. Creating detailed and robust FAQ pages and video libraries of common questions will also help customers find the answers they need faster, reducing the likelihood that they call.
Understand why customers are calling: Listening into calls (through advanced contact center solutions) or getting feedback from reps can also help managers understand why customers are contacting support, and will highlight areas where the knowledge base might need improvement. Advanced WFO solutions can also be used to track key words trending within a contact center to point out reoccurring customer issues. Supervisors should similarly monitor common questions on alternative channels, such as email and online chat, to further tune their knowledge base.
Be proactive: Ever heard of the saying—"don't wait to be asked"? Well the same applies to knowledge bases. If there is a new product or service coming out, businesses should be proactive, outlining answers to questions their customers might have—while it may need some fine-tuning down the road, it will at least offer a good starting point for customers to work from.
Don't forget about the other channels: While offering a superior knowledge base through a company website is certainly a necessity, it should not (and likely will not) replace phone interactions with live representatives, as this is the channel typically chosen by consumers when there is an urgent or complex need, and no other alternative. It is important for businesses to realize that not every question can be answered through a knowledge base—and they shouldn't want that to be the case, as it is in these human interactions where they will be given the opportunity to differentiate themselves and make memorable experiences for their customers.