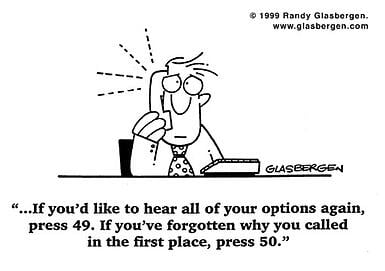 Accounting for 27% of the total call experience, Interactive Voice Response (IVR) service menus help shave approximately 20% in operational costs. But despite the immediate cost benefits, recent surveys show 83% of consumers feel IVR systems provide little to no value or are purely to benefit a company's bottom-line without much consideration to the customer experience. In fact, apparently only 7% of organizations currently offer an interactive voice response solution capable of delivering a better experience that of a live representative. So while IVR solutions can absolutely provide businesses with enhanced operational efficiencies one has to wonder at what cost if the solution is outdated, poorly implemented, or over-utilized at the expense of the very thing it hopes to deliver – superior customer service and experience.
So here are a few IVR Best Practices to Ensure a Quality Customer Experience:
1) Make it Easy to Gain Live Assistance: In the last year, 67% of customers have hung up the phone out of frustration tied to being unable to reach a live individual. While it is important to encourage the use of the IVR menu, it should never be designed in such a way that it prevents customers from having access to a live agent. If none are immediately available, keep callers updated on their queue position, provide their estimated wait time, or use it as an opportunity to update them on recent company and industry news.
2) Give Customers an Exit Route: When on hold for too long (and what constitutes "too long" can vary by caller or industry), callers are quick to get frustrated which can make an agent's job more difficult when the time comes to service the customer. Provide customers with a "call-back" option—32% of businesses who do so experience fewer abandoned calls. And, 75% of customers consider such an option "highly appealing". Two birds – one stone.
3) Ensure Simplicity and Ease of Use: If your IVR menu is not intuitive, clear, and easy-to-use, customers will likely abandon the transaction or become extremely irritable. Research suggests each interactive voice response menu should be limited to four options, and the most frequent responses should always be placed first. The phrasing of each option is also important—key pad presses should remain consistent, and the key action should always be described first, followed by the key to press.
4) Automate Customer Identification: 59% of calls require identity verification, but only 3% of these are handled entirely through automated processes. US contact centers spend an astounding $12.4 billion annually verifying the caller is who they say they are. Through intelligent IVR platforms gathering customer information stored in an enterprises' database management solution, or identity verification inputs, establish who the caller is prior to speaking with them. It will save time and improve the overall customer experience.
5) Expand IVR Use: While IVR menus are predominantly used to sort customers at the beginning of an interaction, there are many other tasks they can be applied to. For example, when collecting sensitive information, allow agents to transfer customers to an interactive voice response menu to securely and privately collect the required information, facilitating PCI Compliance. IVR menus also lend themselves well to consumer surveys following the termination of a call or interaction. So think beyond traditional interactive voice response uses and improve the overall customer experience in the process.
6) Offer a Quality Experience from Start to Finish: While your main focus may be on the menu itself, pay close attention to all aspects of an inbound call. Don't overload your callers with lengthy and repetitive greetings, sales pitches, and pre-queue introductions—they'll just get annoyed. It also helps to choose on-hold music wisely—keep it fresh, tailor it to each caller's purpose, and make sure it fits with your company's image.
7) Measure and Track IVR Performance: It is important to measure the performance of your interactive voice response menu before, during, and after implementation, and make any necessary adjustments—keep in mind it will always be a work in progress. Key metrics to track include abandonment rates, average hold time, call time, and customer satisfaction score to identify any areas in need of improvement. Also take note of transfers caused due to incorrect routing—it could point to a lack of clarity within the menu itself.
8) Don't Assume your IVR will Satisfy Every Caller's Needs: Poorly implemented IVR menus can increase call volume, call transfers, and customer abandonment but even the best the IVR menu will be unable to meet every customer situation or need. Keep a firm finger on who your customers are and their most common requests – should they change, make sure your IVR changes with them. Do your best to stay ahead of what you expect your clients will want – stay nimble and remember your ineractive voice response is only as good as the time and attention you give it.





Want to Implement an Intelligent IVR menu in your call center?