When it comes to interacting with the public sector, citizens have high expectations. After all, agencies at the state, local, and federal levels are responsible for addressing their constituents' needs. Unfortunately, people who reach out to the government to resolve their issues typically find the experience negative at best.

Data shows that an astonishing 80% of federal agencies score in the lowest two categories of customer experience (poor or very poor), according to Forrester. Those at the local and state level are in a similar situation.

But it doesn't have to be this way. Digital solutions can vastly improve citizen services. The time to change has arrived – government agencies need to start embracing their digital transformation sooner rather than later.
The Problem With Putting Off Public Sector Digital Transformation
The most obvious issue with keeping operations the way they are is that it erodes trust with citizens. If they're consistently unable to find satisfactory solutions, frustrations will mount. This leads to a bad experience for both citizens and the government employees who are trying to help.

Agencies that stick with the status quo also end up wasting valuable time, not to mention financial resources. Consider a typical contact center interaction. Many citizens call with simple, routine questions – such as resetting a password or checking for details regarding an outage – that shouldn't require an in-person conversation with an agent.

Automated workflows and voice self-service could alleviate staff of these simple tasks so they could focus on more complex and meaningful solutions. The result? Shorter call queues and more quality conversations.

"It's not that we're trying to do away with call centers — it's that at some point they need to serve a more refined purpose," says Guillaume Seynhaeve, Vice President of Partnerships and Alliances at 3CLogic.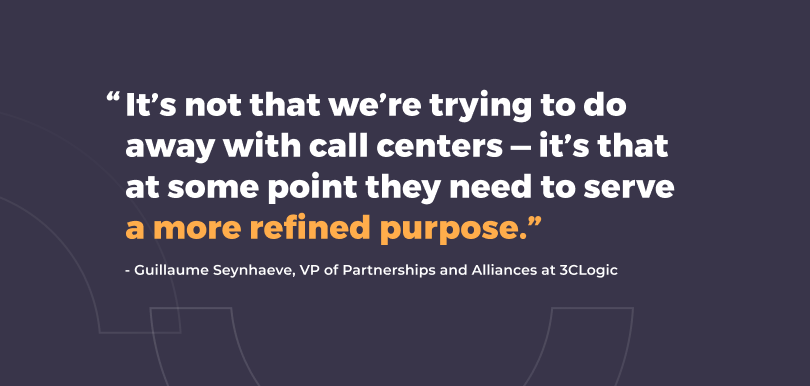 What Modernized Citizen Services Operations Entail
Understandably, technology is at the heart of digitally transformed citizen services operations. But rather than incorporating a bunch of disparate tools, it's far more effective to leverage a single platform that holistically manages workflows and integrates with complementary solutions. For many agencies, pairing ServiceNow with 3CLogic cloud-based voice solutions is the ideal option.
An effective government agency needs more than quality platforms, but it's also clear that the right platforms are critical. Consider the top priorities among state Chief Information Officers across the U.S.:
Digital governance and services — having a framework for digital services and improving citizen experiences.
Cloud services — maintaining a cloud strategy that focuses on scalable and elastic services.
Consolidation and optimization — centralizing and consolidating services, operations, resources, and infrastructure.
Customer relationship management — developing and improving internal customer service strategies.
Workforce — reimagining the government workforce and preparing them for the future with enhanced knowledge, skills, and experience.
An integrated technology ecosystem makes these priorities attainable. It results in a positive customer experience that enables citizens to seek solutions to their problems on any channel, whether it be a text message, a phone call, a desktop computer, or a mobile device.
There's a particular opportunity when it comes to digitizing phone channels. Because voice solutions can leverage artificial intelligence and automation, government agencies are able to serve more citizens, more efficiently. Constituents no longer have to wait around to call within a specific timeframe during weekdays to resolve concerns.

"You can have conversational AI-powered customer engagements that lead to a conclusion. And it can be on a Sunday afternoon when the agency is otherwise closed for service," Seynhaeve explains.
How To Achieve Digital Transformation In Citizen Services

Take Stock Of Where You Are Now

Modernizing citizen services can feel daunting, so start with what you know now. What systems is your agency currently using? Where are the biggest inefficiencies? Once you have a clear idea of how your current operations are working, you'll be able to start making changes.


Determine What You Can Digitize First

Look for quick wins. Maybe it's switching to computerized documents rather than paper ones — electronic medical records have been revolutionary for hospital systems. Or perhaps your agency can transition to a cloud-based contact center that eliminates the need for costly hardware updates. For some government agencies, there might be many operations that can be modernized relatively easily.


Find The Right Implementation Partner

Lastly, consider finding a technology partner (or partners) who can guide you through the entire digital transformation process. They can keep you on track and help identify potential issues well in advance. To find the right partner, look into trusted platforms that have already helped organizations achieve success.
Truly Citizen-Centric Service Starts With The Right Technology
Public sector digital transformation isn't just possible – it's essential. Some agencies have already begun to see vast improvements in citizen services by digitizing their operations. Modernizing your agency's processes will only benefit your employees and the citizens you serve, so start considering your options for digitizing what you currently have in place.


Is your agency looking to enhance its citizen experiences and extend its ServiceNow investment? Discover 3CLogic's native integration with ServiceNow.