Now that the customer experience (CX) is overtaking price and product as a brand's key differentiator, organizations are increasingly seeking ways to minimize hold times and improve interactions. But many contact centers lack control over when a call is answered and by whom, and they often have no way of identifying callers prior to speaking with them.
In most cases, basic interactive voice response (IVR) menus — with options like "press 1 to speak to sales" and "press 2 to reach support" — are used to route callers to the most appropriate department. It's a process that doesn't take existing customer data or interactions into account.
This hardly aligns with customers' expectations. According to Microsoft's State of Global Customer Service Report, 72% of customers around the world expect agents to already know their information when they reach out for service. Your contact center can meet these standards, but it takes intelligent call routing to connect all the dots along the customer journey.
Discover why intelligent call routing is so important for prioritizing inbound contact center calls.

Why Siloed Call Routing Doesn't Cut It For Today's Consumers
Basic IVR systems that don't account for existing customer data or previous interactions are irritating at best, and they're unfortunately common. As a whole, customers have a negative perception of IVRs given the many unpleasant experiences they've had in the past. In fact, research shows that 61% of customers say IVR leads to a poor experience due to long menus, irrelevant options, and issues reaching a live agent who can truly help.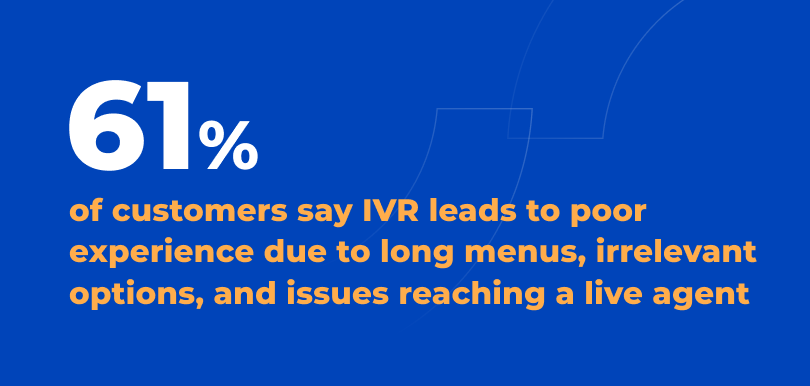 Even when customers have finished navigating IVR menus, they often wind up on hold. While some amount of waiting is reasonable, customers don't have much time or patience to spare when they're trying to resolve an issue. A survey conducted by OnePoll reveals that, on average, customers are only willing to wait on hold for six minutes before abandoning the call. Some are willing to stay on hold for longer, but they're unlikely to be delighted by the experience.
It's important to minimize negative experiences such as these for any customer, but even more so for high-priority calls or VIP callers. Consider the following common scenarios that might occur during times of peak volume when resources are limited:
An important customer was lost in the queue rather than receiving immediate assistance
Your most skilled agents served first-time buyers with simple inquiries instead of high-value customers and complex issues
A customer was disconnected when speaking with an agent, only to call back, provide the same information again, and be placed on hold
A customer that has previously experienced many issues is placed on hold for an extended period of time, and they're eventually connected to a less experienced agent
A customer has a very specific need that can only be addressed by a select few agents on your team
There could be countless other examples as well. Clearly, there needs to be a way to determine how to prioritize customer service requests. The good news is there's a better solution that can prevent issues like these from occurring and disrupting the positive customer experience your enterprise has carefully crafted.
How Intelligent Call Routing Effectively Prioritizes Inbound Contact Center Calls
It's easy to see there's tremendous value in knowing which customers are sitting in queue. To identify high-priority calls and optimize resource utilization, you need an advanced solution that integrates with your system of record and leverages natural language processing (NLP). By identifying clients based on their phone number or unique ID, advanced solutions such as 3CLogic's IVR Conversation Designer can pull all relevant information stored within your customer relationship management (CRM) system or cloud platform, including customer status, the agent they last spoke to, their most recent purchase, and more.
A connected solution fuels intelligent call routing that seamlessly directs customers to the most appropriate resolution or qualified agent. The video below illustrates three specific examples of how the right IVR solution can identify customers the moment they call and help them reach a resolution that exceeds their expectations. As you'll see, the best resolution in some cases could involve voice-enabled self-service, where the caller can resolve their own issue without ever needing to speak to a live agent.
Because intelligent call routing is capable of connecting customers who have a specific, complex issue with an agent who focuses on that area of expertise, those specialized agents can also focus their efforts on fewer but higher-value tasks and maximize their productivity. This leads to a better customer experience and more enjoyable work for agents, which can also improve employee retention. It's very much a win-win scenario.
Provide The High-Quality Experience Customers Expect
While delivering a perfect customer experience every time might not be possible, you can vastly improve the ability to prioritize inbound contact center calls with intelligent call routing. By automating and optimizing a process that was previously unable to differentiate callers, organizations can enhance their operational efficiencies while better serving customers' needs.
Improving the customer experience may be more beneficial than you realize, too. Not only does CX affect customers' perception of your organization, but also its overall financial health. Discover why a thoughtful CX strategy is critical to your bottom line.