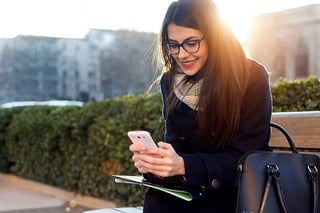 As customer service continues to overtake price and product as a brand's key differentiator, businesses are increasingly seeking out ways to help streamline and optimize every aspect of the customer experience, from queue management and hold times, to interactions and follow-ups. But for many of today's leading contact centers, there is very little control over when a call is answered and by whom, and often no efficient or effective means of identifying callers prior to speaking with them. Consider this—while 59% of calls require identity verification, only 3% are handled entirely through automated processes (ContactBabel). For most, basic and static IVR menus(i.e. "press 1 for sales, press 2 for support") are the primary means of differentiating callers and attempting to route them to the appropriate department, with little to no account for preexisting customer data or prior interactions.
Why is this a problem?
While every customer is important, certain instances may require the need to prioritize specific incoming calls, especially during times of peak call volume when resources are limited and hold times are long. Have any of the following situations happened within your contact center?
Important clients were lost in queue and not immediately helped due to long wait times
Your most skilled reps served first-time buyers with simple inquiries instead of high-value customers and complex issues
A customer was disconnected when speaking with an agent, only to call back and be placed on-hold at the end of the queue (and likely not connected to the same individual)
A customer that has previously dealt with many issues calls customer support, only to be placed on hold for an extended period of time and connected to an unskilled agent
A customer requests to speak with the same person as their last interaction
A customer has a very specific need or inquiry that can only be addressed by a select few people
The list goes on.
Is there a way to automate and optimize call routing, and prioritize customers based on their needs/previous interactions, or agents' skill sets?
There is tremendous value in knowing which clients are sitting in queue to help prioritize calls and optimize resource utilization—and this must be done by integrating both a database management solution (CRM, CSM, service management, etc.) with an advanced communications platform. Identifying clients based on their phone number or unique ID, contact center solutions such as 3CLogic's can pull information from the database management solution such as client status (VIB), the agent with whom they last spoke, their most recent purchase, and much more to help ensure they are prioritized and helped by the agent best suited to meet their needs.
It can't always be perfect- but you can come pretty close
Unfortunately, it cannot always be perfect. A client's favorite rep will not always be available, and every VIB customer may not be responded to within a matter of seconds—but businesses can come pretty close. And by automating and optimizing a process that previously had no way of differentiating callers, businesses can better serve their customers' needs, while enhancing their own operational efficiencies. Complemented by self-service IVR, voicemail, updates on wait time/position in queue, and call-back options, businesses can help appease those customers who are waiting on-hold, while streamlining their call handling processes.