In January, Forbes dubbed 2022 the year of the customer. Now, organizations that were working with outdated systems at the beginning of the pandemic have been forced to reactively adapt to shifting customer expectations.
Consider what customers across industries want to experience:
Proactive Communication: Customers seek out organizations that can anticipate their needs quickly.
Dynamic Solutions: Customers crave multiple options to reach your contact center.
Personalization: Customers want a personalized experience at every touchpoint.
Consistency: Customers expect every avenue of contact to provide the same experience.
If you are seeing a significant drop in customers or stagnated growth in net new customers, the best way to center the new expectations for customer experience is an informed customer experience strategy that can even help you achieve — and exceed — your revenue goals.

What Is Customer Experience Management (CXM)?
To deliver on these expectations, contact centers must focus even more on customer experience management — carefully overseeing every touchpoint customers have with your organization along their journeys. Implementing customer experience management strategies involves a company-wide program to collect and analyze customer data using a combination of; CMX software, analytics, research, and data management systems.
The more information you have on each customer interaction, the more likely you are able to successfully manage and respond to customer needs.
Why Customer Experience Management Is Important
According to Adobe's study into digital trends, many organizations are feeling the effects of not prioritizing the customer experience. In fact, Adobe reports that only 32% of leaders report no internal barriers in customer experience delivery. Be sure to consider that your customers are savvier, your competitors are adapting, and your legacy system is holding you back.
Customers Demand A Seamless Experience
During 2020 and 2021, customers rapidly moved to digital-first interactions, creating a permanent change in the ways companies approach customer experience. In Adobe's study, senior executive respondents agreed the events during this time rewired customers to be digital-first.

When Adobe asked Susie Emmerling, VP of Marketing Operations at ServiceNow, about the change, she acknowledged that "today's work is driven by a digital-first mindset," which has added to the "urgency for a compelling experience at each step in a customer's journey."
Competitors Are Rapidly Adopting Omnichannel Technology
The Customer Experience (CX) Management market reached $2.9 billion in 2021 and is expected to grow 15.3% every year from 2022 to 2030.
Some contact centers may consider cutting back on expenses to maximize the use of existing technology. However, keep in mind that the pandemic has led to a 6.75% increase in enterprise spending on technology investments. Integrative customer experience technologies such as SMS, Voice, and conversational AI will allow you to keep up with new consumer expectations.

Ignoring Customer Needs Isn't An Option
Effective customer experience management empowers your virtual agents to support each customer as an individual. According to PwC, 92% of customers would forget about a brand after experiencing two or three negative customer experiences with that same brand. Not to mention the friends, family, and colleagues they will advise against engaging with your organization.
Given the rate at which many companies are investing in the customer experience, those customers will turn to organizations that meet their wants and needs. On the other hand, contact centers with more siloed customer service management processes will see their disadvantages compound every year.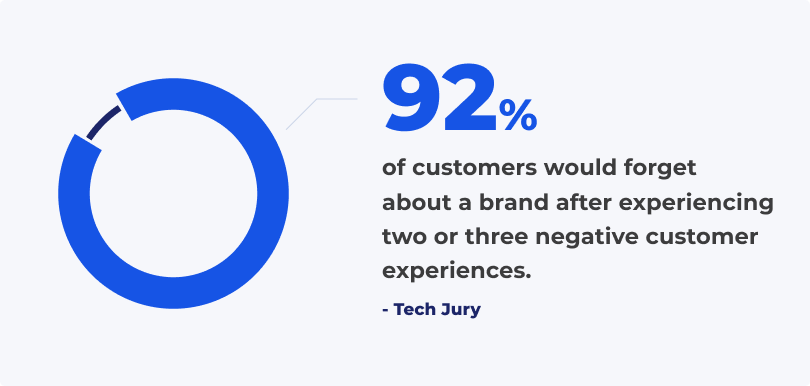 4 Tips For An Effective Customer Experience Strategy
So, as a contact center leader, where do you get started? Keep reading to find out our top tips to reclaim control of the customer experience.
1. Define Your Goals With Customer Journey Mapping
Before researching potential contact center solutions, engage in customer journey mapping to understand the inherent needs of your unique customer base. Are they interacting with you on social media? Do you have customer service survey results?
Consider the myriad different customer touchpoints so you can map out how they are engaging with your brand. With this information, you'll be able to identify specific areas for improvement as well as the current strengths of your customer experience record.
2. Integrate Holistically With Your System Of Record
If you don't have accurate data, it will be difficult to understand the holistic picture of your customer's journey. Unfortunately, many legacy contact center systems don't integrate with CRMs or other systems of record. The consequence? You have to navigate between two disparate systems to attempt to get a picture of their data.
For this reason, there is a shift from marketers relying on third-party data to embracing first-party strategies. This means integrating your customer support processes as much as possible, which is difficult to do with third-party providers. There may be delays in getting time-sensitive customer data, a lack of oversight, and entirely different priorities.
Remember — agility and responsiveness are key to ensuring your customers' experience is a positive one. When you integrate data across platforms, contact center agents will be empowered to support each customer and their unique needs.
3. Develop An Omnichannel Customer Experience Strategy
What happens when a customer uses a chatbot to ask for assistance, but can't get a resolution? They follow up via phone, and find that they have to repeat the same information as before. When systems of communication are non-integrated, the customer has a disjointed experience.
With an omnichannel customer support system, you can consolidate workflows on one centralized platform, and prevent your customer from jumping from channel to channel by closing the gap between your voice workflows, digital channels, and customer data.
4. Understand Current Contact Center Tools
In order to generate in-house data on their customers, marketers are leveraging a suite of digital tools to create a streamlined, holistic experience for their customers. It's important to choose solutions that both enhance your customer's experience, and optimize your current channels for efficiency and cost savings.
Cloud Contact Center Solutions
Your contact center is a central touchpoint for building trust with your customers. Cloud contact center solutions can moderate your customer's purchase journey by directing them to the appropriate channel. Here are three transformative solutions we recommend:
Voice-Enabled Self-Service & AI — As a contact center manager, you can design call flows that significantly speed up resolution time. With a Voice-Enabled integration, direct customers toward self-service for simple requests like resetting passwords or checking the status of an order. How is this achieved? Third-party voice bots, such as Google Contact Center AI (CCAI) or Amazon Lex Bots personalize the customer's experience by using existing customer data in your system of record.
SMS for CRM and Service Management Platforms — Texting is now expected by customers as an easy and convenient way to receive important updates. When implemented, you can reach customers on-demand, allow agents to use templated SMS responses, and empower them to send customized messages directly from your CRM or Service Management platform.
Interactive Voice Response (IVR) — Customers still reach for the phone when an issue escalates in complexity or priority. With IVR, you can design conversations between customers and agents with automated telephone technology that collects information from incoming callers. From there, IVR drives the desired outcome such as routing a call or resolving an issue, giving you full control over contact center call flows. Then when customers do make the call, they have a more streamlined customer experience.
Start Delivering Streamlined And Personalized Experiences
If you're unsure about whether your customer service workflow is truly serving your customers, follow these tips for effective customer experience management. Fortunately, there are several tools available to you for effective automation and fragmented channels.