If you need proof that contact centers are far different today than they were several years ago, just think of the term itself. Call centers that focused on phone-based support eventually transformed into robust departments that interact with customers on channels such as email, SMS, live chat, and more. The modern contact center emerged.
The changes haven't stopped there. Even the way agents connect with customers over the phone has evolved. Thanks to a digital tool called Voice over Internet Protocol (VoIP), agents can now make and take calls using the internet rather than analog phone lines.
Enterprises are increasingly turning to this type of technology — and for good reason. Intrigued? Here's a quick primer on the technology and why top organizations are increasingly adopting VoIP software.
What Is VoIP And Why Is It Important For Contact Centers?
VoIP allows users to make calls using an internet connection by turning their voice into a digital signal. Additionally, VoIP allows you to make calls directly from a computer rather than a physical phone. This is key for contact center agents who would otherwise need to switch back and forth from using phones to working on their computers. It's no wonder the global VoIP services market is projected to grow to $102.5 billion by 2026.
Voice over Internet Protocol also works with both on-site and off-site computers. That means this technology makes it possible for contact centers to hire in-office agents, remote agents, or both.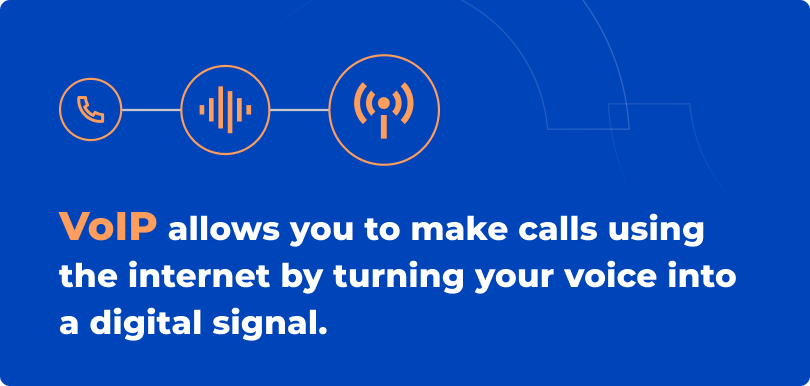 VoIP is most valuable when coupled with a contact center solution that's integrated with your primary system of record. Why? Because it connects your phone communications to all your other business applications and paves the way for features like click-to-call and intelligent call routing.
One thing to keep in mind is that many contact center platforms require that you use their VoIP system. But this isn't always the case. Some contact center solutions, such as 3CLogic, allow you to continue using your existing on-premise system.
4 Reasons Why Top Enterprises Use VoIP Software
The benefits of using VoIP software are probably becoming clear. But it's worth illustrating some specific advantages that organizations can realize by incorporating this type of technology.
1. Future-Proof And More Scalable
Doing away with physical phone lines isn't just a fad — it's the future. Research from Statista shows that only about 36% of U.S. households still made use of landlines in 2020. There's every reason to believe this trend will continue for both individuals and businesses.
VoIP also tends to be more scalable than analog phone lines since you don't need to worry about purchasing more hardware. You will still face some costs, such as those associated with increasing bandwidth or adding more lines, but VoIP does tend to be easier to scale as your team grows.
2. Empowers A Fully Remote Workforce
Contact centers used to think of remote agents as part-time support for when their full-time employees were facing high contact volumes. But nearly all contact center agents moved to a fully remote model during COVID-19.
While most contact center leaders saw this shift as a temporary solution, their attitudes are beginning to change. Research from CCW shows that only 7% of contact centers plan to return to a traditional, fully onsite model. Given the flexibility that VoIP technology allows in terms of where agents are working from, it's a must for contact centers that are looking to remain at least partially remote.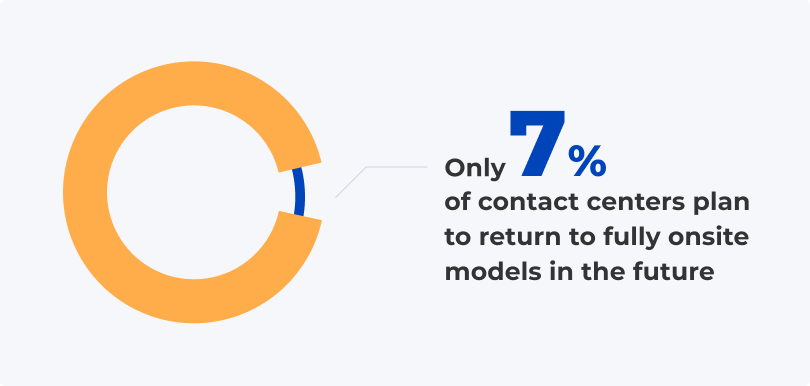 3. Integrates All Your Channels of Communication
Bear in mind that connecting your systems is only possible if you're leveraging a contact center solution in tandem with VoIP technology. But if you are, the benefits of having a fully connected technology environment are undeniable. Contact Centre Helper shows that while phone remains the top way to serve customers, channels such as social media, SMS, and live chat are growing.
It's also important to consider the opposite scenario: a contact center struggling with disparate tools. This problem is actually very common. A recent CCW Market Study reveals that 41% of contact centers struggle with disconnected technology platforms. The report also reveals that contact center leaders think having accurate, consistent information across channels is the most important component of driving great customer interactions.
In short, VoIP software coupled with an integrated contact center solution saves agents and supervisors from the frustration of switching from one tool to another. That can also contribute to a positive customer experience.
4. Reduces Costs
One of the most notable reasons to consider VoIP technology is the potential cost savings. While there are certainly upfront expenses associated with investing in any type of new technology, the payoff can be quite impressive.
There's concrete research to back this up. A study from Intel shows organizations are able to see significant cost savings related to hardware, physical space, productivity gains, and more by moving to VoIP. In fact, the report says a positive ROI is feasible after just two years.
Make The Modern Choice
For successful contact centers, leveraging VoIP coupled with a cloud contact center platform is a no-brainer. It helps to drive cost savings, simplify scaling, and empower a remote workforce.
While having the right technology is clearly essential to running a distributed contact center, it's not the only factor at play. It's also a matter of hiring the right personnel, monitoring KPIs, and more.
Discover exactly what it takes to deliver an exceptional customer experience with a remote contact center.