When a customer dials up a contact center for support, it's easy for them to assume the agent on the other end is doing little more than placing them on hold or routing them to someone else. The reality, of course, is far different. Contact center agents have incredibly challenging jobs that involve in-depth knowledge of their company's products and services, solving problems on the fly, and navigating conversations with empathy.
These roles are only becoming more complex as customer expectations rise and call volumes continue to increase — Gartner reports that more than 40% of support leaders saw an increase in contact volume from 2020 to 2021.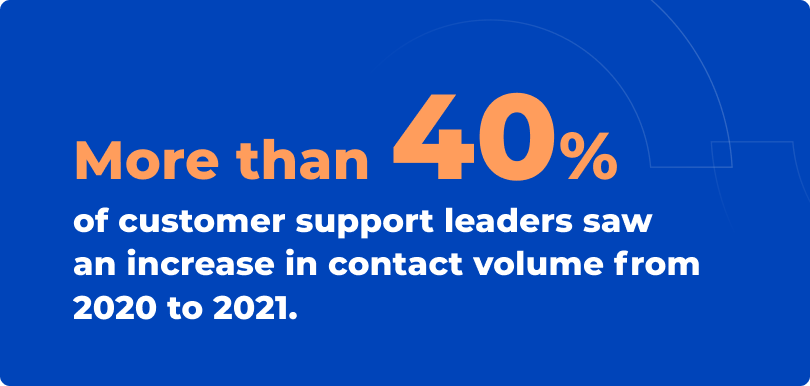 While it might sound too good to be true, the right technology can help significantly. Increasingly, contact centers are finding that computer telephony integration (CTI) software plays a key role in easing agents' jobs and delivering quantifiable value to the entire organization. Let's explore this solution in more detail to gain a better understanding of how this is possible.
A Closer Look At What The Best CTI Software Entails
Computer telephony integration sounds straightforward enough. It's a technology that links your phone system to your computer applications. But a good CTI solution goes beyond the telephony software itself, enabling a whole host of capabilities that are truly necessary for modern contact centers:
Screen pops that provide agents with instant access to a customer's information and history the moment an interaction begins

Automated note-taking and call recording to minimize administrative tasks and streamline productivity

Intelligent call routing

that directs callers to the most appropriate resolution or qualified agent

Voice-enabled self-service

that allows customers to remedy an issue without ever speaking to an agent

Real-time call monitoring that allows supervisors to intervene and identify key coaching opportunities
It's also important to be aware that not all solutions are created equal, which you may already be aware of if you've run into issues that stem from using CTI software that isn't compatible with your other tools.
The right CTI solution for your contact center is one that integrates deeply with your system of record — ServiceNow, Salesforce, Microsoft Dynamics, etc. — to ensure agents and supervisors don't have to worry about navigating between different platforms. The video below helps to illustrate what this looks like for contact centers that opt to leverage 3CLogic's voice and CTI solution for ServiceNow.
5 Concrete Ways CTI Benefits Your Contact Center
While it's clear that the right CTI technology enables your team to easily and conveniently serve customers, you might be eager to know the specifics of how it can ultimately improve performance, operations, and your bottom line. Get ready for a deeper dive into the quantifiable value CTI provides.
1. Measurably Reduces Average Handle Time
Average handle time (AHT) includes every second from the moment an agent answers the phone to the time at which they finish all the wrap-up work that needs to be done after the interaction ends. You're likely already keeping close tabs on AHT as an important gauge of contact center performance, so you should know that an effective CTI solution can help you minimize this metric.
Thanks to automated screen pops that put customer information at agents' fingertips when an interaction begins, it's pretty standard to see CTI help contact centers achieve a 15-second reduction in AHT. That said, some organizations have seen improvements of more than 20 seconds and even up to a full minute.
While the specific amount of time reduction you'll see depends on a number of factors, you can see that a very measurable achievement is within reach.
2. Minimizes Call Volume And Streamlines Issue Resolution
One of the key capabilities CTI enables is an interactive voice response (IVR) system. While customers often joke about bad experiences with IVRs that say something akin to, "Your call is very important to us. Please hold," a good IVR experience is possible. As HubSpot explains, IVRs can help customers resolve their own issues, provide important information via recorded messages, and instantly route callers to the most appropriate agent.
Best of all, effectively leveraging IVR can save both time and money. According to McKinsey & Company, one North American financial institution is able to fulfill more than 10 million customer requests through IVR every year. The result? It saves the organization around $100 million annually.
3. Improves Average Speed Of Answer
With IVR helping customers to resolve their own issues, agents won't find themselves handling as many calls. With a more manageable contact volume, they can respond to the calls they do receive that much faster, ultimately reducing customers' time in queue.
This matters because today's customers simply aren't willing to wait on hold for long. Even a matter of seconds can make a difference. According to Contact Centre Helper, 43% of customers will abandon the queue if they're left waiting on hold for just one minute.
In short, speedier responses translate to more customers served and better experiences.
4. Enhances Agent Performance
Because CTI enables supervisors to easily monitor agent performance and identify issues, they can intervene when necessary and also uncover opportunities for agent coaching. Working with agents to develop their skills can result in performance improvement more quickly than you might realize, too. One grocery retailer, for instance, saw a 3% improvement in agent performance within 90 days of implementing a new CTI solution.
Of course, better agent performance impacts the customer experience as well. According to a CCW Market Study, nearly 60% of customers say that consistently receiving warm, friendly experiences increases their likelihood of supporting a business. It's actually the second-best way for organizations to attract and retain customers.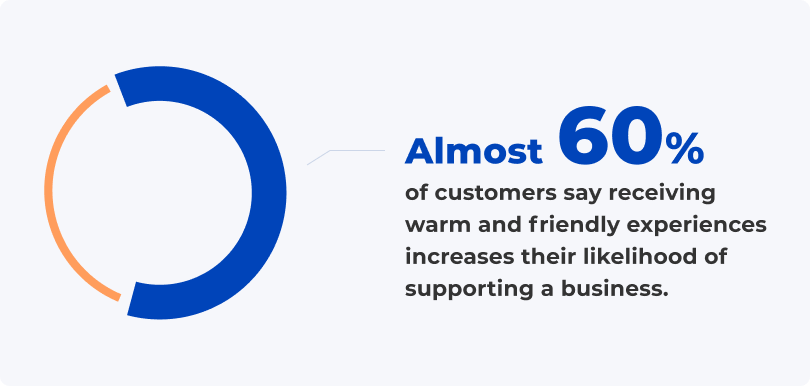 5. Drives Better Customer Experiences And Profitability
We've hinted at how CTI can improve the customer experience in a few ways — by reducing hold times, streamlining issue resolution, and improving their interactions with agents. But it's natural to wonder how enhancing the customer experience benefits your larger organization.
As it turns out, the financial impact can be quite impressive. A Forrester report reveals that customer-obsessed companies have 2.5 times higher revenue growth and 2.2 times higher customer retention than companies that aren't as customer centric. It's hard to argue with results like these.
Start Getting More Out Of Your CTI Solution
The benefits of good CTI technology are undeniable. The right tool leads to stronger performance metrics, more satisfied customers, and even greater profitability. However, results such as these are only achievable if you're leveraging a platform that integrates seamlessly with your system of record.
Whether you're looking into CTI for the first time or want to find a solution that better meets your needs, it's important to carefully consider your options and keep integration top of mind. Ready to begin your research? Explore our CTI solution.