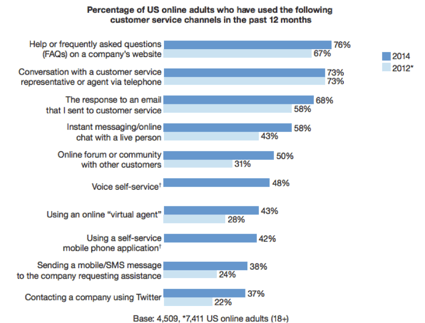 By 2020, the customer is expected to manage 85% of their relationships with a business without interacting with a human—something that should come as no surprise when considering the rising popularity of self-service channels across the web, mobile apps, and voice (IVR). As a matter of fact, Forrester recently conducted a survey, which revealed that web self-service (through online knowledge bases) is now the most commonly used communication channel for customer service, the first and only channel to exceed voice in history. And as mobile device adoption continues to expand and consumers increasingly demand fast and effortless engagement with the businesses serving them, many have been left wondering—will alternative touch points soon cause the call center agent to become non-existent?
Preferred channel depends on the type of inquiry
After further investigation of consumers' channel preference based on the type of customer service inquiry, a few interesting insights were uncovered that are certainly worth noting. While most consumers preferred to use the company website or email for "simple" inquiries, the overwhelming majority preferred speaking with a real person on the phone for "more complex" or "difficult" inquiries, indicating that self-service and alternative channels do have their limits, and cannot adequately resolve all problems in a reasonable amount of time.

Escalation to the call center agent
It is also important to understand customers' cross-channel journeys, as 67% of consumers use three or more channels during a single transaction. A recent survey found that of those individuals who attempted to look for the answers to their questions via self-service, nearly half were eventually forced to contact a representative, as they were unable to resolve their own needs. This indicates either that the company's self-service capabilities and knowledge base are insufficient and not meeting consumer expectations, or the problem is simply too complex for customers to resolve it on their own. Either way, the agent became a crucial part of the transaction.
Conclusion- the call center agent is here to stay
While the role of call center agents has most certainly transformed over the years as they are increasingly expected to handle more complex inquiries, as well as those through additional communication channels (web chat, email, text, social media), their importance has largely stayed the same. Utilized when there is a critical need, and no other alternative, the call center agent will continue to play a critical role in the customer service space, and will likely become a business' primary means of competitive differentiation in the years to come.
Validation from companies setting the standard for customer service
"The key to customer satisfaction in the future is retaining the human interaction, combining that with digital interaction and delivering a personalized experience to each individual. Personalization combined is what each customer needs in order to truly feel valued and demonstrates that we truly understand how to meet their needs."
–Larry Augustin, CEO of SugarCRM
"While companies can resolve many customer service interactions via other channels, they often need to 'talk it out' when it comes to issues like closing an account, booking a multi-city set of flights, or explaining a smart meter bill. As voice increasingly becomes an escalation channel for more complex customer service interactions, the ability for organizations to seamlessly add affordable phone support right alongside other support channels creates an opportunity to build positive customer relationships. This is very difficult to do with "siloed" solutions for each channel."
-Zendesk
"A lot of people may think it's strange that an Internet company would be so focused on the telephone when only about 5% of our sales happen by phone. But what we've found is that on average, our customers telephone us at lease one at some point, and if we handle the call well, we have an opportunity to create an emotional impact and a lasting memory."
–Tony Hsieh, CEO of Zappos