Midway through 2022, management software giant SAP released the next generation of its business intelligence CRM software, SAP Service Cloud. According to SAP's release announcement, the new "intelligent SAP Service Cloud revolutionizes customer service by delivering meaningful customer connections throughout a customer life cycle."
Crucially, SAP found that their new Service Cloud makes agents 50% more efficient, which means huge reductions in resolution times and improvements in resolution quality. As such, SAP Service Cloud represents an exciting next step for CX leaders looking to improve service outcomes with the SAP platform.
So, what's new about SAP Service Cloud? Let's take a look.
What is SAP Service Cloud?
At its core, SAP Service Cloud is a cloud-based customer relationship management platform that promises to improve service outcomes, significantly enhance agent experiences, and increase revenue for organizations that adopt it. SAP's new CRM platform does this by offering a variety of new functions that work with different parts of an organization's value chain and across departments to quickly solve problems and find solutions. These functions include: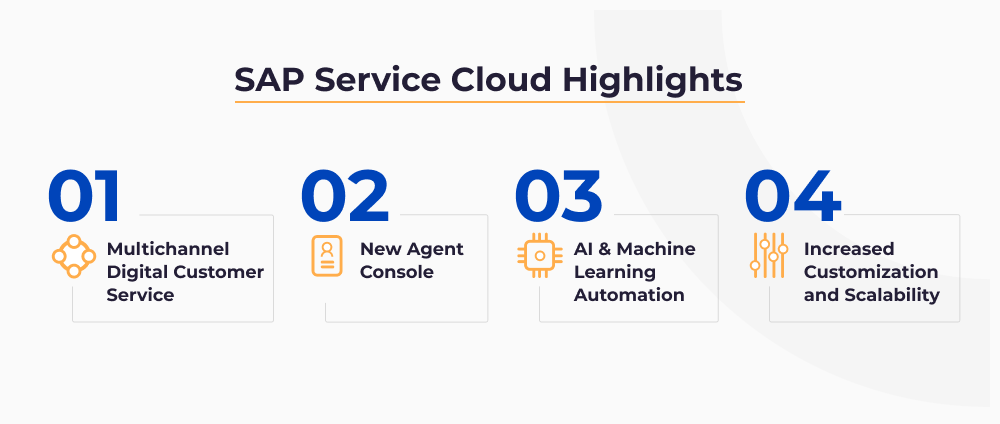 Multichannel Digital Customer Service: customers get a consistent experience across all of their digital channels — making for a more seamless experience no matter where, or how, they're engaging.


New Agent Console: SAP Service Cloud features an updated agent console that simplifies agent support workflows with a single, unified place to see all relevant data about the customer they're supporting, including previous support contacts, purchases, and existing relationships.


AI-Powered Service Recommendations: Service teams are freed up to focus on high-value conversations with customers by leveraging AI for automatic ticket categorization, machine learning-based recommended solutions, and sentiment analysis of customer emails.


Increased Customization and Scalability: SAP Service Cloud offers organizations the ability to design and define different service processes and workflows for different cases and allows the creation of guided workflows to assist agents.
Improve CX Even More with a Cloud Contact Center Solution for SAP Service Cloud
While the new SAP Service Cloud stands to make service departments significantly more agile and efficient, integrating a cloud contact center solution can provide even more value to your SAP Service Cloud Investment and, more importantly, to your customers
At many enterprise-level organizations, operational silos often exist between their primary system of record and contact center solutions. These siloes can result in duplicative data, operational inefficiencies, and frustrating experiences for both service agents and customers. Luckily, there's a simple solution. Adding a cloud contact center solution that integrates natively with your primary system of record solves this issue: uniting customer data, streamlining service operations, and drastically improving the customer experience all at once.
This is where a cloud contact center solution, like 3CLogic, can be a game-changer for a company's primary system record, such as SAP. In fact, SAP leaders are already seeing great value from it.
"Today, customer service is a critical part of the value chain," says Nitin Badjatia, SVP of Product Marketing & Solutions Management for Sales Cloud and Service Cloud at SAP. "When combined with the new Service Cloud, 3CLogic's capabilities enable customer service to deliver the entire servicing value chain from engagement to resolution."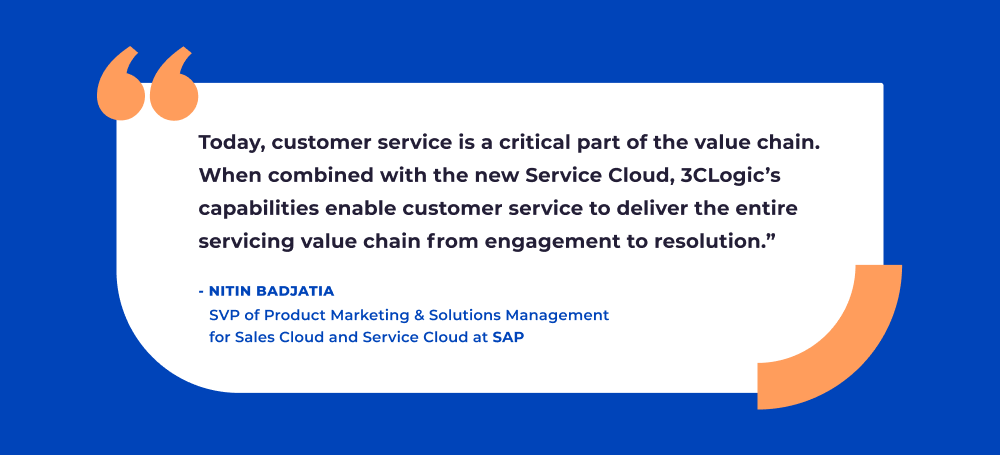 Adding a cloud contact center solution like 3CLogic to SAP Service Cloud has several crucial benefits that will further enhance its powerful service workflows, including:
Voice Self Service: Intelligent

voice-enabled self-service

options are made possible by leveraging the customer data and context stored in SAP Service Cloud, which allows customer service teams to reduce the number of calls they need to handle in person, while at the same time increasing resolution rates. Additionally, a cloud contact center integration adds key features like text-to-speech, which enables self-service tools to provide status updates to customers without involving an agent. Other features like Natural Language Understanding help create seamless customer experiences and lifelike, conversational voice workflows.
Computer-Telephony Integration (CTI): One key aspect of a cloud contact center's ability to improve service outcomes and operational efficiency lies in its

computer-telephony integration

. A CTI creates a unified agent experience, allowing agents to make and receive calls within SAP where existing customer data is easily accessible and available. The CTI is complemented by a number of additional 3CLogic features such as automatic screen-pops, which help agents immediately see who they're serving and what their service needs are.
Interactive Voice Response (IVR):

IVR

is one of the most efficient ways to streamline the customer experience. IVR workflows intelligently route callers to the solution they need. For simple requests, IVR can guide the caller to self-service options where they can resolve issues themselves. For more complex issues, IVR can quickly escalate customer queries to the agent most qualified to solve their problems.
Real-Time Reporting and Speech Analytics: A cloud contact center integration can provide service departments with caller data pertaining to customer conversations, allowing for enhanced insights into call-center performance and success.
SMS: Integrated SMS functionality within SAP enables convenient customer service interactions, allowing automatic notifications from SAP-triggered events and 2-way conversations as an alternative to phone calls. Additionally, customers can resolve common inquiries with SMS-based self-service – freeing up agents for high-priority cases.
Flexible Enterprise Deployment Models: Many organizations leveraging SAP today may also have legacy on-premise contact center solutions in place, such as Cisco, Avaya, Genesys. But with 3CLogic, there's no need to "rip and replace." The solution can be implemented as a hybrid cloud deployment option or a complete cloud-hosted solution supported by globally distributed cloud data centers and telecommunication carriers. This ensures a seamless transition while elevating customer service and agent workflows.
SAP's new Service Cloud platform represents the future of customer service for SAP users, enabling them to streamline support workflows and enhance customer experiences. By integrating a cloud contact center solution, companies can take it a step further to get even more out of the platform and deliver even more personalized service experiences. Learn more by exploring 3CLogic's SAP Cloud Contact Center Integration.