If it feels like today's customers have higher expectations than ever before, it's not just your imagination. With so many options to choose from, customers can easily take their business elsewhere if a particular organization doesn't provide an exceptional level of service.
There's even research illustrating how customers' standards have rapidly risen. A recent survey shows 32% of customers expect organizations to be both more empathetic and more responsive going forward. Personalization has also become a critical part of the customer experience, with research showing 80% of customers are more likely to do business with a company that offers personalized experiences.
Importantly, customers are also interested in being able to reach out for various requests using whichever channel they prefer — phone, email, chat, social media, etc. While being able to support every channel of communication is ideal, it's also incredibly difficult for organizations to meet those expectations.
Let's explore why delivering a truly great customer experience remains so difficult and what contact centers can do to delight customers like never before.
Why Delivering the Best Customer Experience Possible Is Still So Difficult
Because so much of the customer experience is informed by the ability to reach out to contact centers using any channel, organizations are well-aware of how important it is to meet that expectation. According to a recent Cisco report, 91% of contact center executives agree that providing an omnichannel experience — one that provides a seamless, integrated experience for both agents and customers across channels — is one of the most important contact center capabilities.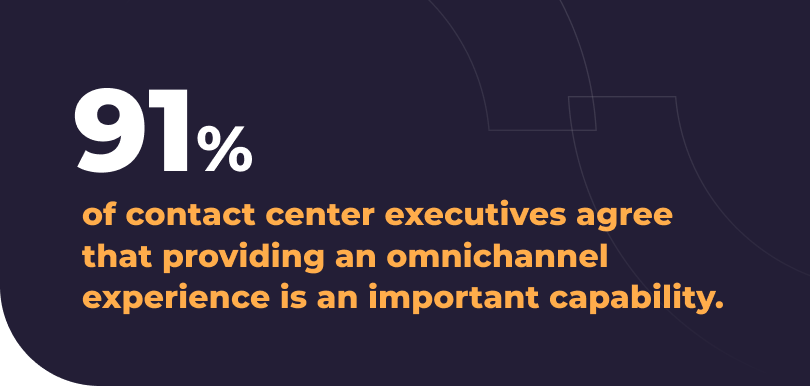 But there are a number of issues standing in the way of being able to successfully support every channel of communication and, thus, deliver an exceptionally positive customer experience. One of the most pervasive challenges is that enterprise companies often rely on multiple platforms that simply don't integrate meaningfully with each other. In fact, CCW Digital's November Market Study reveals the top issue contact centers are facing is that tools and systems are too disconnected.
Additionally, enterprise companies are typically unable to find a catch-all solution that supports all operational needs. They're increasingly finding the different tools they use have some but not all of the same features. This leaves them stuck in the middle without a single source of truth.
For example, an enterprise organization might use a customer relationship management (CRM) system that has most of the capabilities they need — digital channels, analytics, and customer data — but doesn't incorporate voice solutions to support phone and SMS channels. As a result, they might also adopt a contact center as a service (CCaaS) solution that encompasses some of the same capabilities the CRM already covers.
When contact centers are forced to rely on too many platforms, it has tangible impacts on performance. Supervisors end up needing to comb through data from multiple systems rather than being able to conduct their analyses from a single workspace.
Consider agents' jobs as well. They find themselves having to switch between different screens to perform their jobs. This undercuts efficiency and morale, which can lead to significant employee retention issues. It's also frustrating for customers who may end up having to repeat their information and ultimately wait longer to reach a resolution.
3 Steps You Can Take To Ensure A Positive Customer Experience
The above issues make it incredibly challenging to improve the customer experience, but there are a number of concrete steps you can take to move in the right direction.
1. Determine Which Primary Platform Meets Your Needs
Every business needs to start by determining which platform serves as its primary system. Because workflows and customer data are central to an organization's operations, that means a CRM or customer service management (CSM) system is what should serve as the single source of truth from which agents and other employees work.
Once your organization has a primary system of record in place, you can begin to consider what type of CCaaS solution is right for you.
2. Find The Right Supplemental Tool That Integrates With Your Primary System Of Record
After you've determined which system of record to start with — ServiceNow, Salesforce, Microsoft Dynamics, etc. — the next step is carefully evaluating CCaaS solutions. If your organization leverages ServiceNow, for example, you would want to identify a contact center solution that allows you to add existing channels, such as voice and SMS, without duplicating the digital channels you already support. It should also be a solution that integrates deeply with your primary system of record.
Bear in mind that choosing a cloud-based CCaaS platform to accompany your primary system or record isn't going to fulfill your organization's needs if the systems don't integrate. A cloud contact center solution that doesn't integrate meaningfully with your system of record lacks the critical context that it needs to provide value. Without access to information such as customer data and history, it will do little to enhance the customer or agent experience.
You might consider beginning your search by comparing options in the relevant marketplace for whichever system you're using, such as the ServiceNow Store or the Salesforce AppExchange.
3. Provide Training And Coaching For Agents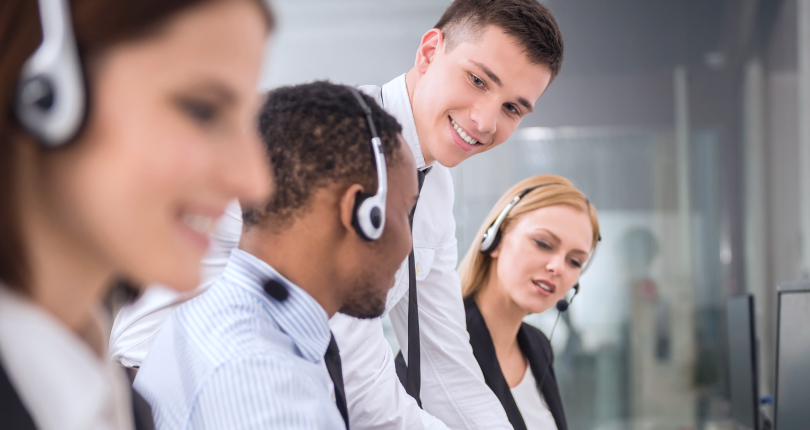 No matter what type of contact center solution you end up adopting to supplement your primary system or recrod, agents will need proper training to ensure they're able to leverage it effectively. Training should be ongoing as well. You'll want to make sure agents are up to speed in the event of new feature releases.
Delivering a great customer experience also requires taking a different approach to every channel of engagement. If your contact center is just beginning to offer voice, agents will need regular coaching on how to work with customers on such a personal channel.
Whenever possible, leverage data to provide specific and actionable feedback that can help your agents improve. You can draw information from call recordings, transcriptions, and real-time performance metrics.
Go From A Good Customer Experience To A Great Customer Experience
For too long, delivering a truly great customer experience has been a struggle for contact centers. It's certainly achievable, but only with the right approach. Making sure you have the right systems and that they work seamlessly together will help you begin seeing great customer experience examples more consistently.
Are you ready to amplify your contact center's capabilities and exceed customer expectations? Explore our cloud contact center platform integrations that can transform your organization.