Receiving personalized service is non-negotiable for today's customers. In fact, research from McKinsey & Company shows that 76% of customers are more likely to consider purchasing from companies that offer personalized interactions. It's not enough to offer experiences that are merely personal, though — they also have to be convenient.
Meeting these expectations is becoming increasingly challenging for contact centers that are facing high contact volumes. What does it take to deliver exceptional experiences to so many customers? For many organizations, an SMS service that integrates with their ServiceNow instance is becoming critical.
Get ready to find out why SMS capabilities are so essential for today's contact centers, the challenges many companies experience with subpar SMS solutions, and how an advanced ServiceNow SMS integration drives better customer experiences.

The Value Of SMS Today
Texting is ubiquitous today, thanks in large part to the popularity of mobile devices. While not everyone has progressed to owning a smartphone, cellphone usage is nearly universal. Data from Pew Research shows that 97% of U.S. adults own a cellphone, and even the most basic options include texting capabilities.
With such wide cell phone ownership, it was only a matter of time before texting became a key form of communication. Today, 90% of all texts are read within 3 minutes of being sent. That includes messages from friends, family, and organizations.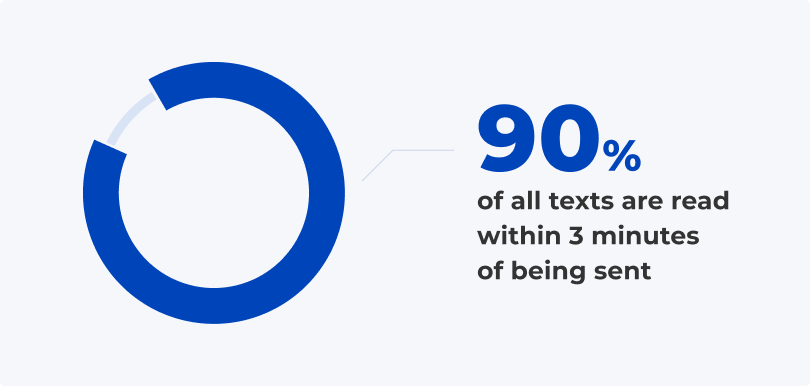 Even for customers, texting is desirable because it's often a faster and more convenient way to get in touch with contact centers. A poll from Harris Interactive even shows that 64% of customers with texting capabilities prefer to use text over voice as a customer service channel.
This doesn't mean that voice is dead — that's hardly the case. But it does mean that contact centers would be wise to adopt an advanced SMS service sooner rather than later because this channel offers something that others don't: portability. Customers don't have to remain on the website to use SMS, and they don't even need an internet connection.
Consider all the ways SMS can be leveraged to improve contact center operations and performance:
Soliciting customer feedback asynchronously

Solving problems faster through frictionless, two-way exchanges

Deflecting calls to texting when call wait times are longer

Keeping customers engaged and informed through personalized notifications
Challenges Contact Centers Face With Most SMS Solutions
SMS clearly has a lot of potential to transform the way modern contact centers interact with customers, but most organizations struggle to get everything they can out of SMS. There are a few reasons why.
For starters, contact centers that are currently using SMS are often relying on a solution that doesn't integrate with their primary system of record, leaving them with an incomplete view of the customer journey. It's actually an incredibly common issue — a recent CCW Market Study reveals that 51% of contact centers say the biggest operational challenge they're facing is disconnected tools and platforms.
Furthermore, many contact centers are using solutions that only allow them to send one-way SMS messages. This leaves customers unable to have a back-and-forth conversation with a live agent, which can be frustrating when customers run into issues with a product or service.
Finally, contact centers often rely on an SMS solution that lives outside their primary system of record, such as ServiceNow. The issue here is that agents are having to do their work in multiple systems, ultimately slowing their response times.
What's Possible With An Advanced SMS Service That Integrates With ServiceNow
Many SMS services leave much to be desired, but the right solution enables you to set customer expectations at scale, empowers agents to deliver personalized experiences, and reduces call volumes to allow for more efficient interactions. To understand how this is possible, start by considering the features included in 3CLogic's integrated SMS solution for ServiceNow:
Click-to-SMS
Automated SMS surveys
Automated notifications
Two-way SMS
Integrated SMS reporting
The real power of these features becomes clear with a practical example, such as a customer who was browsing headsets on a website and then reached out to the contact center over the phone for help choosing the right model. ServiceNow will immediately recognize that customer due to their browsing history and route them to the right agent. During the conversation, the agent can send a product link to the customer via SMS.
"The agent is able to jump between channels as needed to create that beautiful, frictionless experience for the customer," adds Navya Pandiri, SVP of Product Management at 3CLogic.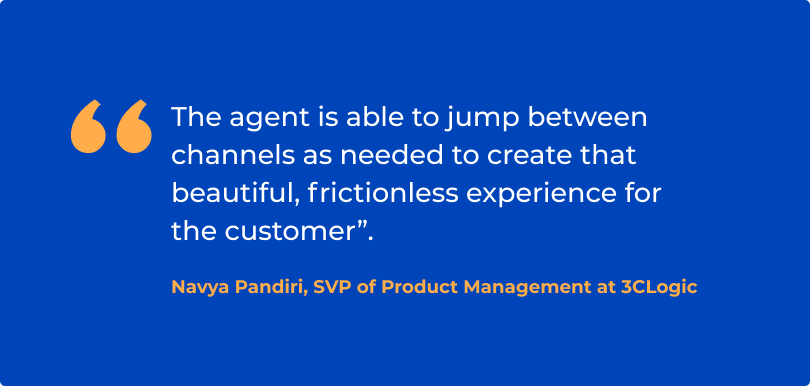 On top of this, you can also enable automated customer satisfaction (CSAT) surveys that get sent the moment the call ends. This allows contact centers to collect valuable feedback when the interaction is still fresh in the customer's mind. And should the same customer ever run into an issue in the future, they can simply reach out via SMS to initiate a back-and-forth conversation with the exact same agent who helped them previously. Additionally, this type of two-way SMS exchange isn't limited to written messages.
"SMS also allows you to exchange picture messages and video clips to help expedite the issue resolution," Pandiri states.
Best of all, using an integrated SMS solution for ServiceNow ensures that everything is captured within that platform. The result is a 360-degree view of the customer journey that provides supervisors with actionable insights they can use to improve performance.
"All these SMS interactions that take place get stored in ServiceNow, which gives you rich KPIs around SMS," Pandiri elaborates. "You can build simple or advanced dashboards, and you can build combined dashboards with omnichannel data as well."
Pursue An Impactful ServiceNow SMS Integration
For contact centers using ServiceNow, the benefits of an integrated SMS service are clear. The right SMS solution goes a long way toward delivering customer experiences that are more convenient and more personal than ever before.
"You're meeting the customer where they are," Pandiri summarizes. Are you ready to enhance your contact center's efficiency while driving exceptional customer experiences?
You can get even more out of ServiceNow with an integrated SMS solution. Explore 3CLogic's latest SMS enhancements for ServiceNow.