ROCKVILLE, MD. – November 17th, 2020 – 3CLogic, the leading provider of voice-enabled solutions for ServiceNow, today announced the selection of its Avaya Connector to provide an integrated agent experience with ServiceNow's CSM offering by a large European institution specializing in transportation and real-estate development. The solution comes as the organization seeks to optimize the efficiency of its 500+ agents to address the immediate effects of this year's COVID-19 pandemic while fulfilling longer-term growth initiatives.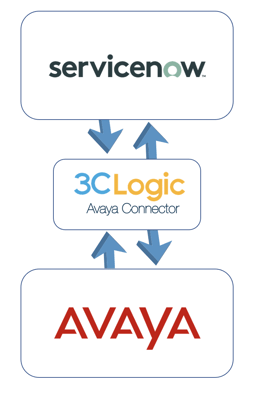 "We often see large organizations with existing legacy systems seeking to extend their investment in telephony hardware by integrating what already exists with newly adopted cloud solutions, such as ServiceNow," states Matt Durkin, Global VP of Sales at 3CLogic. "With 3CLogic's Avaya Connector, customers can shorten the gap and address immediate integration needs that inherently come with owning two distinctly different systems and environments, while laying the foundation and option to migrate to a complete cloud alternative at a time that fits with their digital transformation strategy."
Serving millions of customers annually and an internal employee base of over 20,000, the organization required a solution capable of quickly merging its existing on-premise Avaya system and IVR call flows with ServiceNow to create a simplified and omni-channel agent workspace. More importantly, the company required a ServiceNow certified offering committed to supporting future ServiceNow releases with the option to migrate from and fully replace its on-premise system should the need arise.
As part of the deployment, the 3CLogic-ServiceNow integrated solution includes:
Integration with Avaya Aura

on-premise to leverage existing call flows, routing, and hardware.
Embedded CTI integration leveraging ServiceNow OpenFrame and Agent Workspace

with agent presence syncing for ITSM and CSM

to create a single agent experience across channels (digital and voice).
ServiceNow-integrated call functionality

, including ServiceNow click-to-call, dynamic screen-pops, and automated Interaction/Incident/Case creation to improve the customer experience while removing manual tasks.
Automated post-call activity

to facilitate ServiceNow reporting and consolidated analytical insights.
About 3CLogic
3CLogic is a leading cloud contact center platform modernizing enterprise communications with their employees and customers. Built on Amazon Web Services (AWS), the solution provides advanced and scalable speech-enabled offerings for leading CRMs, including ServiceNow, Microsoft Dynamics, Salesforce, and SugarCRM. With deployments on five continents and a growing base of Global 2000 clients, 3CLogic drives digital transformation by improving CX, organizational efficiency and reporting insights using voice-based self-service, dynamic IVR, CTI, AI, advanced speech analytics, and API-driven integrations. For more information, please visit www.3clogic.com.