For many, the coronavirus pandemic came as a surprise. In the midst of stay-at-home mandates and the shutdown of non-essential businesses, many companies were faced with an additional challenge: the forced transition to remote work.
In today's dynamic environment, it's clear to see that business continuity has never been more crucial. From equipping employees with the right tools to building a culture that enables your workforce to prosper in any working environment, the ability to work flexibly is dependent on meeting a variety of needs.
However, the current pandemic revealed a glaring problem with business continuity planning as many businesses were unprepared to adjust to this new reality. In fact, over 40% of companies did not have an existing work from home (WFH) policy, according to Bill McDermott, CEO of ServiceNow, a service and support platform used by 75% of Fortune 500 companies.
Now that a few months have passed, many employees have started to become comfortable in this "new normal" and that's something to celebrate. A recent study conducted by IWG revealed that 63 percent of those surveyed reported at least a 21 percent improvement in productivity because of flexible working. But, there is still much more work that can be done to optimize WFH employee productivity moving forward.
Now that businesses have begun to tackle the challenges of re-opening, here are four recommendations to not just weather the storm, but come out on the other side with a more versatile and efficient workforce:
Simplify the employee workspace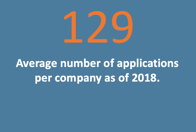 For many, working in the office was not a choice but often a requirement as the office provides access to the workstations, resources, and tools employees need to perform their work (ie: desk phones, multiple monitors, software platforms, etc.). At home, employees are likely reduced to operating from a single laptop and personal cellphone, which may prove to be quite challenging.
In this "new normal", the need to reduce the technological footprint will be crucial to enabling a more productive and flexible remote workforce. Among those requirements will be the need to consolidate systems and platforms so that employees can work and communicate effectively from one unified space. As of 2018, enterprises averaged 129 applications per company. For any remote team to be successful, the number of applications and screens required to perform their duties will need to be optimized to fit their new office setting. They will also need to be tightly integrated to reduce the amount of time agents spend inefficiently joggling between screens and platforms.
Streamline and automate the distribution of work
Traditionally, the distribution of work has often benefited from an office environment where prioritizing, assigning, and collaborating in person was quite efficient. However, in a remote setting, the need to streamline incoming inquiries from customers or employees regardless of the communication channel chosen (email, chat, voice) becomes crucial to any long-term operational success.
In a work-from-home model, systems of record (ie: CRMs, service management platforms, etc.), operational workflows, and all channels (email, chat, voice) will need to be merged to simplify how easily requests are assigned, relevant customer information accessed, and solutions communicated, both internally and with end-customers. Per a recent report from Gartner (below), managing for an omnichannel world is key to creating a successful customer experience. With a remote workforce, leveraging intelligent workflows and interactions to distribute work across any channel to the most qualified individual with the relevant data they need to solve the request, will be essential.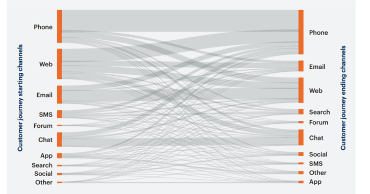 Graph depicting where customer journeys begin and end by channel.
Provide real-time assistance and coaching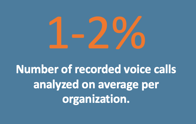 Perhaps one of the greatest benefits to working in an office is the ease of managing and monitoring a team. By default, with a remote workforce, the ability to "walk the halls" and spot check where you can lend a hand disappears.
Luckily, advancements in Natural Language Processing (NLP) and AI can help mitigate the impact. Case in point, recent developments in speech analytics and customer sentiment scoring can allow for all customer interactions to be automatically transcribed and analyzed to draw attention to instances where coaching or intervening might be warranted. With only on average 1-2% of recorded calls evaluated via traditional and manual means, leveraging such tools will dramatically improve a supervisor's ability to effectively monitor remote agents. More traditional tools such as remote screen-sharing and call whisper & barge-in modes can of course still be effectively applied to also provide live agent assistance.
Stay aware – even from a distance
Traditionally, in the event of any crisis, an office setting makes it easier for a manager to keep a finger on the pulse of their team. However, with a fully remote workforce, including those in management, visibility into the performance and activities of your group in real-time can be more difficult.
Consider investing in solutions with actionable real-time Dashboards and Wallboards which provide drill-down features, configurable alerts (ie: audio and visual), and facilitate direct messaging with members of your team. Ideally, these real-time data streams should also be integrated with your primary CRM or system of record to allow for a unified administrative console, similar to the agent experience advocated above. With these tools in place, managing any team from a distance will be seamless.
While COVID19 has introduced many new challenges, WFH is here to stay. By implementing these tips, your company can take advantage of lessons learned throughout this crisis and incorporate new best practices that promise to improve the employee work-life balance while making your overall business more productive and flexible.