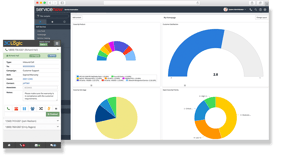 3CLogic is a leading provider of cloud communications as a service offering the only seamlessly integrated multichannel and Computer Telephony Integration (CTI) platform for today's enterprise businesses. Designed to complement existing operational workflows and on-premise legacy systems, 3CLogic provides a unified 360-degree view to optimize and analyze client interactions for either sales, customer support, or call center organizations. Built on a unique distributed architecture hosted on AWS, 3CLogic offers both a pure cloud and hybrid cloud solution while delivering market-leading security, reliability, and system flexibility.
8 Ways 3CLogic's CTI extends the use of ServiceNow's Customer Service Management (CSM) Platform
Enhances Workflow Efficiency: Seamlessly route customers to the user most qualified to address their service request using 3CLogic's Interactive Voice Response, Automatic Call Distribution, and skills-based routing features, optimizing resource utilization while increasing productivity.
Enables Self-Service: Empower customers to resolve their own needs through intuitive Interactive Voice Response (IVR) capabilities, freeing users to address more pressing initiatives while reducing support costs.
Automates Manual Processes: Automatically populate user screens with each customer's open incident and account information upon every interaction, enhancing efficiencies and streamlining service delivery.
Enables Click-to-Call: Convert every phone number stored in ServiceNow into a convenient click-to-call button, removing the need for users to search for and manually dial a client's contact information.
Enhances Business Intelligence: Combine customer interaction data with incident reports to more accurately assess user performance and understand if service expectations are being met
Leverages Existing Infrastructure: Integrate 3CLogic's multichannel solution with ServiceNow's CSM platform, while leveraging existing premise-based systems including Cisco and Avaya.
Facilitates Multichannel Support: Enable users to service customers across multiple channels and touch points (telephony, email, chat, SMS, social media) from a single workspace with 3CLogic's all-in-one multichannel solution.
Increases Supervisor Visibility: Offer supervisors the ability to record, monitor, and coach users during customer interactions, facilitating best-in-class service and compliance with company and industry protocol.
Like what you've read? Check-out our free on-demand webinar, "Leveraging ServiceNow CTI for Customer Service and Support" to learn more about our advanced integration, and watch a demo!