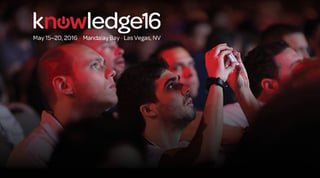 Knowledge16, ServiceNow's 10th annual conference, is this year's can't-miss event, bringing together over ten thousand CIOs, ITIL professionals, service management gurus, industry thought leaders, and more! With over 200 breakout sessions, 120 labs and industry-shaking keynotes, Knowledge is designed to help ServiceNow users and IT professionals expand their understanding of the advanced service management platform, and discover ways to further enhance its functionality. And guess what—it's not too late to sign-up! Click here to learn more. For those who are already registered, or plan to be, don't miss the following five events at the show!
Go-Live ExpoNow Reception and Knowledge16 Party: At the beginning and end of Knowledge, ServiceNow puts on two parties, allowing attendees and partners to network and mingle with other service management professionals. The Go-Live reception will be held Monday, May 16th from 5:30-9:00pm, and will allow attendees to walk the expo floor and learn more about ServiceNow's exhibitors and integration partners. The Knowledge16 Party will be held Wednesday from 7:00pm-10:00pm. And good news—we will be at both! Come grab a drink, food, and let loose before and after the show. You won't regret it!
Mobile App Game: As you make your way around the ExpoNow hall, which will showcase all of ServiceNow's premier partners, be sure to participate in the Mobile App Game. By visiting the booths of all participating companies, attendees will be eligible to win a number of awesome prizes. 3CLogic is participating, and will be giving away an iPad—and some other goodies as well! Come meet the team at booth #1206 and learn more about our advanced cloud communication offerings!
Half-Day Course "Achieving Customer Service Excellence: ServiceNow Customer Service Management and Field Services" (15PC30): This year, ServiceNow will be unveiling its new platform for Customer Service Management (CSM). And as customer service continues to overtake price and product as a brand's key differentiator, CSM platforms will become increasingly important to enterprises of all industries. If you're interested in leveraging ServiceNow for service and support, don't miss this course, which will address how the knew CSM platform can help your organization achieve customer service excellence. Use the scheduler to map out the panels and sessions you wish to attend.
Panel Discussion "OpenFrame- Embedded Communications in the ServiceNow Platform" (17BE02): If you're a professional in the customer service or contact center space, and are interested in ServiceNow's CSM platform, you can't miss 3CLogic's panel discussion on embedding multichannel communications within ServiceNow's OpenFrame platform on Tuesday from 3:50-4:40pm. Offering the only seamlessly integrated CTI for ServiceNow, 3CLogic helps businesses intelligently route customer inquiries, enable self-service, automate manual processes, track all communications, and leverage pre-existing on-premise systems, such as Cisco or Avaya. Sign-up on the scheduler!
CreatorCon: For those attendees who are interested in developing on the ServiceNow platform, you can't miss CreatorCon. With two days of workshops, breakout sessions, and labs, combined with certification opportunities and hacking hijinks, CreatorCon will help users take their skills and ServiceNow expertise to the next level. Click here to learn more and register.
Getting excited for the show? So are we! Don't forget to check-out our website to learn more about our solutions and ServiceNow integration before the show. And if you're interested in learning more about our end-to-end computer telephony integration (CTI) for ServiceNow, sign-up for our webinar, "Leveraging ServiceNow CTI for Customer Service and Supoort". Until then, see you in Las Vegas!