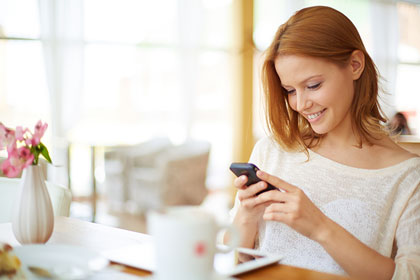 "It's not personal, it's business," or so the saying goes. But today, everything is personal – or at least it should be given the growing emphasis and importance on personalizing each customer engagement. In fact, a recent study by Forrester Research and Salesforce listed "Personalizing Customer Service Interactions" as one of the key trends facing customer service organizations. And with more than 70% of executives believing personalizing the customer relationship is of strategic importance, its no wonder its driving the way organizations currently target and service their customers. And there is no denying the results.
Consider the Following:

Personalized email messages are opened 70-80% of the time with lead conversion rates increasing as much as 25%.
49% of consumers would consider allowing retailers collect personal shopping data in exchange for a more personalized customer service experience.
54% are comfortable with retailers storing their purchase history in exchange for increased personalized value.
61% of consumers feel better about and are more likely to purchase from a company utilizing custom content.
According to the

2014 Science of Email Marketing Report

, first name personalization increases click-through rates from approximately 5.8% to 7%.
90% of consumers find custom content useful.
78% believe organizations providing custom content are interested in building good relationships.
So if the benefits of personalization are so obvious why do only 17% of businesses succeed in delivering it? Quite simply, despite the best intentions, 86% cite challenges using real-time data to deliver the right content to the right visitor in the right channel at the right time. In short – easier said than done. But, there are a few ways to get the ball rolling and the gap closed.
Cater to Different Communication Preferences: The same channels don't work for every customer. In fact, the traditional approach of assigning "typical" communication preferences (phone, email, TV, chat, social media, etc.) by generation has gradually lost its effectiveness. For instance, while 65% of Seniors (ages 65 and older) are more likely to use the phone than any other channel, 65% of those surveyed will have also made an online purchase within the last three months. So while targeting or servicing customers by predetermined assumptions may work to an extent, successful contact centers need to monitor and cater each interaction to match the unique preferences of the consumers they serve, which could include multiple channels – in fact it likely does.
Direct Customers to a Familiar Face (or Voice): Personalization implies the opportunity for stronger customer relationships but can only occur if a business is structured and organized to facilitate them. Should a customer have a stronger connection with certain customer service representatives or simply wish to speak with someone already familiar with their needs – make it so. In fact, 40% of today's consumers expect representatives to already know about previous attempts to resolve an issue—so why not automatically route them to the agent with whom they last spoke? A modern communication platform with the proper agent routing capabilities can be a big help in this area.
Greet Customers by Name: As obvious as it may seem, only 34% of businesses greet customers by name despite the fact that 71% of organizations see a huge impact on customer engagement when doing so. But a contact center integrated with the various database management applications (CRM, Ticketing, etc.) an organization may be using can easily provide agents with pre-populated screens containing all relevant customer data before an interaction begins. No more guessing or stalling – just an increased likelihood of starting the engagement off right. And don't fret, the right contact center solution can handle email and text as well to handle those multichannel customers.
Use Customer History and Records for Every Interaction: Only 21% of businesses use purchase history to communicate with customers, even though 77% of those who do report a huge impact on ROI – not a big surprise when you consider 84% of consumers report frustration when representatives lack immediate access to their account information. The solution? A fully integrated contact center with complete insight into the various departments impacting the customer experience (Sales, Billing, Support, Marketing, etc) to allow any single individual to have a complete 360-degree view of the customer in real-time.
Don't Stick to Rigid Guidelines: Many call centers struggle between offering consistent customer service interactions and personalized ones. While it is important to ensure agents follow company protocol, address key points, and maintain a certain degree of professionalism, it should never be at the expense of ignoring an individual's unique needs. The lines between personalization and professionalism can easily be blurry but contact centers with the capability of using dynamic scripts are likely to have a greater degree of flexibility to meet both the needs of the customer and those of the business.