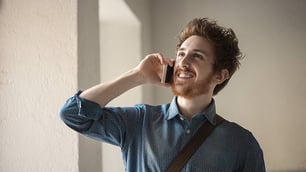 An astounding 82% of today's consumers say speed of service is the number one factor to a great customer experience. And as businesses increasingly seek ways to improve their customer service, many have turned to virtualization and self-service. Airlines use self check-in, restaurants allow customers to make their own reservations, and grocery stores have self check-out lines—the list goes on. In the case of contact centers specifically, 62% of best-in-class companies use interactive voice response platforms in some capacity to facilitate the delivery of fast but relevant customer service.
4 Benefits of using an interactive voice response (IVR) solution:
Helps manage high call volumes: Most businesses experience fluctuations in call volume throughout the year due to changes in the market, season, time-of-day, or company-specific issues/initiatives. But whatever the root cause may be for increased call volume, client expectations will generally remain the same or even increase in times of crisis. Using an interactive voice response feature, the ability to set expectations, explain any delays in service, or even address certain inquiries can help ease any unexpected or expected burden on the contact center while still meeting the needs of the end-client. In fact, some platforms can provide "call-back" options, which can reduce call abandonment by as much as 32%, or offer self-service tools to help reduce call volume by 20% or more.
Reduces cost per transaction: An agents' time is extremely valuable. So unless absolutely necessary, why waste it collecting or providing basic client information that is otherwise already stored within a business' existing database management system? By utilizing an interactive voice response menu to allow consumers to self-service their own needs, or by establishing a clients' needs prior to routing them to the most qualified agent, businesses can significantly reduce their cost per transaction. In fact, an IVR call minute is at least 80% cheaper than an agent-led interaction.
Prioritizes incoming calls: While no business would argue the importance of each consumer, there will likely always exist instances when certain customers should take priority over others. Whether the driving criteria is based on customer tiers, size, strategic importance, or past experience, interactive voice response solutions can help prioritize calls to ensure more pressing matters are always addressed first by the next qualified and available representative. It's a simple way to help streamline those clients most at risk of leaving or emphasize those most valuable to the bottom line.
Improves first call resolution rates: As customers increasingly view speed of service as one of the primary drivers to a great service experience, contact center managers have placed an increasingly large focus on first call resolution (FCR) rates. Unfortunately, many customers still experience difficulties, with 26% still being routed from agent to agent without any resolution to their immediate needs. Why? An astounding 60% of low first call resolution rates are caused by an employee's inability to quickly access customer relevant data. But for those organizations utilizing a CRM or Ticketing platform, the ability to intelligently link your IVR can help facilitate an agents automatic access to client relevant information and history at the most important time – the time of the interaction. In fact, with a properly configured interactive voice response menu, the ability to pre-assess a client's needs and route them to the most qualified and prepared agent can simple but very impactful on the overall customer experience.
Check-out some IVR Best Practives here.