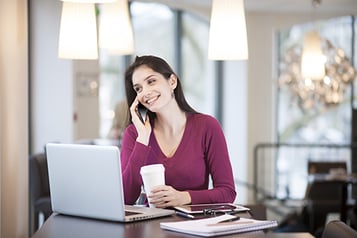 Who wouldn't rather report to work in their pajamas with their alma mater coffee mug steaming at their side? Sign me up! With virtual meetings, increased internet speeds, and web based programming, companies are embracing the idea of "virtual" agents more and more. From the employee standpoint, this form of work is an ideal situation, but what are the benefits to the employer, and how do you manage oversight of such an operation?
Benefit 1
– The employee is happier. This may seem like a no-brainer, but
employee engagement
is shown to be much higher in employees that work from home. Think about it:
the environment is quieter – no distractions from other phone calls
the employee is comfortable – no dress code and homemade turkey soup anyone?
less stressful – no traffic, no wasting gas, no one breathing over your shoulder
work-home balance – more time with the people that matter, while still maintaining a full work day.
Less turnover – a happy employee is a loyal employee.
Benefit 2 – If the employee is working from home – geographic limitations are not set. You can hire the top talent in the field, even if they live in the backyard of your competitors. The more spread out geographically they are, the more hours they can cover. Think about it – your west coast clients will thank you for those early birds on your team!
Benefit 3 – Environmentally Friendly – With everything seeming to "Go Green" these days, this option not only saves on renting and maintaining a large office space, but helps to save gas, commuting, congestion – reducing the carbon footprint.
These seem like great benefits for both sides, but how do you manage this type of relationship effectively and ensure productivity?
1. Develop clearly set goals and track metrics. Many virtual agents use software that enables supervisors to listen in on calls, coach them actively, and push updated scripts to all agents simultaneously. Reports can show how many calls an agent has made, how long they are away from their "desk" and other important factors that provide that oversight you would have in an office.
2. Ensure that all employees have adequate security measures in place. The last thing you want to worry about is information being leaked that is not supposed to be out there. Make sure that all employees have anti-virus software, a secure internet connection with a firewall, and a backup line in case they need to be reached alternatively.
With so many companies migrating to the cloud and the updated technology becoming so readily available, this type of work environment is becoming more and more of a reality. Enjoy an engaged and productive workforce that will not only help your company succeed, but will stay with you for the long haul.