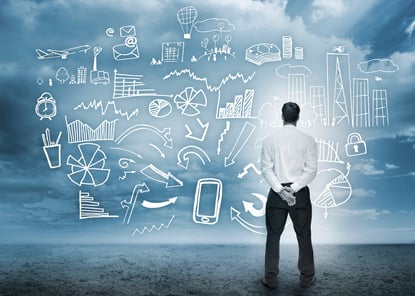 By now, most businesses and contact centers understand the general merits of cloud solutions—they're more flexible, reliable, and scalable, and much easier to implement and maintain. And most importantly from a business perspective, they are significantly less expensive. But monetizing the exact cost savings of cloud contact center solutions can be a difficult task, as there are many moving parts to take into consideration. Let's break down the total costs of implementing and maintaining both cloud and on-premise call center solutions to gain a better understanding of how they compare.
One-Time Costs
Before agents even begin dialing, there are a few "one-time costs" that need to be addressed to get a call center up and running. For the average on-premise system, this involves shelling out a significant amount of money on software licenses, servers, installation, integrations, training, IVR development, and professional services, which according to DMG Consulting can amount to roughly $700k in total. For cloud solutions, it is an entirely different story—because the solution provider takes on the burden of managing data centers, the costs associated with software licenses and servers are eliminated, and installation costs significantly reduced. And with a selection of pre-built third-party integrations and open APIs to facilitate customization, cloud integrations are significantly less expensive. Coupled with out-of-the-box features and functionality, and all-inclusive training and professional services, the total cost of cloud implementation is roughly $24k—a fraction of what it costs to implement an on-premise solution.
Annual Ongoing Costs
When choosing between cloud and on-premise solutions, decision makers must also take into account the ongoing costs they will incur. While businesses using on-premise solutions do not face monthly usage fees, they are forced to pay a significant amount of money for software and hardware maintenance, costs that can increase year-after-year as equipment becomes older. And because they are managing servers and upgrades themselves, these businesses generally require inhouse admin and IT support staff, which can total close to $337k. Cloud call center solutions, however, do not require any software or hardware maintenance or a large IT staff, as the solution providers take on the role of managing data centers and upgrades. The main cost businesses using cloud services will incur are monthly usage fees associated with software licenses and minutes, which combined with a much smaller IT team will total roughly $318k for the average call center, according to DMG.

Conclusion
While a decision maker who has already spent a large sum of money implementing an expensive on-premise system might be hesitant to migrate their contact center to a cloud alternative, the ongoing costs of using an on-premise system are still marginally more than those of cloud. And there will come a day when the on-premise equipment will need to be replaced. With more than 62% of contact centers utilizing cloud solutions, and more than 45% of the remaining businesses planning to do so in the near future, cloud is quickly becoming the standard for contact center space, and will likely become a mainstay in the IT industry.