Technology has become the framework upon which exceptional customer experiences are built. And as customer service continues to become a critical aspect of a business' success, organizations are increasingly seeking new and innovative solutions to power their contact centers. Check-out the following key insights from CCIQ's Executive Report on Contact Center Technology in 2016 to discover the top priorities and trends impacting call centers in the coming months.
1) Businesses are increasingly allowing agents to "work from home"
Enabled by modern technology, a growing number of today's contact center agents are permitted to "work from home", a practice that has allowed businesses to take advantage of talent outside of their geographic region, while reducing overall costs. In fact within twelve months, more than a quarter of businesses will be employing a substantial number of at-home agents. And this shift will continue to drive demand for technological architecture that is able to accommodate multi-site, virtual contact centers without impacting quality—something only cloud platforms have been able to successfully provide.

2) Today's organizations are rapidly moving to the cloud
Twelve months ago, 80% of businesses primarily housed their contact center technology on premise, while the remaining 20% chose to house their contact center technology in the cloud or a combination of cloud and on premise (hybrid). Today, that number has decreased to 58%, and is expected to fall to just 44% within the next year, indicating that cloud infrastructure is quickly becoming a crucial part of the contact center mix. Businesses will likely continue migrating their contact center infrastructure at least partially to the cloud to take advantage of the superior flexibility, reliability, and cost saving benefits it has to offer.

3) When buying technology, uptime/reliability, value for the end-user customer, and data security represent the greatest priorities
No matter what role the contact center is playing within an organization, its success ultimately boils down to the reliability and security of its communications solution. So when asked which factors played the largest role in evaluating and purchasing contact center technology, uptime and reliability not surprisingly came in first, followed closely by security and value to the end-user customer. Cloud solutions have successfully provided organizations with greater uptime and reliability, while unifying communications and enhancing usability for end-users. And while some organizations have expressed hesitation in moving all data and operations to the cloud for security reasons, hybrid models have been able to alleviate some of these concerns.
4) When assessing the performance of technology, improvements in operational efficiency, improvements in customer-oriented metrics (CSAT, NPS) and improvements in agent performance represent the greatest focuses.
As customer service continues to be the primary driver of consumer purchasing patterns, businesses of all sizes and industries have begun placing a greater focus on customer-oriented metrics such as CSAT and NPS when assessing the performance of technology. Not surprisingly, decisions makers also want to make sure the technology is capable of improving operational efficiencies and agent performance, two metrics that can also greatly impact customer satisfaction, as well as revenue. But to properly measure this, businesses must ensure they have the technology in place to properly track and monitor agent performance and customer satisfaction.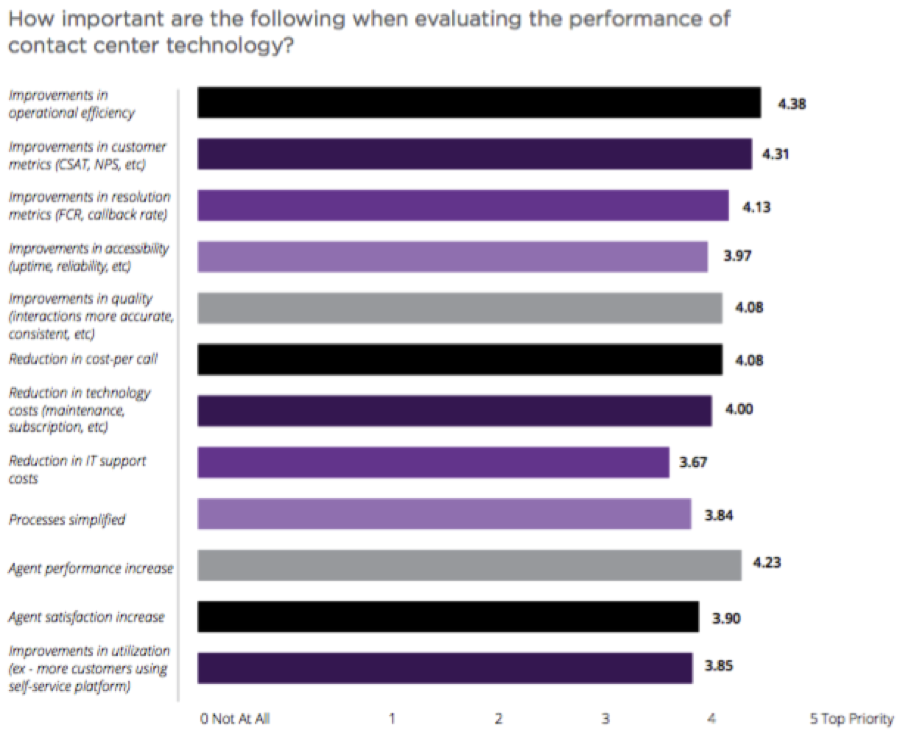 5) Virtual agents, live chat, and self-service will take center stage in 12-24 months
As adoption of Internet-connected devices continues to rapidly expand, digital forms of communication are quickly increasing in popularity, expected to surpass voice within the next two years. Not surprisingly, when asked what their contact center's top priorities were for next year, 18% of businesses stated virtual agents, 17% live chat, 17% self-service, 16% mobile solutions, and 16% multichannel integration. Within the next 1-2 years, businesses will likely place a greater focus on enhancing and expanding their digital offerings, while ensuring all channels are integrated and supported by their contact center.