3CLogic, a leading provider of cloud contact center software for the enterprise market, today announced it has been named to the Constellation ShortList™ for Cloud Customer Service and Contact Center Software, for the third consecutive quarter, in Q1 2019. The named vendors are recognized for their solutions that help "solve customer challenges faster by offering the right tools and support, regardless of channel or device."
The report can be accessed here.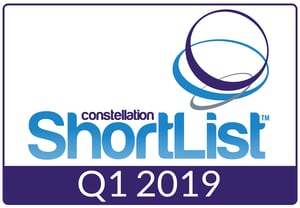 Technology vendors included in the Constellation ShortList offer the key requirements for early adopters pursuing digital transformation initiatives. The firm evaluates over 25 solutions categorized in this market and determines the ShortList by client inquiries, partner conversations, customer references, vendor selection projects, market share and internal research.
3CLogic fulfilled the long list of inclusion criteria thanks to its market-leading inbound, outbound, and blended cloud contact center platform with features including: Interactive Voice Response (IVR), Automatic Call Distribution, self-service capabilities, skills-based routing, quality management, real-time reporting, dashboards and analytics.
"Our unique approach to embedding voice capabilities within leading digital platforms such as ServiceNow, SugarCRM and Microsoft Dynamics enables our customers to deliver the type of rich and unified experiences they need to effectively engage their customers," said Vikas Nehru, CTO at 3CLogic. "We believe our continued recognition in the constellation shortlist for cloud customer service and contact center software demonstrates our unwavering commitment to empowering our customers to mine hidden 'dark data' inside voice communications and create effective customer journeys."
"The Post-Digital era has arrived. In a world of winner-takes-all markets, digital leaders seek clarity on what exponential technologies will support their new business models. This Constellation ShortList filters the signal from the noise and highlights the key technologies our analysts recommend to our clients," said R "Ray" Wang, chairman and founder at Constellation Research.
Constellation Research advises leaders on leveraging disruptive technologies to achieve business model transformation. Products and services named to the Constellation ShortList meet the threshold criteria for this category as determined through client inquiries, partner conversations, customer references, vendor selection projects, market share and internal research. The portfolio is frequently updated as market conditions change.
About 3CLogic
3CLogic is a leading cloud communication platform, offering a seamlessly integrated multichannel and Computer Telephony Integrations (CTI) interface for today's enterprise businesses. Designed to complement existing operational workflows and/or on-premise legacy systems, 3CLogic provides a unified 360-degree view to optimize and analyze client interactions for sales, customer support, or call center organizations. 3CLogic offers customers maximum choice and flexibility with a connect, hybrid or pure cloud solution while delivering market-leading security, scalability, system flexibility, and reliability. 3CLogic is government cloud capable, meeting Aisle 5-level requirements, and GDPR-ready. For more information, please visit www.3clogic.com or blog.3clogic.com.
Disclaimer
Constellation Research does not endorse any solution or service named in its research.