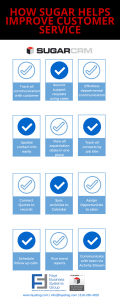 Many company executives realize the importance of customer service to their organization. It's no longer seen as just an outlet for customer complaints but instead a department to help ensure customer loyalty. As its core function, customer service is expected to effectively handle basic customer transactions.
Think back to a bad customer service experience. What do you wish the rep had done better? How about the best experience you had? If you're like most people, you expect customer service to be able to quickly and proactively help answer questions and resolve issues. After all, isn't that why they are there?
In order to be truly effective, each customer service rep needs to have a tool to easily and quickly access accurate and complete customer data. This will allow them to positively impact customer satisfaction by providing a personalized and effortless connection with customers. It also helps departments to collaborate more readily instead of sending emails and awaiting responses. Easy communication and fast results lead to happy customers.
So how does SugarCRM help customer service?
Allows them to track all communication with the customer
Submit support requests using Cases
Allows effortless communication between departments
Easily update contact information
See all products and services with expiration dates in one place
Maintain a list of contacts and their positions
Connect Quotes to records
Sync activities to Calendar
Assign Opportunities to sales
Schedule follow up calls with customers
Run trend reports
Communicate with teammates using the activity stream
Faye Business Systems Group is an award winning Southern California-based technology consulting firm and Software Company specializing in CRM implementation with over 25 years of experience helping growing companies become more profitable through the effective use of technology.