With Voice activated personal assistants becoming the new user interface of choice in our homes and cars, it's only natural for enterprises to focus on voice interface technology as a customer engagement channel.
Analytics Today
Innovative solutions that deeply integrate voice (AKA contact center telephony) into service management platforms, like 3CLogic and ServiceNow's combined offering, allow enterprises to gain unparalleled visibility into customer-agent (or virtual agent) engagements, extracting valuable data and putting it to work.
Valuable data is mined and presented in 3CLogic's consolidated reports and dashboards seamlessly integrated within the ServiceNow platform. Thanks to a flexible, configurable framework, Contact Center Supervisors and Managers can easily customize, filter, and drill-down into communication data points with an easy-to-use, drag and drop interface and view them alongside ServiceNow reports. Performance of individual agents as well as the contact center itself can be measured using metrics that include:
Number of inbound/outbound contacts attempted
Connection rates and average talk time
Quantity abandoned and transferred calls
Agent status/availability (available, busy, away)
Wrap up-time, handle time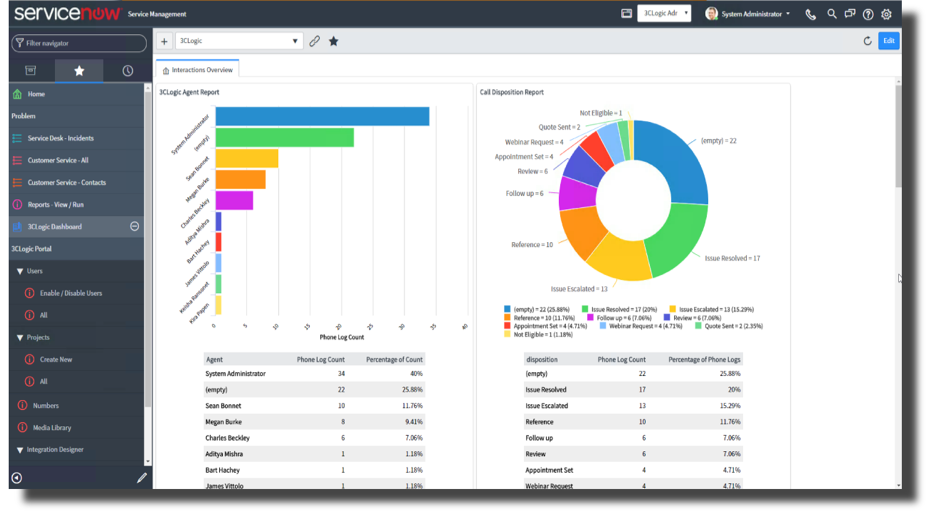 Where It's Headed (and will arrive soon!)
3CLogic is taking customer engagement visibility with ServiceNow to the next level with enhanced real-time supervisor dashboards and wallboards providing access to more KPIs for a complete view of activity, including:
RONA (Rang at least one agent and were not answered) or missed calls
Current queue wait time
Wait time between calls
External Transfer
Call backs
Handled Count
Total Talk Time
Total Wrap Time
DNC
And more
In addition to real-time data enhancements, 3CLogic is digging deeper into voice to offer new sentiment analysis, bringing the Knowledge18 Hackathon win to life!
In the past, visibility into voice conversations between customers and customer service agents had been limited to the notes that the agents enter, or do not enter, after a call ends and data is logged into ServiceNow.
The soon-to-be revealed sentiment analysis capabilities will provide unprecedented visibility into a conversation as close to real-time as possible, assign sentiment such as positive, negative and neutral ratings and drive automated tasks based on the analysis.
Unlocking these valuable insights and acting upon them leads to improved customer experience, increased customer loyalty and contributes to real business transformation. Organizations are increasingly taking these necessary steps to become truly customer centric – and you should too.
Where Can I See It Live?
3CLogic will unveil its newest inbound/outbound activity dashboards, wallboards and sentiment analysis capabilities within ServiceNow at upcoming NowForum and NowSummit events.
Click here to see the dates and locations most convenient for you – we hope to see you soon!