Consider the following: If someone had told you ten years ago that 140 characters would change the world and the way we do business, what would you have said?
Trends come and go, that's not news. However, assessing the lifespan of each one and its long-term relevance in the business community is definitely a challenge. Case in point, Google is still the leader in search engines since its birth in 1998, but when was the last time you saw a laser disc?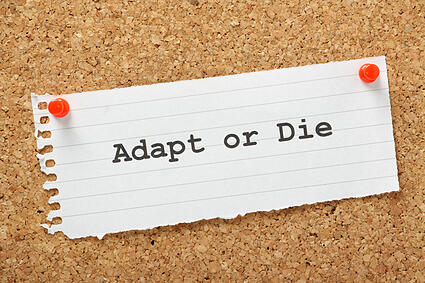 If we consider Henry Ford's famous quote," You can have any color, as long as its in black", there certainly was a time when companies set the standard and consumers were the willing recipients of whatever businesses disseminated. However, today the environment has drastically reversed, with customers clearly dictating what, where, and when without much care or consideration as to the how. As a result, businesses are clamoring to keep up with the changing standards and trends set by the very consumers they wish to please; a tall older unless you have a crystal ball.
Adaptability has become the new standard for businesses to succeed, and contact centers are no exception. With the latest emphasis on customer relationships, the need to stay relevant and ahead of customer needs and expectations is almost more important than the actual product or service being rendered. But the flexibility has to be available at all levels of the company; corporate as well as at the individual level. So if Twitter is running the show today and something yet unknown tomorrow, how can your contact center (and your business) stay nimble enough to be successful and still offer the level of customer service clients have come to expect?
Adaptable Solution: To stay adaptable, your contact center solution needs to have the flexibility to change as quickly as your customer's needs and preferences. Its no mystery why cloud is overtaking on-premise, when you consider how easy it is to build a cloud-based solution uniquely catered to fit your business needs and processes. Whether you need a contact center solution, CRM, WFM software, ticketing platform, or all of the above, the cloud makes its quick, easy, and possible. More importantly, your current business can drive the solution rather than be subject to it. Not a bad deal and crucial when you consider how quickly markets and customer needs change.
Flexible Workforce: If the recent advances in technology have done anything, it's to make distance largely irrelevant. In today's world, its become quite acceptable for the representative answering your call, email, text, or tweet to be doing so from the comfort of his or her own home-office (maybe even dressed in their PJs!) By embracing a flexible workforce, your contact center can scale seamlessly up or down as customer demand stipulates, truly run 24/7 with reps stationed by geographic region, and always maintain the luxury of hiring the right people and skills sets without much delay or restriction.
Business Intelligence: The ability to transform raw data into useful information for your business is one of the most important steps towards understanding current and future customer trends. Without it, a company is flying blind and it's only a matter of time before a crash occurs. With business intelligence powering your contact center, the massive amounts of customer data traveling through your business can quickly offer clarity into current and future customer needs and demands, granting the opportunity to be pro-active to sudden changes rather than reactive.
R&D: An easy way to assess a solution's potential and long-term relevance, as it relates to your business and contact center, is to consider how much a company spends on R&D. While admittedly no one knows exactly what the future holds, if your current or prospective vendor is focused on capitalizing on the short-term (i.e.: expanding its sales team, huge marketing budgets, etc.) at the expense of making the necessary investments to remain relevant in the future, you may want to consider some alternatives. Social media is all the rage today but what about video to help better serve your customer tomorrow (just a thought)? Simply put, don't let the long-term success of your business hinge on the possible mismanagement or lack of foresight of another.
There is no way to predict what the next "big thing" will be, but the ability to quickly change course will grant companies the opportunity to stay relevant regardless. Stay nimble and stay alert with the right solutions powering your contact center and the next "big thing" could be your business.