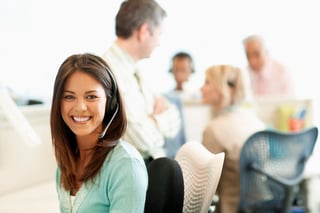 Technology has become the lifeblood of the contact center and the framework upon which exceptional customer experiences are built. Enabling front-line agents to more effectively engage with customers, and businesses to optimize their contact center's operations, the technology chosen plays a large role in the success and efficiency of an organization. To uncover the top technology priorities of contact centers in the coming months, Call Center IQ (CCIQ) surveyed a number of businesses for its "Executive Report on Contact Center Technology", sponsored by 3CLogic, and identified the following features on their wish lists, in order of importance.
Customer analytics/insights (38% within the next six months): As organizations continue to become more customer-centric, solutions for customer analytics/insights have become an urgent priority. This would include any technology that offer agents and supervisors the ability to track and gather insights about their customer base, such as customer relationship management (CRM), speech analytics, customer survey technologies, among others.
Dashboards (37% within the next six months): Offering real-time insights into agent activities and performance, dashboards are the second biggest priory in the next six months. Such solutions should help facilitate customer satisfaction, and positively contribute to interaction quality.
Performance measurement and monitoring tools (36% within the next six months): Solutions that facilitate supervisors' ability to both monitor and measure agent performance are at the top of the list this year. This would include robust reporting engines, real-time dashboards, and gamification solutions, along with QA tools such as silent monitor, screen capture, and call recording capabilities—all of which should help enhance operational efficiencies.
Real-time feedback solution (36% within the next six months): Real-time feedback solutions are also a crucial in addressing customer-oriented concerns at the time of an interaction, and are a critical need in the coming months as businesses demand greater insight and control over their agents' activities. Examples would include QA tools, such as whisper and barge-in, which would allow agents to whisper suggestions to agents without the customer hearing, or take over a conversation if necessary.
Workforce management tools (34% within the next six months): As agent retention continues to be a major pain point within the contact center space, workforce management tools have become a key way to ensure agents are happy, and operating as efficiently as possible. Falling under a similar umbrella, workforce optimization tools can help contact centers understand trending topics or issues within their contact center and more effectively coach agents on how to resolve them.
Predictive Analytics (31% in 6-12 months): As businesses continue to seek ways to both enhance customer experience and reduce operational costs within their contact centers, many have expressed interest in utilizing predictive analytics solutions. Such a solution will allow them to identify and plug gaps in performance, and ensure their aim of an efficient, customer-centric, productive, high-quality contact center operation can be realized.
Reporting Tools (27% in 6-12 months): Based on report results, it appears as though a large percentage of contact centers feel that their visibility into performance is suboptimal—and they want to remedy the problem by end of year. Advanced reporting engines can help provide granular insights into existing operations, and can integrate with CRM or database management systems to uncover additional insights.
Knowledge management (23% in 6-12 months): Last but certainly not least, knowledge management will be a priority for contact centers in the near future, as consumers continue to demand self-service. Enabling consumers to seamlessly resolve their own needs through the web, knowledge bases can help reduce inbound call volume, allowing agents to address more urgent customer need while significantly reducing operational expenses.