Praised for its superior scalability, reliability, and cost savings, cloud is quickly taking shape in the contact center industry, with more than 50% of businesses actively investing in cloud contact center solutions, and 76% planning to do so within the next eighteen months (Call Center IQ survey, "Cloud Contact Center Technology: Not 'If' But 'How'"). And as businesses continue utilizing cloud contact center solutions, more data highlighting its merits has unfolded, further supporting the ongoing migration.
Check-out the following key benefits contact centers have experienced since migrating to the cloud: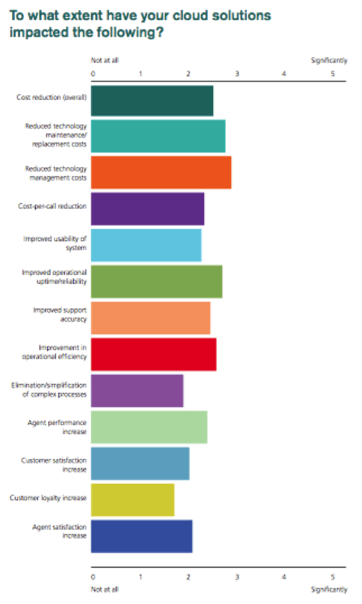 1) Reduced technology maintenance/replacement costs: Rather than invest in expensive infrastructure and pay for excessive capacity and resources long before they are needed, cloud enables users to pay only for what they need, exactly when they need it.
2) Reduced technology management costs: Because cloud and hosted vendors manage all servers, maintenance, and upgrades, businesses are able to significantly reduce their reliance on an expensive IT department.
3) Improved usability of system: Offering enhanced business continuity, real-time performance insights, and seamless integration with other cloud platforms, cloud contact center solutions are generally very easy to use and navigate.
4) Improved operational uptime/reliability: Because true cloud solutions geographically distribute data centers rather than house them in a centralized location, single points of failure are eliminated, thereby significantly improving uptime and reliability.
5) Improved support accuracy: With the ability to access diagnostics directly from users' PCs as well as direct control of the system, support representatives can more easily diagnose and resolve issues on cloud platforms
6) Improvement in operational efficiency: By consolidating the vast majority of a contact center's activities/solutions under a single roof and automating processes that were previously extremely time consuming and inefficient, cloud solutions significantly improve operational efficiencies.
7) Elimination/simplification of complex processes: Allowing for more seamless integrations with database management solutions, greater automation capabilities, and easy-to-use features and functionality, cloud solutions significantly simplify processes that were once extremely complex.
8) Agent performance increase: With easier to use tools, enhanced training and monitoring capabilities, greater performance insights, and reduced user-error resulting from more automated processes, cloud users generally see significant improvements in agent performance.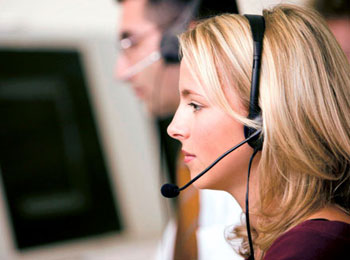 9) Agent satisfaction increase: A typical byproduct of enhanced agent performance (as noted above) is increased agent satisfaction, something most cloud contact center users experience—and with increased agent satisfaction comes improved agent retention.
10) Customer satisfaction increase: Improvements in both agent performance and satisfaction generally also lead to significant improvements in customer satisfaction. And this is by virtue of agents' enhanced ability to quickly and efficiently resolve customer needs with the use of better tools.
11) Customer loyalty increase: It is a known fact that as customers become more satisfied (as noted above), they tend to be more loyal—something most contact centers generally experience once switching to a cloud alternative.
12) Cost reduction (overall): Aside from the cost savings cloud's multi-tenanted infrastructure has to offer, the efficiency enhancements it brings to the table can also significantly reduce a contact center's overall costs.
13) Cost-Per-Call Reduction: As the use of automated tools rises and agent efficiencies increase, the time spent resolving customer needs can be reduced, thereby significantly lowering the cost-per-call.