January 23, 2018 - Rockville, MD -- 3CLogic, a leading provider of cloud call center software for the enterprise market, today announced its Bronze-level sponsorship of the 2018 ServiceNow Federal Forum: Modernizing Government IT.

Federal Forum is a complimentary single-day event where attendees learn best practices from notable keynotes, network with peers and gain access to leading ServiceNow partners and solutions. Various plenary sessions are scheduled featuring the leading minds in government, as well as focused tracks for IT service management, security operations, customer service management, HR, and more.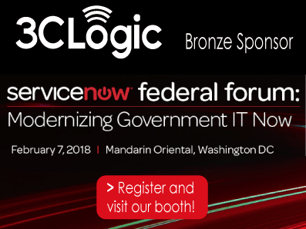 Due to increased Federal government business, 3CLogic upgraded this year's sponsor level to Bronze as a gesture, to both the market and ServiceNow, illustrating its commitment to helping the government work smarter. Working alongside ServiceNow and integrated within its platform, 3CLogic is excited to showcase its full-range of contact center solutions delivering unrivaled breadth and flexibility in its offerings, which include 3C Connect, Hybrid Cloud and Pure Cloud.
Stop by to see presentations of its ServiceNow-integrated suite of features, including: intelligent Interactive Voice Response (IVR), Automatic Call Distribution (ACD), Skills-based-Routing, Auto-dialing, Click-to-Call, Local Presence, Dynamic Scripting, Call and Screen-capture Recording, Quality Management Tools, Real-time Dashboards, Reporting & Analytics, and more.
"As ServiceNow continues to reinforce its position as the leading provider of automated workflows for IT and customer support, we continue to focus on providing enhanced breadth and depth of our ServiceNow integrations," explains 3CLogic CEO, Denis Seynhaeve. "We look forward to the Federal Forum event to unveil our very latest advances in integrations and sharing how existing customers are successfully leveraging the combined offerings today."

For more information and registration details

About 3CLogic
3CLogic is a leading provider of cloud call center software, offering a seamlessly integrated multichannel and Computer Telephony Integration (CTI) platform for today's enterprise businesses. Designed to complement existing operational workflows and/or on-premise legacy systems, 3CLogic provides a unified 360-degree view to optimize and analyze client interactions for either sales, customer support, or call center organizations. 3CLogic provides a connection, hybrid or pure cloud solution built on a unique architecture hosted on Amazon Web Services (AWS),

while delivering market-leading security, scalability, system flexibility, and reliability.