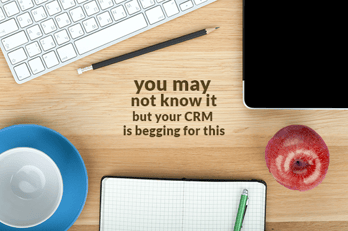 As the sales and customer service landscape continues to evolve and become far more complex, businesses around the globe are discovering the value in adopting advanced Customer Relationship Management (CRM) platforms to assist in collecting and organizing the vast amount of data their clients provide, and using it to deliver seamless customer service across multiple channels and touch points. And with organized client data, agents can more effectively up-sell, cross-sell, target marketing efforts, and solve potential issues before they escalate. Yet, arguably the most vital component of sales and service delivery, and one CRM platforms do not inherently provide, is voice—a channel that has the power to drastically enhance internal efficiencies, reduce costs, and transform the customer experience when integrated with a CRM.
What can an integrated telephony solution help you achieve?
1) Reduced inbound call volume: Customers will have the ability to quickly access important account details (stored in CRM) directly from an intuitive IVR menu without having to speak to a live representative, significantly reducing call volume and costs while freeing agents to address more pressing needs.
2) Enhanced workflow efficiencies: By pre-defining agent skill sets within the call center solution, incoming callers will automatically be routed to the individual best equipped to resolve their needs, optimizing the call center's workforce while enhancing the odds of a successful interaction.
3) Automatic retrieval of client information: Once a customer is connected to the appropriate representative, agent screens will automatically populate all relevant client records pulled directly from the CRM, removing the need for agents to do so manually while empowering them to quickly resolve customer needs.
4) Personalized Agent Prompts: Based on each callers account details and unique needs (as specified in CRM), agent screens will automatically populate personalized prompts to follow and fields to collect, facilitating consistent and streamlined interactions.
5) Greater Visibility into Agent-Client Interactions: Once a customer interaction is complete, all call details (time and date, result, agent who handled call, notes) and call recordings can automatically be posted to the customer's CRM record, enhancing agents' ability to deliver high quality assistance in the future while facilitating compliance.
6) Enhanced speed-to-dial: In the event an agent needs to quickly reach out to a customer or lead, all phone numbers stored in the CRM can be made into convenient click-to-call buttons, removing the need to manually dial their contact information.
7) Enhanced lead-to-call: All marketing qualified leads (generated from a website or uploaded via a list) can automatically be pushed into the dialer and immediately contacted by reps, ensuring hot leads are contacted before having a chance to become cold, while improving the odds of a conversion.
8) Enhanced Performance Insights: By combining the data stored within the CRM (i.e. sales MRR) with all call records (i.e. time spent with each client), managers can gain a better understanding of where agents are spending their time, and how it is impacting their overall performance.