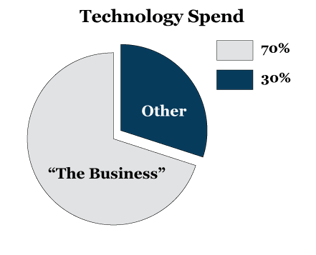 As technology becomes more affordable and customer expectations continue to rapidly evolve, there has been a noticeable shift within organizations as it relates to departmental technology spend. A role once assigned to CIOs and IT personnel, a group focused primarily on critical operational requirements, the responsibility of purchasing and maintaining the latest technology has fallen into the lap of those who play a more integral role in the customer experience—"the business". Who exactly is "the business" comprised of? Middle management, i.e. contact center directors, marketing and sales executives, VPs, and customer service managers, to name a few. Forrester Research Group reports that 70% of technology spending in North American companies of more than 250 employees is either "business" led, or heavily influenced by "business", a number that has grown significantly in recent years. And 50% of business managers, directors, and vice presidents are increasing their departmental budgets on technology products and services over the next 12 months.
Why the shift towards "Business Technology"?
When asked what their main focus was when increasing technology spend within their "business oriented departments", 86% cite improving the customer experience, 83% improving products or services, and 75% more effectively addressing digital technologies (i.e. mobile, social, and smart products). The majority of these organizations state that rising customer expectations require "the business" to push IT to keep technology current, and nearly half believe that technology is simply too important for "the business" not to be involved. Others express that the rising use of consumer technology has changed their expectations of how technology should be used.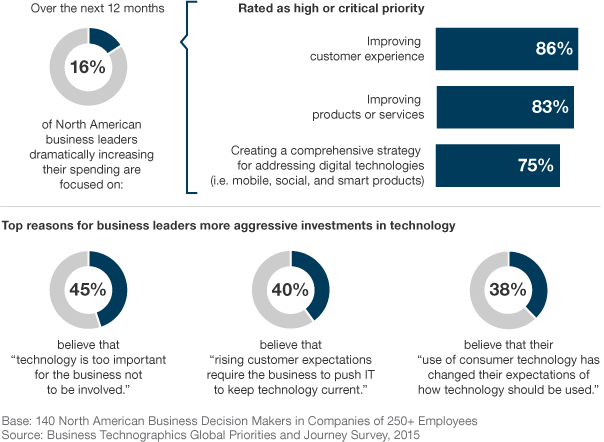 While the reasons behind shifting technology spend tend to vary slightly from one organization to another, the common denominator appears to surround one central topic—improving the overall customer experience. And as customer service continues to overtake price and product as a brand's key differentiator, and the "age of the seller" continues to succumb to the "age of the consumer", organizations will likely continue placing the role of technology adoption into the hands of those dealing directly with the customers themselves—"the business".

What has allowed this shift to take place?
The rise of cloud computing, Internet, and software-as-a-service (SaaS) platforms have enabled organizations of all sizes and industries to take advantage of the most advanced technologies on the market, without requiring large infrastructure investments or an extensive background in IT. So rather than hire information technology experts or consultants to research, implement, and manage expensive servers and databases, businesses can enable the marketers, sales executives, and customer service managers to easily and cost effectively manage everything themselves, with their vendors taking care of the back end. And by utilizing some of the many CRM platforms, cloud call center solutions, customer service management systems, and WFO/WFM software on the market, organizations can more effectively meet changing consumer trends and demands, at a fraction of the cost. It's a win-win.
Not only does it make sense from an operational standpoint, but also from a customer centric one. While extremely intelligent and capable, information technology experts are not typically the individuals interacting with clients and researching market trends, and would not have as much insight into consumer preferences and competitive advantages. "The Business", a group of people that is generally more cost-conscious and clued into the customer, is now also capable of managing the technology themselves—and this has presented organizations with an unbeatable combination that is hard to ignore.