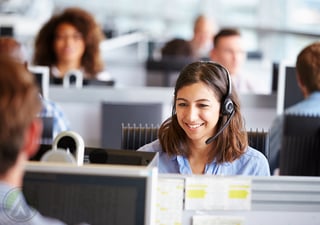 After call work (ACW), often referred to as "wrap-up" or "post call processing", is a component of call handle time that consists of the tasks performed by agents after disconnecting a call, including taking call notes, selecting a disposition code, updating information in the CRM/helpdesk, scheduling follow-ups, and updating colleagues. While a completely necessary step to any customer engagement, time spent on after call work (ACWT) is something most call center supervisors look to shorten, as it reduces the number of resources available to take a call. Said to take as much as one-third to one-half as long as the duration of the call (subject to change depending on industry, agent expertise, and role), ACWT that is consistently outside of an organization's projections can begin to significantly impact agent productivity, customer satisfaction, and revenue. So how can an organization reduce after call work time without impacting quality?
Perform tasks while on the call
There is no harm in allowing agents to perform certain ACW "duties" while on a call, so long as it does not distract them from delivering a superior service experience to their customers. Using dynamic scripting capabilities, supervisors can seamlessly guide agents through a call, providing customized prompts and questions, and mandating the collection of certain fields, which will be logged into the customers' record once the call is complete. Agents can also take notes during a call to ensure no information is left out, and remove the need to do so later.
Automate manual activities
Removing as much of the manual workload from agents' roles as possible is one of the best ways to reduce ACWT. Using a system that can automatically record all calls (which can be referenced later), and document all call details (time, date, agent who handled the call, notes taken, etc.) within the system of record, agents will spend less time manually inputting data, and more time working with clients. Automatically logging call records will also eliminate the possibility of data entry errors.
Trigger actions using call dispositions
A call disposition is a label that describes the outcome of a call—i.e. attempted to contact, bad contact information, not interested, appointment set, sold, etc.—and are often used by contact center managers and agents to better understand and optimize performance. But this valuable information can also be used by other platforms within an organization, such as marketing automation and CRM, to trigger follow-up emails and workflows, change lead statuses, set future appointments, and much more to reduce agents' manual workload after a call.