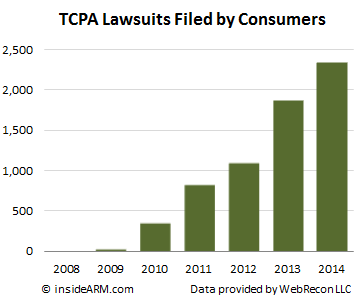 The Telephone Consumer Protection Act (TCPA), created to protect consumers from unsolicited phone calls, faxes, and texts, has significantly altered today's communications landscape, requiring businesses to reevaluate the way in which they contact their customers. But while many think they have figured out how to successfully navigate strict TCPA guidelines, new policies have caught a number of businesses off guard, leading to large law suits, negative press, and in some cases, the closing of businesses. Among some famous TCPA offenders: Lyft, Sirius XM, AOL, Time Warner Cable, Steve Madden, Wells Fargo, Chargers (NFL Football Team), Rite Aid, Toyota, Kaiser Foundation Health Plan Inc.—just to name a few.
Some facts your business should know before contacting customers:
Smart phones are considered auto-dialers, and are held to the same standards as traditional ATDS systems.
Providing disclosures in the call-to-action is insufficient for multiple text campaigns.
A company could take all possible steps to discover whether a cell number has been reassigned to another subscriber, and still be held liable under TCPA.
Consumers have a right to opt-out of a text message/calling campaigns—and companies cannot dictate how they do so.
Companies cannot rely on consent given by consumers prior to October 16, 2013 that were not compliant with the current prior-express-written-consent requirements.


Call Centers are liable for robocalls made to reassigned wireless numbers when the current subscriber or customary user of the number has not consented (subject to a limited, one-call exception for cases in which the caller does not have actual or constructive knowledge of the reassignment).
The law grants consumers a private right of action, with provision for $500 or the actual monetary loss in damages for each violation (whichever is greater) and treble damages for each willful or knowing violation. (This means a Call Center of 25 agents making 300 calls per day (industry average) can incur $11.25 million in penalties in one day).
Declaratory ruling is 138 pages, and even the authors do not understand everything is says.
Don't miss 3CLogic's Chief Innovation Officer, Robert Killory, at PACE's TCPA Washington Summit, where he will share the impact of recent TCPA rulings, and discuss measures businesses must take, both operationally and technologically, to facilitate compliance and maximize profitability. Learn More.