In an effort to cut costs wherever possible, many businesses have begun eliminating voicemail from their operational/customer service initiatives—or at least partially. As an example, JPMorgan recently announced it was deactivating voicemail for roughly 65% of its employees, which would reduce its annual expenses by roughly $3.2 million. The lender has also considered cutting staff at branches in its retail division, and urging customers to utilize automated channels, including Interactive Voice Response menus. Coca-Cola Co. similarly removed voicemail from its entire company, and instead leaves an automated message urging customers to contact them through an "alternative method".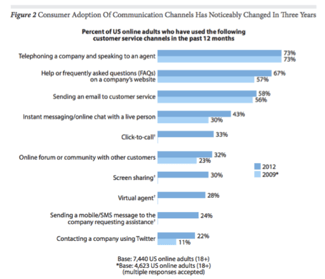 Why are companies eliminating voice mail?
According to Vonage, voicemail usage dropped by 8% from October 2013 to April 2014. And over that same time period, voicemail retrieval dropped by 14%, suggesting a growing number of voice mails are simply being ignored. And when considering the rapid emergence of alternative communication channels (email, text, online chat, social media, virtual agents, etc.) that are simply faster and more convenient, the fact that voice mail is slowly diminishing should not come as a huge surprise to anyone.
Is Voicemail Dead?
But the sheer decrease in its usage does not indicate that voicemail is dead, and does not indicate that it will die in the near future. It does, however, point out the fact that there has been an evolution in the way in which people are communicating with businesses. Consumers are increasingly seeking instant gratification, and continuously rank speed of service as the number one factor to a great service experience—they are simply not as patient as they once were. And while phone remains the most important channel to customers according to 90% of multichannel contact centers (Nemertes), the fact of the matter is, if customers cannot immediately be helped, they will seek service through an alternative channel—not by leaving a voicemail and waiting to be called back. Voicemail is simply no longer meeting customers' expectations.
The good news for businesses is, these alternative channels tend to be cheaper:
An IVR (Interactive Voice Response) call-minute for example, which is essentially a self-service option for customers led by a "virtual agent", is 80% cheaper than an agent led interaction.
A web chat session can cost 17-30% less than an agent led interaction
An email is 75% less than an agent led interaction.
Not to mention the added savings from removing the voicemail capabilities all together!
To eliminate voice mail—or not?
But before deciding whether or not to take voicemail away from their customer service offerings, businesses should ensure the change will not greatly impact their customers' experience. While the vast majority of customers might not be using voicemail when contacting them, some might be. And depending on department, some employees might heavily rely on voicemail for their specific roles. As with all things, the use of voicemail will have to be assessed on a case-by-case basis. But by all means, if it isn't adding to your customers' experience, and isn't being used—get rid of it.