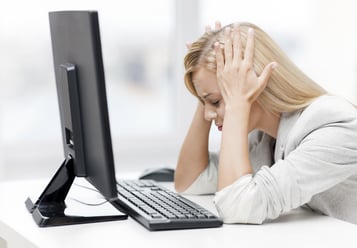 Stress on the job is inevitable, especially in the call center industry, where studies show that 58.3% of call center workers were significantly more stressed (58.3% vs. 19.3%), depressed (62.9% vs. 4.6%), and anxious (33.9% vs. 1.4%) than before they started their position. Running your business effectively includes making sure that your employees have the tools and training necessary to be at their most productive. Eliminating stresses not only helps agents to enjoy their work experience, but enables them to focus on their daily tasks instead of external frustrations. Below are a few tips to keep your employees from pulling their hair out…
1. Have an easy to use interface. Providing agents with a streamlined interface will allow them to easily find and access information without having to flip between windows or programs. Buttons such as click-to-call, or recording pause should be integrated into this environment.
2. Seamless integrations. If your agents have been trained on Salesforce, or another CRM, ensure that they are able to effectively access stored information that is synced directly to your telephony platform. Agents will enjoy the benefits of multiple programs that work together to provide them with the most comprehensive view of the customer, even before the calls are started. Call center software that can combine WFO, CRM, and other third party solutions can optimize your call center in a way that truly fits your unique business needs.
3. Optimize your workforce. If you have higher call volume on Saturdays, don't put agents under the added stress of having long queues, balance the workload. Longer wait times often increase customer dissatisfaction and result in longer call times overall. Using WFM will allow you to schedule the proper amount of agents for those peak call times so the stress load doesn't fall directly on a select few.
4. Insist on break times. While this isn't a physical tool, it is an essential need for the everyday call center employee. Give them the ability to set themselves away to ensure that they have time to eat, time to recharge, or even to just unwind after a particularly bad call. These stats can be monitored from within a supervisor's dashboard to ensure that each agent is working as effectively as possible.
5. Provide diverse and comprehensive Training. Consider that every agent learns differently. By providing various vehicles for training (different trainers, PowerPoints, roleplaying exercises, reading material), you will ensure that each agent feels up to speed and confident in their abilities. Onsite training will also provide the opportunity for each agent to interact with supervisors and other agents on a more personal level, so it will feel like more of a team environment versus a land of isolated cubicle islands.
6. Provide ongoing training. As your contact center changes, so should the training programs for your agents. Provide them opportunities to perfect skills that they may be lacking, or become experts on a specific topic that they may be interested in. Features such as barge-in/whisper provide supervisors with the ability to give the agents direct and constructive feedback. They can also easily attach notes to call recordings or transcriptions or leave recorded messages for agents with feedback. The more feedback they receive, the more productive they can be.
7. Have an accessible list of resources. Nothing is more stressful than not being able to find the answer to something and having nothing to say to the person on the other end of the line. Add recordings of calls, notes, and FAQs to a list of resources which all agents have access to. It will provide them with another level of knowledge and the peace of mind that they have a place to go for answers.
8. Set Goals and Expectations. One of the highest stresses in call centers is meeting numbers while still provide superior customer service. Provide agents with benchmarks, and the KPIs that will determine how they are evaluated. Eliminating any inconstancies between expectations and evaluations will put agents more at ease and help them focus on customer needs, not how their next review will go.
9. Provide adequate flexibility. Call center agents who are constantly monitored, whether on phone calls, through visual surveillance or simply though excessive KPI reviews are going to feel increased pressure than those agents who are allowed to work more independently. Feedback should be constructive and periodic, unless there is a blatant need on a specific phone call.
Strict adherence to scripts can also cause agents stress as they are not able to adequately relate to the customers and their needs. Consider a software that provides dynamic scripting, to allow the agent to think and work alongside the customer's changing needs.
10. Lack of rewards and recognition. Agents who feel rewarded in their work are less likely to feel stressed because they know their efforts and work are being noticed. If an agent posts great numbers for the quarter, let them know. If they handle a particularly difficult phone call with proficiency, use it as an example for others and give them the credit. Simply recognitions such as these, and larger recognitions such as raises, days off, etc., will reinforce in your agents that hard work is rewarded and appreciated.
While there is no surefire way to completely eliminate stress in every employee in your call center, using some of the above tips can help to minimize levels and ensure a more productive work environment.