January 4, 2018 - Rockville, MD-- 3CLogic and MapAnything today announced the early 2018 availability of their call center solution and geo-productivity and location-based business intelligence software integration for ServiceNow.
The partnership allows for the seamless integration of 3CLogic's CTI solution with MapAnything's location-based software, helping agents easily initiate customer engagements from within MapAnything's visual mapping workflows while optimizing data intel for comprehensive customer service and efficient incident resolution.
The joint offering also allows for the automation of activity postings and workflows to enhance the agent experience and overall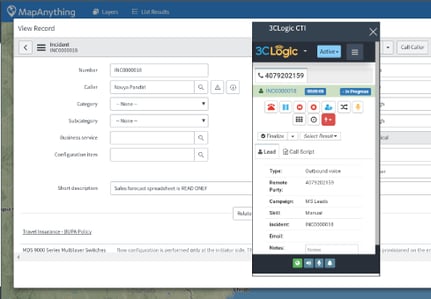 productivity.

The release is in response to the industry trend of organizations increasingly adopting technology solutions to reduce company costs while focusing on the importance of customer retention through outstanding customer service.
The announcement comes as both companies continue to enjoy rapid growth and demand within the ServiceNow marketplace for their certified CTI and mapping software for ServiceNow's various solution offerings, including IT Service Management (ITSM), HR, and Customer Service Management (CSM).

"3CLogic and MapAnything have long been pioneers in the ServiceNow marketplace", explains 3CLogic's CEO, Denis Seynhaeve, "and we are excited to come together and deliver exclusive benefits that only our combined solutions can provide."

"This partnership will enable levels of agent productivity never before possible," said Tom Divittorio, Chief Product Officer for MapAnything. "The integration of MapAnything with 3CLogic's CTI solution will enable agents to quickly access key insights and intelligence directly from the interactive map, and do what they're paid to do, close more incidents faster. "

For more information about 3CLogic please visit http://www.3clogic.comor for more information about MapAnything visit http://www.mapanything.com.

About 3CLogic
3CLogic is a leading provider of cloud call center software, offering a seamlessly integrated multichannel and Computer Telephony Integrations (CTI) platform for today's enterprise businesses. Designed to complement existing operational workflows and/or on-premise legacy systems, 3CLogic provides a unified 360-degree view to optimize and analyze client interactions for either sales, customer support, or call center organizations. Built on a unique architecture hosted on Amazon Web Services (AWS), 3CLogic provides both a pure or hybrid cloud solution while delivering market-leading security, scalability, system flexibility, and reliability. 3CLogic is a ServiceNow Silver Technology Partner.

About MapAnything
Combine today's global economy with a mobile workforce, and you get a lot of moving parts. CRM alone can't help you answer the critical business questions: Where is my business? Where do I need to go? Founded in 2009, MapAnything is an innovator and pioneer in Geo-Productivity Software. With more than 1,400 customers globally, ranging from Large Enterprises to Small Business, we believe that "Where Matters." MapAnything is a Salesforce Gold App Innovation Partner, and a ServiceNow Technology Partner. They have received Ventana Research's 2016 Technology Innovation Award for Location Analytics and been named a Customer's Choice – Highly Reviewed App by users of Salesforce.